the streetwise secrets of self-employment
I bought this book on the strength of enthusiastic reader reviews at Amazon – and I was right to do so! It's written as a guide and confidence-booster for those people who have decided to start their own businesses and embrace self-employment. It's written in a lively, fast-paced style which makes for entertaining reading and what I liked was that Geoff Burch makes important distinctions between essentials. Being successful doesn't necessarily mean making lots of money or creating a huge business empire. It might mean working for a couple of days a week, then having the rest of the time off for gardening, family, or golf – whatever takes your fancy. In other words success is not always equal to wealth. There are other ways of defining it.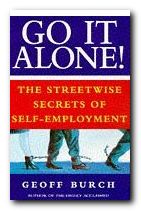 And without being naively optimistic, he points out both the advantages of being self-employed and the many opportunities which exist to create your own work. Surrounded as we are by universally bad service, all the new entrepreneur has to do is offer prompt and good quality service with a smile, and he'll put the old traders under pressure. This is something the eBay and Amazon traders are doing right now. Take the order, send a confirming email within minutes, and get the goods into the next post in a padded bag.
He also explains those small-but-important issues which most business self-help guides would not think to cover. Where do you meet clients for business meetings when your office is in your back-bedroom? What do you say when the bank tries to force you to open a business instead of a personal account? What title do you give yourself and think of yourself as, when your duties run from executive decision-making down to taking letters to the local post office?
He comes up with all sorts of practical, matter-of-fact advice for anybody planning to start up their own business – much of it common sense, but only if you have the benefit of experience. You don't need an 'office'; you probably don't need lots of equipment such as printers and fax machines, and office furniture. You shouldn't take out bank loans, and you should never mortgage your house. If you want to survive as a self-employed guerilla, the secret is "Travel light, live off the land, and strike from the shadows"
Don't recreate your old working environment. The last thing you will need is a hat stand.
Develop the virtual office, the virtual car, and virtually anything else you need.
Don't let your clients know that you are enjoying yourself. It might make them jealous.
This not just for those who want to set up their own businesses. It's for people who are about to be made redundant; people who face early retirement; people who want a part-time job; and people who are already self-employed but who want to feel more confident and hold their heads up high.
I wish I had read this book ten years ago when I first set up my own company. I might not be any richer today, but I know I would have felt more confident that I was doing the right thing – and more importantly, going about it in the right way.
© Roy Johnson 2000

  Buy the book at Amazon UK

  Buy the book at Amazon US
---
Geoff Burch, Go It Alone!, London: Harper-Collins, 1997, pp.203, ISBN: 0722534604
---
More on eCommerce
More on media
More on publishing
More on technology
---