basic design principles using all modern media
This is a structured self-teaching guide to the principles of graphic design which provides up-to-date information on computer aided design and the use of software applications. Graphic Design School itself is beautifully designed and printed – in full colour, with excellent design and layout fully illustrating the principles it espouses. First of all it deals with basic design principles – layout, space, colour, typography, and graphics.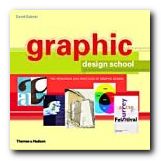 Each topic is presented on one double-page spread in a stylish layout which shows off some of the best principles the book is designed to promote. The second part of the book looks in more detail at what effects are possible with detailed manipulation of typeface selection. It also looks at the secret ingredient which lies beneath most examples of good design – grids.
The last part looks at examples of professional design practice – magazines, corporate design, books, presentations, and of course web design.
It's a visually exciting overview of what's required in the increasingly complex and sophisticated word of graphic design. The illustrations are wonderfully fresh and well chosen. There wasn't one I had seen in any publication before.
This will be suitable for people working in newspapers, magazines, books, packaging, advertising, web design, and digital media in general. It's packed with practical guidance for students and practising designers.
It's an introductory guide to a discipline with many facets. I imagine that readers will come across a topic that touches a creative nerve – layout, typography, animation, or image manipulation – then shoot off to follow up the subject elsewhere. That's exactly as it should be – and there's a glossary and bibliography to help too.
© Roy Johnson 2005

  Buy the book at Amazon UK

  Buy the book at Amazon US
---
David Dabner, Graphic Design School: The Principles and Practices of Graphic Design, London: Thames and Hudson, 2004, pp.192, ISBN: 0500285268
---
More on design
More on media
More on web design
More on typography
---