John Adams' personal biography and musical Odyssey
John Adams is probably the best-known American composer of classical music alive today. His operas Nixon in China and The Death of Klinghoffer have played to audiences all over the world, and his orchestral sketch Short Ride in a Fast Machine is such a favourite concert opener that you hear it on the radio almost every day in some setting or other. A post-war baby of musical parents, he was raised on the east coast in New England, and after a childhood as a clarinetist of some distinction he moved to study at Harvard. There he seemed destined for a life as an academic composer. But two things seemed to have worked against this: an adventurous, rebellious spirit, and a love of popular American culture, which as he matured in the 1960s included imported English pop music, dance bands (in which his father played) and television. All of these cultural influences have been reflected in his later work.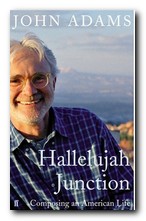 Rejecting the conventional route to success, he took another which led him to the west coast, where after a bout of proletarian enthusiasm he gave up the 48 hour week of a warehouse worker to take up a teaching post at the Conservatory of Music in San Francisco. There he threw himself into the cultural experimentalism which was then in vogue. This included the upsurge of jazz and blues music, and the American literary cult of Jack Kerouac, the Beat poets, William Burroughs, and of course drugs of all kinds.
He stuck with the experimental music and the dafter tendencies of modernism for quite some time. I was quite surprised how respectful he is to John Cage, who always strikes me as completely bogus. But he's very generous in his appreciation of his fellow composers and contemporaries. Philip Glass, Steve Reich, Terry Riley, and Ingram Marshall are all given warm encomiums. There are also, en passant positive sketches of artists such as Dawn Upshaw, Kent Ngano, Peter Sellers, and Conlan Nancarrow.
Gershwin's Rhapsody in Blue, a work as perfect in its own genre as any that Mozart composed in his, was the product of a supremely confident twenty-four year old who got everything right in one stroke. Its signature motif, the 'blue note' flattened seventh, is a rendering on the piano of the keening style of singing from the Negro South. Gershwin threads that motto into a harmonic web of delicious stepwise modulations that take every advantage of the discoveries from fifty or even sixty years earlier. But here, the mood is New World, high energy, with a jubilant lyricism that gives the impression of an irresistible spontaneity. In the hands of Gershwin, the ambiguity and restlessness of those potent Romantic chords is reborn to a new life, not morbidly self-aware and shaded toward the dark end of the emotional spectrum, but full of fresh optimism, busy and brash and thoroughly at ease with itself.
But gradually he began to find his own voice and the techniques which would help him to articulate it. This development was assisted by his moment-of-truth decision to leave atonality behind and embrace tonal harmony as the rockbed for musical expression. It was also accompanied by his determination to stick by his enthusiasm for electronic musical instruments.
Anyone interested in the development of synthesisers, modulators, and multi-track recorders, right up to the computer-programmed methods of sound generation which are now possible will be delighted by the enthusiastic joy in all these gadgets and gizmos that he expresses. At times it's like reading Popular Mechanics.
He's also quite prepared to share the downsides of a composer's life: productions which are badly mauled by critics and audience alike; fallow periods and creative blocks; the political controversies in which he becomes involved because of the contemporary nature of his subject matter.
The central portions of the book describe the genesis and execution of his large scale works – the Harmonielehre, Nixon in China, and The Death of Klinghoffer, yet strangely enough, when it comes to accounts of his more recent works he goes into great detail concerning the religious ideas in El Nino and the scientific and political history behind Doctor Atomic but he says very little about the musical ideas in either opera.
He's a widely read and cultivated man with a social conscience, and he's prepared to discuss culture and ideas at a serious level. Just occasionally he skirts dangerously close to a note of self-importance, but this is offset by his willingness to discuss his obvious artistic failures, such as the premiere of The Dharma at Big Sur and his song cycle, the clumsily titled I was Looking at the Ceiling, and Then I Saw the Sky.
Although it's a personal record, this is an important book on contemporary American classical music – which sits as a useful companion piece to Alex Ross's recent The Rest is Noise: Listening to the Twentieth Century. John Adams' official web site is at www.earbox.com
© Roy Johnson 2008

Buy the book at Amazon UK

Buy the book at Amazon US
---
John Adams, Hallelujah Junction: Composing an American Life, London: Faber, 2008, pp.340, ISBN: 0571231152
---
More on music
More on media
More on lifestyle
---