encylopedia of jazz and its history to the present
Do we really need yet another weighty 'history of jazz' in what is already a crowded field? When the author (also a bass player) has already produced excellent biographies of (among others) Dizzy Gillespie and Fats Waller, and regularly presents 'Jazz Profiles' on Radio 3, the answer must be in the affirmative. In this expanded version of his award-winning study, Alyn Shipton offers an encyclopaedic account of 'a music created mainly by black Americans in the early twentieth-century through an amalgamation of elements drawn from European-American and tribal African musics.' Throughout, he contends that up-the-river-from-New Orleans 'histories' of jazz distort and oversimplify what was a complex series of accidents, interactions, borrowings and innovations.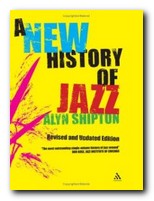 Part One contains an extended consideration of the 'Precursors' of jazz – including the blues and vaudeville, the classic jazz of New Orleans and Chicago, stride and boogie woogie piano, the advent of big bands (Bennie Moten, Fletcher Henderson and early Ellington) – and bands and combos of the Swing Era. Some readers will consider that Paul Whiteman and Cab Calloway receive more than their fair share of attention. There is also a survey of developments in jazz in the UK, France and Germany up to World War II.
Part Two, 'From Swing to Bop' covers Dizzy Gillespie's early orchestra, the West Coast scene and a (very good) summary of jazz on film. Among other topics treated are impresario Norman Granz and the Jazz at the Philharmonic (JATP) phenomenon. Granz is properly commended for presenting and recording such disparate players as Charlie Parker, Dizzy Gillespie, J. J. Johnson, Lester Young and Coleman Hawkins together in concert and on record (where they also backed Sarah Vaughan, Billie Holiday and Ella Fitzgerald), helping to popularise jazz and 'heal some of the more damaging aspects of the modern versus trad split of the 1940s.'
Elsewhere, Shipton discusses the early work of Miles Davis, the emergence of Hard Bop and Soul Jazz, the contributions of John Coltrane, Charles Mingus and Ornette Coleman, Miles Davis's crossover into Jazz Rock, and 'Jazz as World Music' – in Latin America, India, Africa and Europe.
One of the many strengths of the book is an extensive use of oral histories and personal interviews with such luminaries as Ahmad Jamal, Oscar Peterson, Michel Petrucciani, Sam Rivers and Cassandra Wilson. Shipton discusses little-known (but pioneering) performers, and displays an enviable familiarity with the lesser-known records of Louis Armstrong, Coleman Hawkins, Erroll Garner, Woody Herman, Gerald Wilson and Miles Davis.
He is particularly well informed and incisive on jazz pianists. The late Michel Petrucciani 'overcame his lack of stature and strength to become one of the most ferociously talented pianists in jazz,' with 'a touch as delicately forceful as that of either [Bill] Evans or [Keith] Jarrett.' Brad Mehldau and Martial Solal also receive honourable mention, but Jessica Williams is absent from the roster of 'cutting edge' pianists (a cliché Shipton overuses).
Jazz singers such as Sarah Vaughan, Helen Merrill, Betty Carter, Carmen McCrae and Abbey Lincoln receive more extended coverage than in the first edition. Lincoln is identified as 'the most accomplished social and political commentator in the history of vocal jazz.' Yet despite his refreshing catholicity of taste, not all jazz singers receive the Shipton seal of approval. He is underwhelmed by Nina Simone who 'lacked the jazz improviser's spontaneous ability to play off her musical colleagues.' The currently ubiquitous Norah Jones is dismissed as a purveyor of 'jazz-inflected pop, with no improvisational edge and no profound exploration of emotion or meaning.'
In a concluding section on Postmodern Jazz Shipton argues that up to the 1970s, 'the story of jazz is a straightforward narrative.' But thanks [sic] to advances in technology, aspiring jazz musicians no longer sit at the feet of their idols, engage in informal jam sessions or serve apprenticeships in big bands – although college orchestras in the UK and the US serve a similar function.
Jazz artists in the twenty-first-century, Shipton suggests, are either forward or backward looking. Two popular singers resident in Britain illustrate the point: Claire Martin performs mainly original compositions, while Stacey Kent sticks to 'the standard repertoire.' In America, Wynton Marsalis and the Lincoln Centre Jazz Orchestra perpetuate the Ken Burns approach to jazz with recreations of the work of Ellington, whereas saxophonists Sam Rivers, and Joshua Redman hone and polish the 'cutting edge' of the jazz tradition.
A New History of Jazz is a massively detailed and well-documented interpretation of a musical form 'inextricably bound up with the development of popular music as a whole.' It can also be consulted as a series of discrete essays on its major (and minor) forms and practitioners. A good selection of photographs, a list of recommended CDs, and an extensive bibliography (which surprisingly does not include the late Whitney Balliett or Gary Giddins) add to the authority of a magisterial if over-weight volume. And a more attentive editor might have pruned Shipton's always engaging but sometimes repetitive prose.
© John White 2007

Buy the book at Amazon UK

Buy the book at Amazon US
---
Alyn Shipton, A New History of Jazz: Revised and Updated Edition, New York & London: Continuum, 2007, pp.804, ISBN: 0826417892
---
More on music
More on media
More on lifestyle
---