This is a collection of academic essays that seeks to establish legitimacy for a relatively new intellectual discipline – the study of the history of copyright. The editors in their introduction maintain that new academic disciplines arise when it generally becomes felt that there is need for them. It is certainly true that many of the technological advances of the last twenty years (in the digitization, reproduction, re-purposing, transmogrification, and distribution of various media) have brought issues of copyright, ownership, and intellectual property rights into sharp focus. And it's important to realise that this does not only affect the printed word: films, photographs, music, paintings, even simple trademarks and branding logos have all been the subject of amazingly expensive legal disputes recently.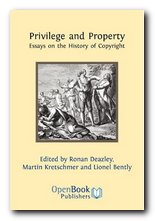 The essays as you might expect take a long historical perspective. Issues of copyright (indeed, even of authorship itself) did not arise as a problem until the invention of the printing press made the mass production of an important cultural object (the book) available in the fifteenth century. So, the collection begins with the granting of the first patent in 1469 for a five year printing monopoly in Venice. It's interesting to note that since many of the first books put into general circulation were versions of Greek and Roman classics, it was their formal appearance, font design, and physical shape that was protected, not their intellectual content or authorship.
It was only later, as the number of original published works started to rise, that individual authors began to apply for what we would now call copyright; and in their cases it was permission to print and sell a single edition of a work over a long enough time span (five years) to give them a chance to cover initial costs.
In 1644 Milton issued his Areopagitica as a protest against state censorship and in favour of freedom of the press. The important point to stress here is that he was explicitly championing the free circulation of ideas. The licence-free period that followed saw the establishment of English newspapers, with sales by 1711 of up to 70,000 per week.
Meanwhile, in America, the arrival of the first printing press in Massachusetts was greeted with prohibitions, censorship, licensing, and colonial control. It was only after the War of Independence that authors successfully applied for copyright to their work.
There are chapters tracing the slight variations in law that sprang up in France, Italy, and Germany. All sorts of different systems were tried, from temporary arrangements affecting only a single work, to 'perpetual copyright'.
There are (understandably) quite a lot of legal and even philosophical issues at stake in some of these battles over rights and regulations. These become even more complex as the first attempts were made in the late nineteenth century to establish international agreements. It should be remembered that authors such as Dickens were forced to struggle to establish their rights in the USA.
Many of today's commercial strategies were already in play in previous centuries – so long as the technological means to create copies and profit were available. The painter Benjamin West made £400 for his famous 1771 depiction of The Death of General Woolfe, but almost one hundred times more from the engravings that were made from it.
It is also worth noting that two other factors complicated the drafting of legislation on these matters. One was the fact that the law (in Britain) was also being framed to protect the interest of the owners or the public against possibly unscrupulous artists. The second was that the idea that a work of art should be 'new and original' was a surprisingly late consideration, introduced only to the 1862 Fine Arts Copyright Bill.
There was also separate legislation covering copyright in works of dramatic art and performance rights. Amazingly, the nineteenth century world of theatre was rife with stenographers in the audience recording the text of new plays as they were acted out on stage. These were then sold on to other theatre managers, who often claimed copyright, rather than the original author.
What this impressive collection of articles does not do is bring the arguments up into the digital age. That is understandable when its very objective is to establish a long history on which to build a new discipline. But anyone with the slightest interest in these issues of copyright and intellectual property rights will be keen to know how digitization and ease of reproduction are changing many of the traditional assumptions. Mashups, print-on-demand, open source software, file-sharing, and the new 'hybrid economies' of eCommerce are changing the face of copyright, ownership, and commercial rights. To keep up with these issues, you will need to look beyond the traditionalists to the work of Lawrence Lessig, Chris Anderson, and Cory Doctorow.
It's an interesting book production in its own right. OpenBook Publishers are a new business supplying academic print on demand (PoD) titles. The books they publish are available, free to view on line as searchable PDFs – but a file can quickly be turned into a conventionally printed and bound book for those who wish to pay for it. This title, I must say, is a handsome volume you would be pleased to have on your shelves.

Buy the book at Amazon UK


Buy the book at Amazon US
© Roy Johnson 2010
---
Ronan Deazeley et al (eds), Power and Privilege: Essays on the History of Copyright, Cambridge: Open Book Publishing, 2010, pp.438, ISBN: 190692418X
---
Copyright links

Content: Copyright and DRM

Intellectual Property and Open Source

Plagiarism, Copyright, and New Media
---
More on digital media
More on technology
More on theory
---