how endless choice is creating unlimited demand
Chris Anderson is the editor of WIRED magazine. This book started as an article there, took off, and was expanded via seminars, speeches, and further research. It has now become one of the most influential essays on the new sCommerce. Anderson's notion is relatively simple, but its implications profound. He argues that because the digitisation of commerce allows more people into the trading arena, and because minority goods can be made available alongside best-sellers, the consumer therefore has a much wider choice and cheaper prices. This gives rise to a new phenomena – niche markets – also known in marketing-speak as the 'long tail'. This is the part of the commercial results graph where returns begin to flatten out and slope towards zero.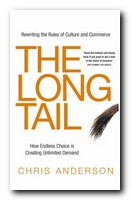 But – and this is a very big BUT – in the new digital world they don't slope off completely. And if you add up all the income from these many tail end transactions, it can be more than the total sales from the Short Head part of the graph.
Once you have grasped these basic issues, the lessons are clear. The profit is to be made in shifting bits, not atoms, plus lower overheads means more profit, because you can sell more. Much of this is possible because the price of electronic storage has now dropped almost to zero, and digital distribution has removed transport costs – as well as making delivery immediate. A physical bricks-and-mortar store has limited shelf space to stock goods, but Peer-2-Peer file-sharers make the downloaders' options almost limitless.
The only way to reach all the way down the Tail—from the biggest hits down to all the garage bands of past and present—is to abandon atoms entirely and base all transactions , from beginning to end, in the world of bits.
Much of the new digital economy is amazingly counter-intuitive. Amazon for instance has allowed its own competitors to sell their goods on its site. The net result – more profit for Amazon, and the rise of the small second-hand book trader – the very businesses people thought would be put out of work by online trading.
Other positive elements in the new digital economy are the rise of reader reviews and recommendations; the back catalogue becomes valuable again; and new niche markets become available for more buyers.
Anderson looks at the technological history which has made the long tail possible, using a typical Amazon purchase as a model: postal delivery service, standard ISBN numbers, credit cards, relational databases, and barcodes. Of course Amazon's genius in its latest phase is it gets other people to hold all the stock and fulfil the orders.
He's a great believer in reputations and taste being formed by social media – the YouTube and MySpace worlds in which personal recommendations and fan reviews help forge best-sellers more than any amount of advertising hype.
There are lots of interesting nuggets thrown out as he makes his way through the socio-economic implication of all this. Such as for instance the fact that Google searches counteract the tyranny of the New over the well-established. That's because they rank pages by the number of incoming links, which favours those which have had the time to acquire them.
Even though he goes into some economic theory, the study remains accessible and readable throughout – largely because he uses everyday examples with which most readers will be able to identify: the purchase of music CDs, DVDs of films, and supermarket food purchases.
This is a really inspiring book, and a must for anyone remotely connected with the online world. Even if some of his estimations and predictions might be overstated, it offers a glimpse into processes taking place that will change the way we think about business and technology. Time and time again, I thought "Yes! I've already started doing that!" – ordering more books from Amazon's marketplace traders, buying out-of-print titles at knockdown prices, exploring new music, and looking out for recommendations on the new social media. I would rank this book alongside Nicolas Negroponte's 1996 study Being Digital as a seminal influence for the decade in which it is published.
© Roy Johnson 2007

  Buy the book at Amazon UK

  Buy the book at Amazon US
---
Chris Anderson, The Long Tail, London: Random House, 2006, pp.238, ISBN: 184413850X
---
More on eCommerce
More on media
More on publishing
More on technology
---