new writing  techniques for web communication
If you're thinking of putting some of your writing on line, keep this rule of thumb in mind. Write 50% less than you would in print – otherwise people will not read it. This is one of the hundreds of tips and guidelines packed into Jonathan and Lisa Price's new book, Hot Text. They start with a chapter of advice on writing for an audience, and getting closer to the reader, then they move on to something I found fascinating – the concept of 'writing objects'. This is the practice of splitting up documents into small re-useable parts. It's basically a plea for applying XML principles during the authoring process. This will enable you to produce Web documents which can be used for any number of purposes.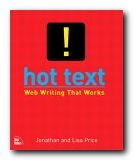 This is intermediate to advanced level stuff – not for beginners – and you will need to be patient. There's a lot of important technological data before they get round to any advice on writing skills. But when they do, it comes in bucketloads. Another important point they make is that text has a double function on the web. It conveys content, but it also acts as an aid to navigation, because we do not have the physical aids provided by printed books. For this reason they advise writers to use plenty of typographical guidance.
They also emphasise the need for brevity and chunking. You should use short sentences, short paragraphs, and make the structure of all documents stand clear in a self-explanatory manner.
Once they get under way, every point is illustrated with before and after examples – 200 words of exposition reduced to 50, for instance. They even deal with issues such as reducing punctuation and moving any statistical data into tables or charts.
The centre of the book is packed with good examples of how to produce efficient writing – leading with punch lines; reducing ambiguity; how to write menus; creating the right tone; how to arrange bulleted lists; and where to place links grammatically for best effect.
They use case studies of sites such as AltaVista, Microsoft, and Amazon to discuss the requirements of writing for eCommerce, and they are particularly good at the special requirements of writing Help files and FAQs.
For commercial sites they are relentlessly on the side of the customer – and the suggestions they offer will allow any honest trader to get closer to customers and win their trust. The formula is simple – be honest, put the customer first, and don't waffle.
They cover a wide range of digital genres – web marketing copy, news releases, email newsletters, webzine articles, personal resumes, Weblogs – and they even provide tips for would-be job seekers.
Ignore the cheesy photos of the authors which punctuate their chapters. This book is packed with good advice on web writing and modern communication skills – and it's a must-have for any web content developers, documentation authors, online course constructors, and e-Commerce editors.
© Roy Johnson 2002
---
Jonathan and Lisa Price, Hot Text: Web Writing that Works, Indianapolis (IN): New Riders, 2002, pp.507, ISBN: 0735711518
---
More on online learning
More on technology
More on digital media
More on web design
More on computers
---