advice on writing academic essays – from start to finish
David Pirie's sub-title here is 'a guide for students of literature' – but his advice will be useful for anybody in the arts or humanities. What he offers is to talk you through the process, from understanding the question to producing and submitting the final draft. He adopts a very sensible approach, and the advice he offers is timeless. The essay as an academic exercise has endured because it is both a form of intellectual self-discovery and a flexible yet taxing means of assessment. He starts with analysing and understanding questions, then organising the 'research' for your answer – including detailed advice on taking notes. All this quickly becomes an introduction to literary criticism.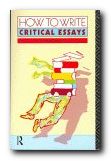 His chapter on devising a suitable structure for an essay explores the standard approaches to this task. These are discussing the arguments for and against a proposition; following the chronological order of events; and constructing a logical sequence of topics. I think a few more concrete examples would have been helpful here. The chapter on how to make a detailed case is more useful, precisely because he examines a series of concrete examples, showing how to quote and examine selected passages. The same is true of his chapter on style, where he illustrates his warnings against repetition, vagueness, generalisation, plagiarism, and overstatement.
There's something eloquent yet curiously old-fashioned about his prose style. The voice is like an audio recording of someone speaking to us from an earlier age. And he uses phrases which flatter his readers. He talks about students 'writing criticism' – as if their coursework exercises were about to be published.
It's a shame there is no bibliography or index. These are omissions which should be rectified if the book ever makes its long-overdue second edition.
© Roy Johnson 2005

  Buy the book at Amazon UK

  Buy the book at Amazon US
---
David Pirie, How to Write Critical Essays: a guide for students of literature, London: Routledge, 1985, pp.139, ISBN: 0415045339
---
More on study skills
More on writing skills
More on online learning
---