large-scale Web site structure, navigation, and usability
When it first appeared in 1998, Information Architecture became an instant classic amongst information architects. It now appears in its third edition, much enlarged and updated. The new edition reflects the rapid expansion and technical sophistication of large interactive web sites in the last few years. Rosenfeld and Morville deal with all the issues raised in organising information and navigational systems in the design of large-scale sites. Their important starting point is a recommendation that big sites should use three types of information organisation, which they identify as hierarchical, database, and hypertext.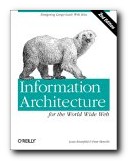 Visitors to a site should have more than one possible route to the same piece of information. They ask some quite fundamental and interesting questions in their updated chapters. These cover issues of organisation, labelling, navigation, and searching – plus new chapters on thesauruses and meta-data.
The new edition has been given many more case studies, and lists of resources on IA have been added, many of which did not exist at the time of the first edition, and there's a very good bibliography which painlessly blends print and web-based information. Navigation has been expanded into global, local, and contextual systems, and there is a lot more detail on search engines.
Another section which has been considerably expanded is that on classification systems and 'knowledge management'. That is – where to put things, how to arrange, label and store information.
There's also a much-enlarged section on the management of web development projects – from the initial strategy meetings through content analysis and mapping, to delivery and maintenance.
They present real life case studies, including one which details how a strategy report was written for Weather.com. Anybody who needs help with report writing will profit from reading this chapter. 'Information Architecture' was a relatively new term only a few years ago, but now as you can probably guess, it is of use to anybody who needs to organise information, ideas, or even physical objects – such as books in a library.
There's an excellent account of how to draw up site maps and flow diagrams which help to explain the deep level architecture of sites to those who are going to populate them with content.
The same is true for page layout diagrams – which they call 'wireframes'. These test the arrangement of items on main pages before they are passed on to a graphic designer. Architecture and usability are tested before the application of a graphic. It's rather like designing the layout of a web page with table borders switched on – before setting them to zero.
They take an enthusiastic line on the use of navigational metaphors (the shop, the office, the library) about which other commentators such as Barbara Fleming and Jakob Nielsen are more cautious. The argument against this approach is that the metaphor of an office or a library will not mean much to people who are not familiar with them. And of course the same is true for icons and symbols.
This is a book for serious designers, project managers, and of course information architects. It is also a contribution to design theory which, en passant, makes librarians into the heroes of the information age. The valuable experience embedded within it will make useful reading for anybody organising information, designing a site, or providing content for it. If you read the first or second edition, it's worth reading the third for the wealth of new material.
© Roy Johnson 2006

  Buy the book at Amazon UK

  Buy the book at Amazon US
---
Louis Rosenfeld and Peter Morville, Information Architecture for the World Wide Web, Sebastopol (CA): O'Reilly, third edition, 2006, pp.461, ISBN: 0596527349
---
More on information design
More on design
More on media
More on web design
---