effective visual communication of data
Dashboards have become popular in recent years as powerful tools for communicating important information at a glance. They tend to imitate motor car fascias or small airplane cockpit controls and they are used for displaying sales figures, statistics, business information (BI) and any sort of key performance indicators (KPIs). They can be used for all sorts of purposes – monitoring stock market prices, showing the weather, recording production output, or listing web site usage.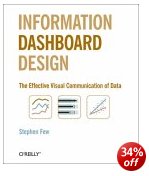 My blog for instance is monitored by a service which shows me with maps, graphs, and bar charts who has been visiting, where in the world they are located, how many entries they viewed, and which browser they were using. Stephen Few begins by looking at some examples and defining the issue of dashboards – which is not as simple as you might imagine, Then he looks as some examples of bad design. These include dial gauges with no numbers; pie charts whose slices don't add up to 100; graphs with distorted axes; meaningless colour coding; and results presented in two and three-dimensional forms which occlude anything that happens to be behind them (as my web site analyser does for instance).
Next he deals with the principles of visual perception – how and why we see things as we do. It's interesting that he follows exactly the same design principles as Edward Tufte, which is to simplify everything as much as possible, remove all unnecessary chart junk, and let the data speak for itself.
He shows examples of good design, and more importantly how to improve it. The not-so-hidden secret all the time is 'Less is more'.
Next comes 'a taxonomy of dashboard media' – that is, an exposition of all the different ways data can be shown on screen. He shows graphs, bar charts, dials and gauges, pie-charts, and Edward Tufte's new invention, sparklines. The merits and disadvantages of each system are very well illustrated, and he argues quite persuasively that there's hardly ever a good reason for using a pie-chart. Reasons? They take up too much room, are hard to read, yield little, and the same information could be delivered more efficiently in other ways.
He shows how all these principles can be brought together to produce good design principles – but then finishes with something very instructive. It's a design for a business information dashboard, followed by several alternative designs and critiques of them. He shows why, even though they might look superficially attractive, they have design flaws and don't do the job as effectively.
This is a handsomely designed and well produced book which follows its own principles of clear presentation and efficient communication.
© Roy Johnson 2006

  Buy the book at Amazon UK


  Buy the book at Amazon US
---
Stephen Few, Information Dashboard Design, Sebastopol, CA: O'Reilly, 2006, pp.211, ISBN: 0596100167
---
More on information design
More on design
More on media
More on web design
---