practical information architecture – projects and policies
Elizabeth Orna is an information architect and strategist whose earlier work Practical Information Policies has become a classic text in this field. Her latest work Information Strategy in Practice is designed for a number of potential readers: students preparing to enter the information professions; working professionals; and senior managers in other specialisms who have responsibility for information activities. It's something of a reworking of her earlier material, because the practical case studies on which it is based have been revisited and the lessons to be learned are presented here.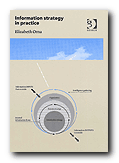 She starts out with some definitions of knowledge and information, stressing the interdependence of one on the other with a witty quote from Samuel Butler: "a chicken is merely the egg's way of making another egg". The organisations she investigates range from The Australian Securities and Investment Commission, to the Surrey police and the Tate Gallery. Her claims for the improvements that have been brought about by clear information policies there are well born out if you look at the Tate's web site which has improved enormously of late, and is a model of clear structure and transparent navigation.
She recognises that although the people in organisations are supposed to work co-operatively and honestly towards a common goal, they often don't. Information is sometimes not shared. I wish she had taken this further to consider departments which work in competition with each other, withhold information, and (in government) spy on each other.
There's a very interesting and persuasive defence of the importance of taxonomy, classification systems, labelling, metadata, and indexing. Information architecture buffs will like this.
She finishes with some practical lessons gained from 'difficult' projects and some very clear guidelines for avoiding the worst mistakes. It's not as substantial a work as her earlier Practical Information Policies, but this is one which information scientists will want to add to their list of recommended reading.
© Roy Johnson 2005

  Buy the book at Amazon UK


  Buy the book at Amazon US
---
Elizabeth Orna, Information Strategy in Practice, London: Gower, 2004, pp.163, ISBN: 0566085798
---