tutorial, commentary, study resources, plot, and web links
Jersey Villas was first published in Cosmopolitan Magazine in July—August 1892. Its next appearance in book form was as part of the collection The Real Thing and Other Stories, published by Macmilla in New York and London the following year in 1893. When it appeared in book form it was given a different title – Sir Dominick Ferrand.
It is one of a number of tales which James wrote on the theme of private papers and letters, the practice of biography, and the rights of an individual to privacy, even after death. James created a bonfire of his own personal papers in the fear of what writers and critics might find out about his private life after his demise. Of course we now know that he had a lot more to hide than was hitherto thought.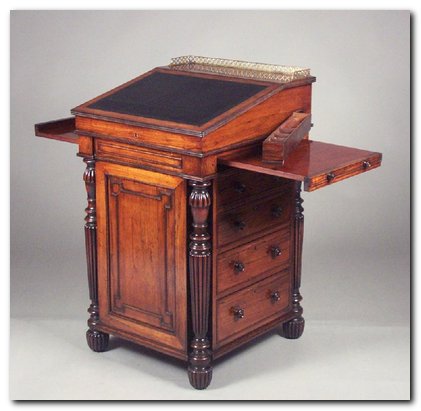 A davenport desk
---
Jersey Villas – critical commentary
The story is composed of two dramatic elements. The first is Peter Baron's discovery of the letters in his writing desk, and his dilemma regarding what to do with them – to publish them, sell them, or hand them over to his editor Mr Locket. The second element is his developing romantic relationship with Mrs Ryves, which is reinforced by his writing a successful libretto for her musical composition.
For the first-time reader there is a dramatic tension (or mystery) in how these two elements are going to be related. James seems to be hinting at some mystical or intuitive connection between Mrs Ryves and Baron's dealings with the letters. She is agitated or distressed whenever he tries to make a decision about them. There is also something of a mystery about her claims to be leaving Jersey Villas, followed by her failure to do so.
Her connection with the letters and her indecision about staying or leaving the Villas is easily explained at a later stage. She is the illegitimate daughter of Sir Dominick Ferrand, and the revelation of his private mis-doings will (or might) adversely affect her. She senses that Baron has discovered something and visits him on a 'sudden fancy' to check. Then as soon as he has told her about breaking the seals, she leaves the Villas and goes to Dover, where she is 'looking at the Calais boat' whilst in discussion with him. In other words, she is planning her escape to 'Europe' (which was considered a different world in the nineteenth century).
All the hints and development within the plot suggest that her erratic behaviour is the result of her knowing that Baron has her father's letters. This explains why she is so keen that he burn them, and once she is secure in the knowledge that he has done so, she can relax and form a relationship with him.
But this interpretation of the story, which is certainly invited by the events of the story, rests on two or three flaws, and it is distinctly possible that James is playing fast and loose with his famous ambiguity and evasiveness in this instance. To begin with, at no point does Mrs Ryves know who has written the letters. There is no writing on the outside of the letters, and they are in packets that are sealed. She even tells Baron that she doesn't want to know who wrote them.
It might be argued that she recognises the letters, or even that the davenport Baron bought originally belonged to her father. But there is also nothing in the text to support either of these two explanations – and she she is not raised in her paternal home, so it is very unlikely that any form of 'recognition' takes place.
---
Jersey Villas – study resources

The Complete Works of Henry James – Kindle edition – Amazon UK

The Complete Works of Henry James – Kindle edition – Amazon US

Complete Stories 1892—1898 – Library of America – Amazon UK

Complete Stories 1892—1898 – Library of America – Amazon US

Jersey Villas – eBook versions at Project Gutenberg

The Cambridge Companion to Henry James – Amazon UK

Henry James at Wikipedia – biographical notes, links

Henry James at Mantex – tutorials, biography, study resources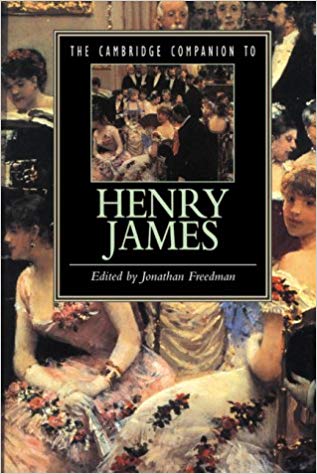 ---
Jersey Villas – plot summary
Part I.   Aspiring writer Peter Baron has been summoned by Mr Locket, the editor of The Promiscuous Review, to make changes to a story he has submitted. That morning he has made the acquaintence of Mrs Ryves, a fellow lodger of Mrs Bundy at Jersey Villas, a suburban lodging house. After his meeting with the editor, he walks down the Kings Road, dreaming of refurbishing his humble rooms. On the strength of his submitted story, he buys a small second-hand davenport, which he hopes could inspire his literary creation.
Part II.   Baron befriends Mrs Ryves and her son, and he writes lyrics for the songs she composes as an amateur pianist, guiltily conscious that he ought to be correcting his story for the magazine. He discovers that the davenport has a false back, where he finds packets of old letters. When Mrs Ryves calls, claiming she has been worried about him, he decides to tell her about his discovery. She urges him to keep the letters, and claims that she felt an instinct to 'save' the papers. And yet she also suggests that he burn them.
Part III.   Ten days later Baron visits Mr Locket and tells him he has new materials on Sir Dominick Farrand, an eminent stateman. He insists that they are genuine and not forgeries. Locket does not think the public will be much interested in him now that he is dead. Baron insists that he was a complex person, and that the letters reveal some dubious political dealings, as he had received money from people to whom he had awarded contracts. They also reveal evidence of an extra-marital affair. Baron and Locket circle round each other inconclusively over what is to be done.
Part IV.   When Mrs Ryves goes to Dover, Baron asks Mrs Bundy for information about her, but gets very little information. So he goes to Dover, where he meets Mrs Ryves with her son Sydney and Miss Teagle, a governess to Sydney. He reproaches Mrs Ryves for disappearing as soon as he made his discovery known to her. She claims that the papers 'haunt' her. He cannot understand why she is bothered about them at all. He wants to ask her to marry him, but realises that he has nothing to offer her.
Part V.   Next day Mr Locket turns up and 'borrows' the letters, which makes Baron anxious about his motives. Mrs Ryves writes from Dover about their musical collaboration. Then Locket summons him and offers £100 for the letters. Baron is conflicted over his options: he is badly in debt and needs the money, but he can see Locket profiteering from his advantageous position as influential editor.
Part VI.   When Baron returns to Jersey Villas he finds Mrs Ryves who claims she is packing to leave, but doesn't appear to be doing so. He takes her out to dinner and the theatre, and later tries to improve his chances with her, but she puts him off.
Part VII.   Mr Locket turns up again next morning with an offer increased to £300, whilst meanwhile Mrs Ryves is leaving the Villas. Baron tries to plea bargain with Locket for his fiction to be accepted as part of the deal. Locket at first refuses, then gives in. But on reflection, Baron feels that it would be wrong to make money out of exposing someone's reputation to disgrace, and he burns the letters.
Mrs Ryves returns to say that a music publisher has accepted their joint composition and wants more of the same. They share the £50 fee and at Dover return to the question of their future. She reveals that she is a 'poor girl' with no money, family, or friends. She ultimately rveals that she is the illegitimate daughter of Sir Dominick Ferrand. After a probationary period, they marry, have success in music publishing, and Baron even manages to get some of his fiction published in magazines.
---
Jersey Villas – principal characters
| | |
| --- | --- |
| Peter Baron | an aspiring young writer |
| Mr Locket | editor of The Promiscuous Review |
| Mrs Ryves | a poor widow and pianist |
| Sydney | her young son |
| Mrs Bundy | landlady at Jersey Villas |
| Miss Teagle | governess to Sydney |
---
Further reading
Biographical

Theodora Bosanquet, Henry James at Work, University of Michigan Press, 2007.

F.W. Dupee, Henry James: Autobiography, Princeton University Press, 1983.

Leon Edel, Henry James: A Life, HarperCollins, 1985.

Philip Horne (ed), Henry James: A Life in Letters, Viking/Allen Lane, 1999.

Henry James, The Letters of Henry James, Adamant Media Corporation, 2001.

Fred Kaplan, Henry James: The Imagination of Genius, Johns Hopkins University Press, 1999

F.O. Matthieson (ed), The Notebooks of Henry James, Oxford University Press, 1988.
Critical commentary

Elizabeth Allen, A Woman's Place in the Novels of Henry James London: Macmillan Press, 1983.

Ian F.A. Bell, Henry James and the Past, London: Palgrave Macmillan, 1993.

Millicent Bell, Meaning in Henry James, Cambridge (MA): Harvard University Press, 1993.

Harold Bloom (ed), Modern Critical Views: Henry James, Chelsea House Publishers, 1991.

Kirstin Boudreau, Henry James's Narrative Technique, Macmillan, 2010.

J. Donald Crowley and Richard A. Hocks (eds), The Wings of the Dove, New York: W.W. Norton and Company, 1978.

Victoria Coulson, Henry James, Women and Realism, Cambridge University Press, 2009.

Daniel Mark Fogel, A Companion to Henry James Studies, Greenwood Press, 1993.

Virginia C. Fowler, Henry James's American Girl: The Embroidery on the Canvas, Madison (Wis): University of Wisconsin Press, 1984.

Jonathan Freedman, The Cambridge Companion to Henry James, Cambridge University Press, 1998.

Judith Fryer, The Faces of Eve: Women in the Nineteenth Century American Novel, Oxford: Oxford University Press, 1976

Roger Gard (ed), Henry James: The Critical Heritage, London: Routledge, 1968.

Tessa Hadley, Henry James and the Imagination of Pleasure, Cambridge University Press, 2009.

Barbara Hardy, Henry James: The Later Writing (Writers & Their Work), Northcote House Publishers, 1996.

Richard A. Hocks, Henry James: A study of the short fiction, New York: Twayne Publishers, 1990.

Donatella Izzo, Portraying the Lady: Technologies of Gender in the Short Stories of Henry James, University of Nebraska Press, 2002.

Colin Meissner, Henry James and the Language of Experience, Cambridge University Press, 2009

John Pearson (ed), The Prefaces of Henry James, Pennsylvania State University Press, 1993.

Richard Poirer, The Comic Sense of Henry James, Oxford: Oxford University Press, 1967.

Hugh Stevens, Henry James and Sexuality, Cambridge University Press, 1998.

Merle A. Williams, Henry James and the Philosophical Novel, Cambridge University Press, 1993.

Judith Woolf, Henry James: The Major Novels, Cambridge University Press, 1991.

Ruth Yeazell (ed), Henry James: A Collection of Critical Essays, Longmans, 1994.
---
Other works by Henry James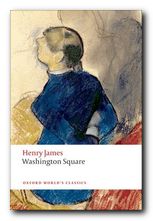 Washington Square (1880) is a superb early short novel, It's the tale of a young girl whose future happiness is being controlled by her strict authoritarian (but rather witty) father. She is rather reserved, but has a handsome young suitor. However, her father disapproves of him, seeing him as an opportunist and a fortune hunter. There is a battle of wills – all conducted within the confines of their elegant New York town house. Who wins out in the end? You will probably be surprised by the outcome. This is a masterpiece of social commentary, offering a sensitive picture of a young woman's life.


Buy the book from Amazon UK


Buy the book from Amazon US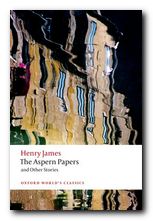 The Aspern Papers (1888) is a psychological drama set in Venice which centres on the tussle for control of a great writer's correspondence. An elderly lady, ex-lover of the writer, seeks a husband for her daughter. But the potential purchaser of the papers is a dedicated bachelor. Money is also at stake – but of course not discussed overtly. There is a refined battle of wills between them. Who will win in the end? As usual, James keeps the reader guessing. The novella is a masterpiece of subtle narration, with an ironic twist in its outcome. This collection of stories also includes three of his accomplished long short stories – The Private Life, The Middle Years, and The Death of the Lion.


Buy the book from Amazon UK


Buy the book from Amazon US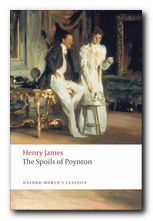 The Spoils of Poynton (1896) is a short novel which centres on the contents of a country house, and the question of who is the most desirable person to inherit it via marriage. The owner Mrs Gereth is being forced to leave her home to make way for her son and his greedy and uncultured fiancee. Mrs Gereth develops a subtle plan to take as many of the house's priceless furnishings with her as possible. But things do not go quite according to plan. There are some very witty social ironies, and a contest of wills which matches nouveau-riche greed against high principles. There's also a spectacular finale in which nobody wins out.


Buy the book from Amazon UK


Buy the book from Amazon US
© Roy Johnson 2013
---
Henry James – web links
Henry James at Mantex
Biographical notes, study guides, tutorials on the Complete Tales, book reviews. bibliographies, and web links.
The Complete Works
Sixty books in one 13.5 MB Kindle eBook download for £1.92 at Amazon.co.uk. The complete novels, stories, travel writing, and prefaces. Also includes his autobiographies, plays, and literary criticism – with illustrations.
The Ladder – a Henry James website
A collection of eTexts of the tales, novels, plays, and prefaces – with links to available free eTexts at Project Gutenberg and elsewhere.
A Hyper-Concordance to the Works
Japanese-based online research tool that locates the use of any word or phrase in context. Find that illusive quotable phrase.
The Henry James Resource Center
A web site with biography, bibliographies, adaptations, archival resources, suggested reading, and recent scholarship.
Online Books Page
A collection of online texts, including novels, stories, travel writing, literary criticism, and letters.
Henry James at Project Gutenberg
A major collection of eTexts, available in a variety of eBook formats.
The Complete Letters
Archive of the complete correspondence (1855-1878) work in progress – published by the University of Nebraska Press.
The Scholar's Guide to Web Sites
An old-fashioned but major jumpstation – a website of websites and resouces.
Henry James – The Complete Tales
Tutorials on the complete collection of over one hundred tales, novellas, and short stories.
Henry James on the Internet Movie Database
Adaptations of James's novels and stories for the cinema and television – in various languages. Full details of directors and actors, production features, film reviews, box office, and even quizzes.
---
More tales by James
More on literature
More on the novella
More on literary studies
More on short stories
---