introductions, with links to tutorials and study guides
Joseph Conrad took hold of the late nineteenth century 'action novel' – the Imperialist Boy's Own adventure story – and invested it with moral subtlety, aesthetic density, and a powerful sense of ideological seriousness. His writing can be demanding: be prepared for long sentences, complex syntax, abstract vocabulary, philosophic speculations, and an all-male environment. The rewards are profound insights into the human condition, superbly orchestrated moments of drama, and writing which explores issues of deep moral complexity.
He also pushed the complexities of story-telling further than they had ever been before. Keep in mind that Conrad, considered a master of English prose style, was Polish. He was writing in his second language. In this sense he is not unlike the Russian novelist, Vladimir Nabokov.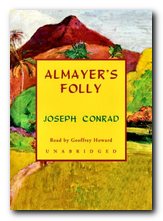 Almayer's Folly (1895) was Conrad's first published novel. It is set towards the end of the nineteenth century in the Malay archipelago and deals with the conflicts between European colonialism and the native population. Dreams of easy wealth drive the Dutch trader Kaspar Almayer into grandiose schemes which come to nothing. His mixed-race wife despises him and is having an affair with a local native war lord. He completely misjudges the turmoil of events in which he becomes enmeshed and eventually descends into opium addiction and self-destruction. The novel contains many stereotypes of nineteenth century imperialist ideology, but its events are related in a manner which would lead to the development of literary modernism in the twentieth.


Buy the book from Amazon UK


Buy the book from Amazon US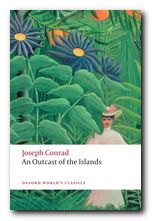 An Outcast of the Islands (1896) was Conrad's second novel, and acts as a 'prequel' to the first, Almayer's Folly. English sea captain Tom Lingard rescues the corrupt Peter Willems and gives him a second chance by setting him up with a business in a commercial outpost. However, Willems lacks the moral fibre to profit from this act of generosity. He becomes obsessed with a beautiful native girl, deserts his wife and is overwhelmed by local political factions. All this takes place in southern Indonesia against a background of British and Dutch imperialist squabbling for supremacy in the region. Willems is eventually abandoned by his protector, feels desolate and isolated, then has to face the wrath of his wife who comes in search of him.


Buy the book from Amazon UK


Buy the book from Amazon US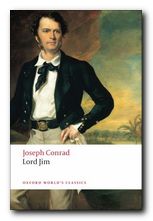 Lord Jim (1900) is the earliest of Conrad's big and serious novels, and it explores one of his favourite subjects – cowardice and moral redemption. Jim is a ship's captain who in youthful ignorance commits the worst offence – abandoning his ship. He spends the remainder of his adult life in shameful obscurity in the South Seas, trying to re-build his confidence and his character. What makes the novel fascinating is not only the tragic but redemptive outcome, but the manner in which it is told. The narrator recounts the events in a time scheme which shifts between past and present in an amazingly complex manner. This is one of the features which makes Conrad (born in the nineteenth century) considered one of the fathers of twentieth century modernism.


Buy the book from Amazon UK


Buy the book from Amazon US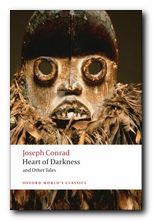 Heart of Darkness (1902) is a tightly controlled novella which has assumed classic status as an account of the process of Imperialism. It documents the search for a mysterious Kurtz, who has 'gone too far' in his exploitation of Africans in the ivory trade. The reader is plunged deeper and deeper into the 'horrors' of what happened when Europeans invaded the continent. This might well go down in literary history as Conrad's finest and most insightful achievement, and it is based on his own experiences as a sea captain. This volume also contains 'An Outpost of Progress' – the magnificent study in shabby cowardice which prefigures 'Heart of Darkness'.


Buy the book from Amazon UK


Buy the book from Amazon US
Oxford World Classics offers the best editions of Conrad's work. They are largely based on the most accurate versions of the texts; and they feature introductory essays, a biography, explanatory notes, textual variants, a bibliography of further reading, and in some cases missing or deleted chapters. They are also terrifically good value.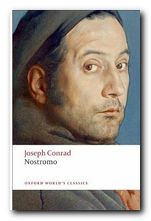 Nostromo (1904) is Conrad's 'big' political novel – into which he packs all of his major subjects and themes. It is set in the imaginary Latin-American country of Costaguana – and features a stolen hoard of silver, desperate acts of courage, characters trembling on the brink of moral panic. The political background encompasses nationalist revolution and the Imperialism of foreign intervention. Silver is the pivot of the whole story – revealing the courage of some and the corruption and destruction of others. Conrad's narration is as usual complex and oblique. He begins half way through the events of the revolution, and proceeds by way of flashbacks and glimpses into the future.


Buy the book from Amazon UK


Buy the book from Amazon US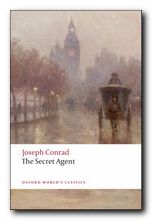 The Secret Agent (1907) is a short novel and a masterpiece of sustained irony. It is based on the real incident of a bomb attack on the Greenwich Observatory in 1888 and features a cast of wonderfully grotesque characters: Verloc the lazy double agent, Inspector Heat of Scotland Yard, and the Professor – an anarchist who wanders through the novel with bombs strapped round his waist and the detonator in his hand. The English government and police are subject to sustained criticism, and the novel bristles with some wonderfully orchestrated effects of dramatic irony – all set in the murky atmosphere of Victorian London. Here Conrad prefigures all the ambiguities which surround two-faced international relations, duplicitous State realpolitik, and terrorist outrage which still beset us more than a hundred years later.


Buy the book from Amazon UK


Buy the book from Amazon US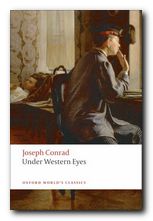 Under Western Eyes (1911) is the story of Razumov, a reluctant 'revolutionary'. He is in fact a coward who is mistaken for a radical hero and cannot escape from the existential trap into which this puts him. This is Conrad's searing critique of Russian 'revolutionaries' who put his own Polish family into exile and jeopardy. The 'Western Eyes' are those of an Englishman who reads and comments on Razumov's journal – thereby creating another chance for Conrad to recount the events from a very complex perspective. Razumov achieves partial redemption as a result of his relationship with a good woman, but the ending, with faint echoes of Dostoyevski, is tragic for all concerned.


Buy the book from Amazon UK


Buy the book from Amazon US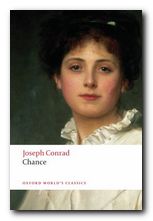 Chance is the first of Conrad's novels to achieve a wide commercial success, and one of the few to have a happy ending. It tells the story of Flora de Barral, the abandoned daughter of a bankrupt tycoon, and her long struggle to find happiness and dignity. He takes his techniques of weaving complex narratives to a challenging level here. His narrator Marlow is piecing together the story from a mixture of personal experience and conversations with other characters in the novel. At times it is difficult to remember who is saying what to whom. This is a work for advanced Conrad fans only. Make sure you have read some of the earlier works first, before tackling this one.


Buy the book from Amazon UK


Buy the book from Amazon US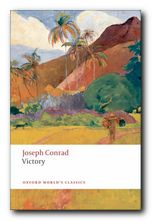 Victory (1915) is set in the legendary port of Surabaya and in an outpost of the Malayan archipelago. It is the story of Swedish recluse Axel Heyst, who rescues Lena, a young woman from a touring orchestra and runs off to live in remote seclusion, influenced by the pessimistic philosophy of his father. But he is pursued by two lying and scheming English gamblers, who believe he is concealing ill-gotten wealth. They corner him in his retreat, and despite the efforts of Lena to shield Heyst from their plans, there is a tragic confrontation which brings destruction into their island paradise.


Buy the book from Amazon UK


Buy the book from Amazon US
© Roy Johnson 2004
---
Joseph Conrad links

Joseph Conrad at Mantex
Biography, tutorials, book reviews, study guides, videos, web links.

Joseph Conrad – his greatest novels and novellas
Brief notes introducing his major works in recommended editions.

Joseph Conrad at Project Gutenberg
A major collection of free eTexts in a variety of formats.

Joseph Conrad at Wikipedia
Biography, major works, literary career, style, politics, and further reading.

Joseph Conrad at the Internet Movie Database
Adaptations for the cinema and television – in various languages. Full details of directors and actors, production notes, box office, trivia, and quizzes.

Works by Joseph Conrad
Large online database of free HTML texts, digital scans, and eText versions of novels, stories, and occasional writings.

The Joseph Conrad Society (UK)
Conradian journal, reviews. and scholarly resources.

The Joseph Conrad Society of America
American-based – recent publications, journal, awards, conferences.

Hyper-Concordance of Conrad's works
Locate a word or phrase – in the context of the novel or story.
---
More on Joseph Conrad
Twentieth century literature
More on Joseph Conrad tales
---