Reporting for press, broadcast media, and the Net
Ian Hargreaves has worked in newspaper journalism, magazines, television and radio. He was director of news and current affairs at the BBC, deputy editor of the Financial Times, and editor of the Independent and the New Statesman. This breadth and depth of experience gives him a very well informed overview of contemporary journalism in print and broadcast forms.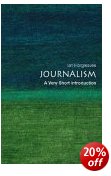 He starts by sketching in a brief history of free speech and the press – Milton, Thomas Paine, J.S. Mill – then argues that newspapers had only just finished establishing themselves as the prime vehicles for circulating news in the early years of the last century when they were immediately challenged by new technological inventions. First the radio, then television, and most recently the Internet. This is an exposition conducted at a fairly high socio-political level.
He compares recent journalism in Russia and the USA for instance – both cases where freedom of expression is being compromised, even if for very different reasons. One possible solution he sees is a return to what he calls 'civic journalism' – of the kind discussed by Dan Gillmor in his recent book We the Media. Digital communication in the form of email, bulletin boards, blogs, RSS feeds, and web sites puts the power of communication and free speech back into the hands of individuals. We no longer need to own printing presses to circulate information.
He is certainly smack up to date – tracking the politicking and manoeuvring that goes on between governments, regulatory bodies, and media tycoons such as Rupert Murdoch, Ted Turner and their like. He also includes the Hutton report in the context of reporting during a war, which always puts 'standards' and the ethics of truth-telling to a severe test.
There's an interesting chapter on tabloid journalism in which he easily exposes the excesses of The Sun and The National Enquirer – but he also argues that the concentration on 'celebrity' has had an injurious knock-on effect on serious media.
There's also a chapter on press ownership where he argues that despite the Murdochs, Blacks, and Maxwells, the real power in press ownership is passing into the hands of business conglomerates. This is likely to be depressing news for those who believe in a 'free press'. He also offers some gritty examples from his first hand experience of the relations between owners, editors, and journalists.
There's a historical view of public relations and spin-doctoring which is more interesting than you might think – though the overall impression it gave me was that all journalists ought to keep in mind the mantra of Harold Evans who suggested that all journalists interviewing politicians ought to ask themselves "Why is this bastard lying to me?" He also includes an interesting chapter on the ethics of journalism – with a healthy critique of the toothless UK Press Complaints Committee.
He ends, logically enough, with the influence of the Internet, which has spawned all sorts of challenges to conventional media. He uses the example of Matt Drudge's exposure of the Clinton-Lewinsky scandal as a touchstone case, reminding us that Drudge was just an individual citizen, not a paid journalist. Digital information technology is changing so quickly, it's difficult to know what will last or what will happen next – but he outlines all the important issues.
I found this a much more interesting and stimulating book than its modest title led me to expect. If you want to know what's happening in journalism right now, it will bring you right up to date.
© Roy Johnson 2005

  Buy the book at Amazon UK

  Buy the book at Amazon US
---
Ian Hargreaves, Journalism: a very short introduction, Oxford: Oxford University Press, 2005, ISBN: 0192806564
---
More on journalism
More on creative writing
More on writing skills
More on publishing
---
---