tutorial, commentary, study resources, and web links
Julia Bride first appeared in Harper's Magazine in March-April 1908. It is collected in Volume XII of The Complete Tales of Henry James (Rupert Hart-Davis) 1964.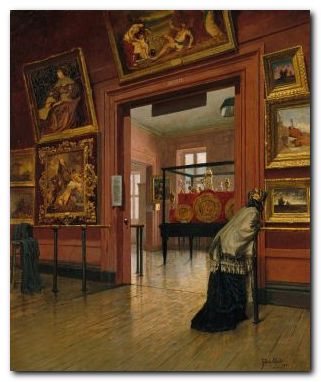 The Metropolitan Museum – Frank Waller (1842-1923)
---
Julia Bride – critical commentary
The woman question
Readers of this story will not fail to recognise its similarity to Edith Wharton's The House of Mirth which was published three years earlier. Henry James was great friend and admirer of his fellow American writer, and her heroine Lily Bart faces very similar problems to those of Julia Bride. However, Wharton takes her heroine's situation to a further extreme than James. Lily Bart is actually reduced to working for her living, and is so unused to it she becomes a drug addict. This is something James seems almost to hint at in his remarks to his 'Preface' to the New York Edition of his Collected Works:
Julia is 'foreshortened', I admit, to within an inch of her life; but I judge her life still saved and yet at the same time the equal desideratum, its depicted full fusion with other lives that remain undepicted, not lost.
This seems to be Henry James's way of saying that this is a short story – not the more fully developed novella or the full length novel that Edith Wharton brought off so successfully. He cannot pretend to encompass the full resolution of Julia Bride's situation or those of the people who surround her. So technically, the story ends in an unresolved state.
But there seems to be very little alternative to seeing her story as a tragedy with a fairly conclusive ending. After all, it is very unlikely that a young woman with such a disreputable family background, no money, and six failed engagements behind her would ever find success in the upper echelons of old-fashioned and hidebound American society.
Julia is caught in the pincer movement of the new possibilities of social fluidity, class mobility, and personal freedoms offered by American society, and the rigid ethics, snobbery, and financially-based social codes that America had imported from Europe.
New social movements such as divorce and re-marriage are available under the freedoms of an open, democratic, and republican society which has freed itself from the organizational shackles of its European forebears. It is even possible to become engaged more than once. But the deeper ideological undercurrents of this society are deeply enmeshed in capital accumulation and preserving status via intermarriage amongst an elite class.
As is commonly remarked amongst commentators on this story, Julia will always be a Bride, but it is unlikely she will ever get married.
Public places
It is worth noting that the main events of the story are enacted in very public places. The narrative begins in the Metropolitan Museum and its denouement takes place in Central Park. Julia is able to talk to Basil French and then Mr Pitman without putting her reputation at risk, because they are in public view in the museum. She then arranges to meet Murray Brush in the Park for similar reasons.
At the end of the nineteenth century and even the beginning of the twentieth, young unmarried people had to be very circumspect about who they met, and in what circumstances. This was particularly true for women. A hidden irony in this story is that Julia has already compromised herself socially by having six previous engagements.
Even visits to family homes had to be carefully orchestrated so as not to give rise to any social comment, and of course the visit itself would be carefully monitored for both content and duration. This explains the frequency with which broughams and cabs outside someone's front door are featured in stories and novels of the period. The livery of the vehicle would be a clear indication of ownership. It was a society in which everybody knew everybody else's business, and social reputations were held in very high esteem – albeit often at a theoretical level.
Of course all this only pertained to the very small social elite which constituted the upper class and the aristocracy of a given European or American society. This is one of the things which makes novels a rich form of social history – because they include a record of the manners and morals of this part of society at the time, the details and social nuances of which are not easily obtainable elsewhere.
---
Julia Bride – study resources

The Complete Works of Henry James – Kindle edition – Amazon UK

The Complete Works of Henry James – Kindle edition – Amazon US

Complete Stories 1898—1910 – Library of America – Amazon UK

Complete Stories 1898—1910 – Library of America – Amazon US

Julia Bride – Digireads reprint – Amazon UK

Julia Bride – eBook at Project Gutenberg

Julia Bride – read the story on line

The Cambridge Companion to Henry James – Amazon UK

The Prefaces of Henry James – Introductions to his tales and novels

Henry James at Wikipedia – biographical notes, links

Henry James at Mantex – tutorials, biography, study resources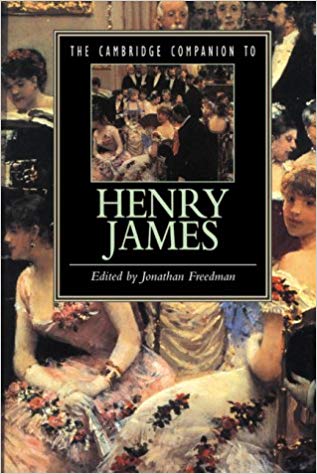 ---
Julia Bride – plot summary
Part I. Julia Bride is being courted by Basil French, the son of a wealthy but very traditional New York family. They meet in the Metropolitan Museum then part leaving her worried. He wants to know more about her background, and she is reluctant to let him know that her mother has been divorced twice (and is soon likely to be so for a third time). Moreover Julia herself has been engaged six times. In the museum she meets Mr Pitman, her mother's second husband, with whom she has remained friendly.
Part II. She hopes he might be able to help her out of her social dilemma, but in fact he wants her to help him in a similar but contradictory manner. He asks her to plead his innocence with Mrs Drack, a wealthy widow who he hopes to marry. Julia in her turn wants Pitman to eradicate in the eyes of Basil French both her mother's guilt in her divorce, and her own six previous engagements – largely by telling lies. Julia feels kindly disposed to Pitman, and ends up singing his praises to Mrs Drack. At Pitman's suggestion Julia then contacts Murray Brush, the most recent of her ex-fiancées and asks him to announce publicly that their relationship was only ever one of close friendship. She hopes this will effectively wipe her slate clean so far as Basil French is concerned.
Part III. Brush readily agrees, and for good measure announces that he is going to be married to Mary Lindeck. He wants Julia to meet her and promises that she will help in their endeavour. But as this apparently successful meeting continues, Julia begins to feel that Murray is agreeing to her plan in the hope of meeting the much richer Frenches with a view to socially advancing himself and his wife to be. Julia is devastated by this realisation, feels that she is doomed to failure, and is left in a tragically sentimental admiration of Basil French – a man who can have such an effect of others, and whom she will never gain.
---
Principal characters
| | |
| --- | --- |
| Julia Bride | a beautiful single young American girl with a chequered past |
| Mrs Connery | her mother (47) who has been divorced twice |
| Mr Pitman | the second of her mother's husbands |
| Basil French | the rich young son of a wealthy traditional family |
| Mr Connery | Julia's mother's third husband – 'irrepressibly vulgar' |
| Mrs David E. Drack | a wealthy and overweight widow |
| Murray Brush | Julia's most recent ex-financé |
| Mary Lindeck | Murray Brush's fiancée |
---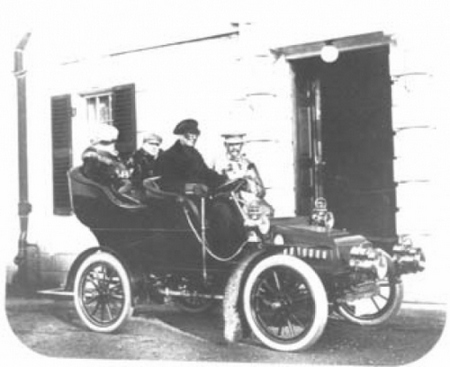 Henry James and Edith Wharton go motoring
---
Further reading
Biographical

Theodora Bosanquet, Henry James at Work, University of Michigan Press, 2007.

Leon Edel, Henry James: A Life, HarperCollins, 1985.

Philip Horne (ed), Henry James: A Life in Letters, Viking/Allen Lane, 1999.

Henry James, The Letters of Henry James, Adamant Media Corporation, 2001.

Fred Kaplan, Henry James: The Imagination of Genius, Johns Hopkins University Press, 1999

F.O. Matthieson (ed), The Notebooks of Henry James, Oxford University Press, 1988.
Critical commentary

Ian F.A. Bell, Henry James and the Past, London: Palgrave Macmillan, 1993.

Millicent Bell, Meaning in Henry James, Cambridge (MA): Harvard University Press, 1993.

Harold Bloom (ed), Modern Critical Views: Henry James, Chelsea House Publishers, 1991.

Kirstin Boudreau, Henry James's Narrative Technique, Macmillan, 2010.

Daniel Mark Fogel, A Companion to Henry James Studies, Greenwood Press, 1993.

Jonathan Freedman, The Cambridge Companion to Henry James, Cambridge University Press, 1998.

Roger Gard (ed), Henry James: The Critical Heritage, London: Routledge, 1968.

Tessa Hadley, Henry James and the Imagination of Pleasure, Cambridge University Press, 2009.

Barbara Hardy, Henry James: The Later Writing (Writers & Their Work), Northcote House Publishers, 1996.

Richard A. Hocks, Henry James: A study of the short fiction, New York: Twayne Publishers, 1990.

Colin Meissner, Henry James and the Language of Experience, Cambridge University Press, 2009

John Pearson (ed), The Prefaces of Henry James, Pennsylvania State University Press, 1993.

Ruth Yeazell (ed), Henry James: A Collection of Critical Essays, Longmans, 1994.
---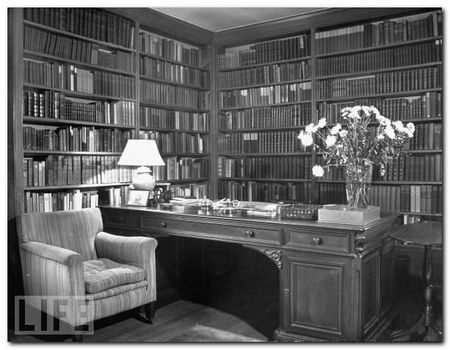 Henry James's study
---
Other works by Henry James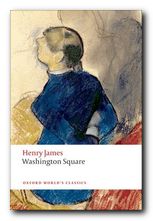 Washington Square (1880) is a superb early short novel, It's the tale of a young girl whose future happiness is being controlled by her strict authoritarian (but rather witty) father. She is rather reserved, but has a handsome young suitor. However, her father disapproves of him, seeing him as an opportunist and a fortune hunter. There is a battle of wills – all conducted within the confines of their elegant New York town house. Who wins out in the end? You will probably be surprised by the outcome. This is a masterpiece of social commentary, offering a sensitive picture of a young woman's life.


Buy the book from Amazon UK


Buy the book from Amazon US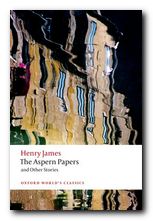 The Aspern Papers (1888) is a psychological drama set in Venice which centres on the tussle for control of a great writer's correspondence. An elderly lady, ex-lover of the writer, seeks a husband for her daughter. But the potential purchaser of the papers is a dedicated bachelor. Money is also at stake – but of course not discussed overtly. There is a refined battle of wills between them. Who will win in the end? As usual, James keeps the reader guessing. The novella is a masterpiece of subtle narration, with an ironic twist in its outcome. This collection of stories also includes three of his accomplished long short stories – The Private Life, The Middle Years, and The Death of the Lion.


Buy the book from Amazon UK


Buy the book from Amazon US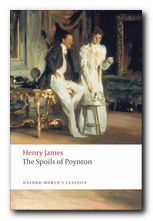 The Spoils of Poynton (1896) is a short novel which centres on the contents of a country house, and the question of who is the most desirable person to inherit it via marriage. The owner Mrs Gereth is being forced to leave her home to make way for her son and his greedy and uncultured fiancee. Mrs Gereth develops a subtle plan to take as many of the house's priceless furnishings with her as possible. But things do not go quite according to plan. There are some very witty social ironies, and a contest of wills which matches nouveau-riche greed against high principles. There's also a spectacular finale in which nobody wins out.


Buy the book from Amazon UK


Buy the book from Amazon US
---
Henry James – web links

Henry James at Mantex
Biographical notes, study guides, tutorials on the Complete Tales, book reviews. bibliographies, and web links.

The Complete Works
Sixty books in one 13.5 MB Kindle eBook download for £1.92 at Amazon.co.uk. The complete novels, stories, travel writing, and prefaces. Also includes his autobiographies, plays, and literary criticism – with illustrations.

The Ladder – a Henry James website
A collection of eTexts of the tales, novels, plays, and prefaces – with links to available free eTexts at Project Gutenberg and elsewhere.

A Hyper-Concordance to the Works
Japanese-based online research tool that locates the use of any word or phrase in context. Find that illusive quotable phrase.

The Henry James Resource Center
A web site with biography, bibliographies, adaptations, archival resources, suggested reading, and recent scholarship.

Online Books Page
A collection of online texts, including novels, stories, travel writing, literary criticism, and letters.

Henry James at Project Gutenberg
A major collection of eTexts, available in a variety of eBook formats.

The Complete Letters
Archive of the complete correspondence (1855-1878) work in progress – published by the University of Nebraska Press.

The Scholar's Guide to Web Sites
An old-fashioned but major jumpstation – a website of websites and resouces.

Henry James – The Complete Tales
Tutorials on the complete collection of over one hundred tales, novellas, and short stories.

Henry James on the Internet Movie Database
Adaptations of James's novels and stories for the cinema and television – in various languages. Full details of directors and actors, production features, film reviews, box office, and even quizzes.
© Roy Johnson 2012
---
More tales by James
More on literature
More on the novella
More on literary studies
More on short stories
---