biography of a literary bohemian
Katherine Mansfield has the rare distinction of being regarded as a major writer, even though she only ever published short stories. In fact her entire oeuvre is available in just one volume. There are two other biographies by Jeffrey Myers and Anthony Alpers, but Claire Tomalin's is a fairly straightforward and very readable account of her life. She portrays her talent sympathetically, but does not disguise her weaknesses and her occasional unkindnesses, though she does seem either squeamish or even purblind where sexual matters are concerned. However, she is very well informed and spares us none of the medical details of gonnorhoea and tuberculosis which helped to bring KM's life to a premature end.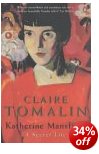 Mansfield's talent blossomed as soon as she was sent from her privileged but stiflingly conformist upbringing in New Zealand to be educated at Queen's College in Harley Street. These important years – from fourteen to seventeen – confirmed her taste for artistic matters, and it was on return from there to New Zealand that she had her first success as a writer.
But in 1908 she was back in London, ready to throw herself into full scale Bohemianism. She quickly became pregnant, then tricked another man into marrying her without telling him about her condition, and left him the same night. Within the next few months she suffered a miscarriage and acquired a new Polish lover, from whom she contracted gonnorhoea.
She recovered in the company of her life-long partner Ida Baker, whom she regarded as her 'wife', then since she was short of money she tricked her way back into free lodging with her lawful husband and began publishing with A. R. Orage's New Age, which was later to become the New Statesman.
More literary success followed. She published her first collection of sketches In a German Pension, then was introduced to John Middleton Murry, who became her lover then her second husband.
In structure, the book is almost one chapter per year from 1907 onwards of Mansfield's tragically short life. Tomalin does not disguise the fact that she thinks much of the earlier work is self-indulgent, sentimental, and quite weak – which it is. But there would be greatness to come.
Lots more of La vie Boheme follows: constantly on the move; short of money; living promiscuously in every sense; and writing for small literary magazines which either don't pay or go out of business.
She leaves Murry and travels to northern France in the middle of the First World War for an assignation with fellow artist Francis Carco, then goes back to Murray, and by 1916 is in deep with The Bloomsbury Group, even moving into a house in Gower Street with painters Dorothy Brett and Dora Carrington.
When the first signs of the tuberculosis which was to kill her appeared, she went to live in Bandol with her 'wife' Ida, then when her health temporarily improved, she returned home to London and married Murray, with D.H. Lawrence and his wife Frieda as witnesses.
She had a spasmodic but very close relationship as fellow authors with Virginia Woolf. Both of them were working on the development of the short story and the possibilities of a more elliptic prose style at the same time. Both regarded each other's work highly, even though they knew that they were 'rivals'.
Tomalin gives a very clear-headed critique of the patchiness of KM's writing, as well as a persuasive account of the biographical basis for much of its content – but she does not say much about what made her writing and the development of the post-Checkhov short story so original.
KM's last years were a restless search for a cure for her illnesses, combined with an outpouring of her greatest works. She zigzags back and forth across northern Europe, finally dying outside Paris in 1923. She was just thirty-five years old.
© Roy Johnson 2004

Buy the book at Amazon UK

Buy the book at Amazon US
---
Claire Tomalin, Katherine Mansfield: A Secret Life, London: Penguin, new edition 2003, pp.304, ISBN 0140117156
---
More on Katherine Mansfield
Twentieth century literature
More on the Bloomsbury Group
More on short stories
---