Hogarth Press first edition book jacket designs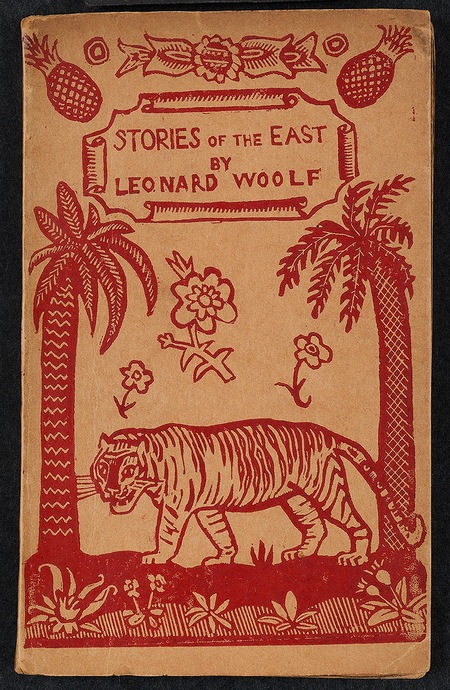 Leonard Woolf, Stories of the East (1919)
This publication contained three short stories – 'Pearls and Swine', 'A Tale Told by Midnight', and 'The Two Brahmans', with a cover illustration by Dora Carrington.
These three pieces are of vital importance in understanding Leonard Woolf's mistrust of and dislike for colonialism. The stories provide disturbing commentaries about the disintegration of the colonial process and the uncomfortable moral ground occupied by the servants of the British Government in Ceylon prior to the Great War.
"Stories of the East was published in April 1921 in 300 copies and very nearly sold out. At the end of the first year, the Hogarth Press had sold over 230 copies, to realise a profit of £6 11s. 5d. When Leonard Woolf closed the account in January 1924, Stories of the East had sold 267 copies. Of the six books published by Hogarth in 1925, Leonard's stories outsold all but Gorky's second book, The Notebooks of Tchekhov and Virginia's Monday or Tuesday, and in the scale of press operations it was a successful venture."
J.H. Willis Jr, Leonard and Virginia Woolf as Publishers: The Hogarth Press 1917-1941
This book had a yapp binding, as does Prelude, and Eliot's Poems. Dating from the nineteenth century, the yapp binding is limp, with "overlapping flaps or edges on three sides" and was originally used for binding Bibles meant to be carried in the pocket.
Elizabeth Willson Gordon, Woolf's-head Publishing: The Highlights and New Lights of the Hogarth Press
---
Hogarth Press studies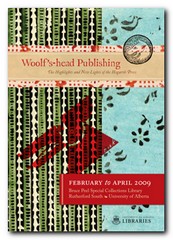 Woolf's-head Publishing is a wonderful collection of cover designs, book jackets, and illustrations – but also a beautiful example of book production in its own right. It was produced as an exhibition catalogue and has quite rightly gone on to enjoy an independent life of its own. This book is a genuine collector's item, and only months after its first publication it started to win awards for its design and production values. Anyone with the slightest interest in book production, graphic design, typography, or Bloomsbury will want to own a copy the minute they clap eyes on it.

Buy the book at Amazon UK


Buy the book at Amazon US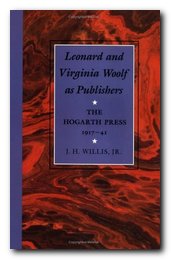 Leonard and Virginia Woolf as Publishers: Hogarth Press, 1917-41 John Willis brings the remarkable story of Leonard and Virginia Woolf's success as publishers to life. He generates interesting thumbnail sketches of all the Hogarth Press authors, which brings both them and the books they wrote into sharp focus. He also follows the development of many of its best-selling titles, and there's a full account of the social and cultural development of the press. This is a scholarly work with extensive footnotes, bibliographies, and suggestions for further reading – but most of all it is a very readable study in cultural history.

Buy the book at Amazon UK


Buy the book at Amazon US
© Roy Johnson 2005
---