Hogarth Press first edition book jacket designs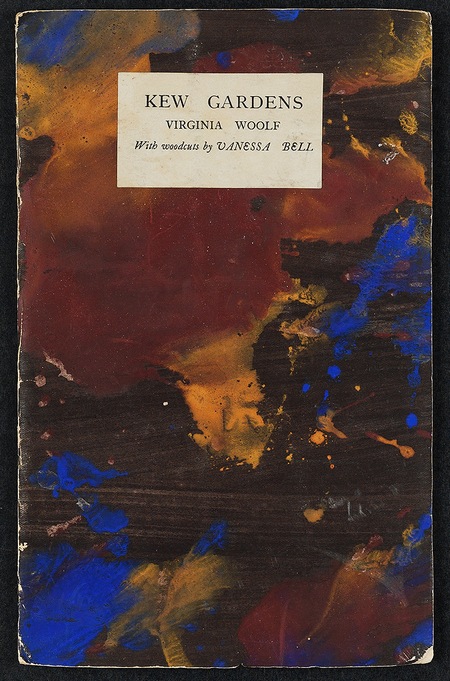 Virginia Woolf, Kew Gardens (1919)
This publication contained only ten pages of text, with illustrations by Vanessa Bell.
"In 1918 we printed two small books: Poems by T.S. Eliot and Kew Gardens by Virginia. Of Kew Gardens we printed about 170 copies (the total sold of the first edition was 148). We published it on 12 May 1919 at 2s. When we started printing and publishing with our Publication No. 1, we did not send out any review copies, but in the case of Prelude, Tom's Poems, and Kew Gardens we sent review copies to The Times Literary Supplement. By 31 May we had sold forty-nine copies of Kew Gardens On Tuesday 27 May, we went to Asham and stayed there for a week, returning to Richmond on 3 June. In the previous week a review of Kew Gardens had appeared in the Literary Supplement giving it tremendous praise. When we opened the door of Hogarth House, we found the hall covered with envelopes and postcards containing orders from booksellers all over the country. It was impossible for us to start printing enough copies to meet these orders, so we went to a printer, Richard Madely, and got him to print a second edition of 500 copies, which cost us £8 9s. 6d. It was sold by the end of 1920 and we did not reprint."
Leonard Woolf, An Autobiography
---
Hogarth Press studies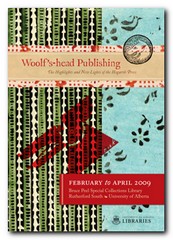 Woolf's-head Publishing is a wonderful collection of cover designs, book jackets, and illustrations – but also a beautiful example of book production in its own right. It was produced as an exhibition catalogue and has quite rightly gone on to enjoy an independent life of its own. This book is a genuine collector's item, and only months after its first publication it started to win awards for its design and production values. Anyone with the slightest interest in book production, graphic design, typography, or Bloomsbury will want to own a copy the minute they clap eyes on it.

Buy the book at Amazon UK


Buy the book at Amazon US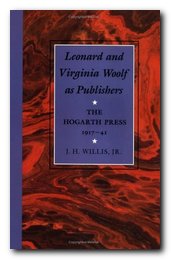 Leonard and Virginia Woolf as Publishers: Hogarth Press, 1917-41 John Willis brings the remarkable story of Leonard and Virginia Woolf's success as publishers to life. He generates interesting thumbnail sketches of all the Hogarth Press authors, which brings both them and the books they wrote into sharp focus. He also follows the development of many of its best-selling titles, and there's a full account of the social and cultural development of the press. This is a scholarly work with extensive footnotes, bibliographies, and suggestions for further reading – but most of all it is a very readable study in cultural history.

Buy the book at Amazon UK


Buy the book at Amazon US
© Roy Johnson 2005
---