4-CD boxed set compilation of Larkin's favourite music
During the last decades of the twentieth century Philip Larkin was a sort of unofficial poet laureate – having turned down the offer of the real post on the death of John Betjeman. What many of his admirers didn't realise at the time was that he used to write regular reviews of jazz recordings for The Daily Telegraph for a decade between 1961 and 1971 (later published as All What Jazz) and in fact as a youth he even harboured aspirations to become a jazz drummer. Larkin's Jazz is a 4-CD box set compilation of his favourites.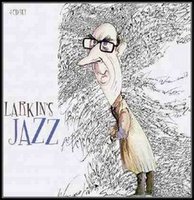 A poet famous for his gloom (he called himself 'the Hermit of Hull') he confessed in later life that jazz had provided him with some of the happiest moments of his life. And his enthusiasm for the foot-tapping, life-enhancing spirit of jazz music lasted from his boyhood in pre-war Coventry to his death in 1985. This multi-disc compilation of his favourite music was created as a tribute to the poet and critic on the twenty-fifth anniversary of his passing.
The vast majority of these tracks are what used to be called 'hot' jazz – upbeat and spirited music – from his first record purchase of 'Tiger Rag', through Lionel Hampton, to Earl Bostic's 'Flamingo' (which I remember buying as a teenager in the 1950s to dispel the tedium of Family Favourites, and Those You Have Loved.
The contents of the four discs are arranged in a sequence that reflects the order in which Larkin experienced the music. The first CD brings together the recordings that he collected as a youth in the 1930s. These include Louis Armstrong's Hot Five, The Chicago Rhythm Kings, and Count Basie. These might strike contemporary listeners as decidedly old-fashioned, but it should be kept in mind that jazz music at that time was regarded generally as a risque and corrupting influence, and the only music (apart from classical) broadcast by the BBC was of mind-numbing banality.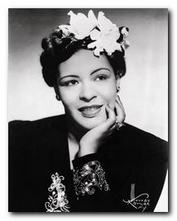 The second disc collects some of the music he experienced at University, along with fellow student Kingsley Amis who became a lifelong friend. Outstanding names here include Bix Beiderbecke, Eddie Condon, Muggsy Spanier, and Gene Krupa. You might be tempted to conclude from this that his taste was mainly for white musicians, but to his credit Larkin was an early enthusiast for blues singers such as Bessie Smith and Billie Holiday.
The third represents the music he reviewed during his stint for the Telegraph, and appears to cast the appreciative net a little wider. Sidney Bechet, Fats Waller, Jelly Roll Morton, and Duke Ellington are featured names here. Not that Larkin's reviews were confined to such a narrow historical period. But it's well known that he was no lover of modern jazz, and the compilers have probably more accurately reflected Larkin's tastes rather than including music by Charlie Parker, Miles Davis, and even John Coltrane that Larkin had reviewed but did not like.
Most of these recordings were originally issued on 78 rpm records, which constrained performances to about three and a half minutes maximum. But the fourth CD features more extended items taken from long playing records that Larkin used to listen to with friends in the 1970s and 1980s.
These Proper Box productions are tremendous value at four CDs for less than ten pounds, but this one has the additional bonus of an accompanying booklet that offers not one but two essays of appreciation, plus commentary notes, photographs and a full discography of every track. This scholarship is shared by Trevor Tolley, an authority on Larkin and John White, a colleague of Larkin's at the University of Hull, biographer of Artie Shaw, and co-editor of Larkin: Jazz Writings. No wonder it's already at the top of the best-seller lists.

Buy the CDs at Amazon UK

Buy the CDs at Amazon US
© Roy Johnson 2010
---
Larkin's Jazz, London: Proper Box Records, 2010, ISBN: B003LZ38IW
---
More on music
More on media
More on lifestyle
---