essays on type classification, history, and bibliography
Stanley Morison (1889-1967) was an English typographer, designer and historian of printing. Self-taught, having left school after his father abandoned his family, Morison became an editorial assistant on Imprint magazine in 1913. As a conscientious objector he was imprisoned during the First World War but became design supervisor at the Pelican Press in 1918. In 1922 he founded the Fleuron Society dedicated to typographical matters and edited the society's journal The Fleuron from 1925 to 1930. Letterforms contains two of his scholarly essays on the classification of type designs.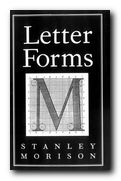 The quality of the publication's artwork and printing was considered exceptional. From 1923 to 1967 Morison was typographic consultant for the Monotype Corporation where his research and adaptation of historic typefaces in the 1920s and 1930s, including the revival of the Baskerville and Bembo types. He pioneered the great expansion of the company's range of typefaces and hugely influenced the field of typography to the present day.
Morison was also typographical consultant to The Times from 1929 to 1960 and in 1931 he was commissioned by the newspaper to produce a new easy to read typeface for the publication. The typeface Morison developed with graphic artist Victor Lardent, Times New Roman was first used by the newspaper in 1932 and was published by Monotype in 1933.
He edited the History of the Times from 1935 to 1952 and was editor of the Times Literary Supplement between 1945 and 1948, and he was a member of the editorial board of Encyclopaedia Britannica from 1961 until his death.
This slender and beautifully produced volume contains two of his essays. The first, from 1961, is on the classification of typographical variations and was written as the introduction to a collection of type examples which is not yet complete. The second is from 1962 and concerns fifteenth and sixteenth century Italian scripts.
It's a pity that the first longer essay is not (yet) illustrated by examples, because it forms a magisterial introduction to its subject. Morison's writing is spare, compressed, and authoritative – and he moves effortlessly between texts in Italian, French, German, and Latin to make his argument.
What he traces is not only the history of type design, but also writing on it as a subject worthy of study. For it was almost two centuries after the advent of printing with moveable type that people began to take it seriously as an art rather than just a technical process of transferring writing into print.
He traces all the important names – Aldus, Caslon, Fournier, Baskerville, Boldoni, Clarke, Blades, Hart (of Hart's Rules fame) and Updike, up to his own work on Fleuron. It's an odd text – an introduction to a set of typographical examples which does not yet exist. But it is of obvious historical significance, giving as it does a synoptic view of a whole discipline.
The second essay is also an introduction – but this time to a set of writing books which had been produced in 1962. This essay too traces the state of what could and could not be known about typography in the fifteenth and sixteenth century – but in this case there are excellent illustrations from the works in question.
He inspects the history and development of chancery cursive writing and the roman capital lettering in Italy with a scholarship with is at once astonishingly modest and breathtakingly thorough. This is a book for typography specialists from publishers who specialise in such works. Thank goodness they exist.
© Roy Johnson 2001
---
Stanley Morison, Letterforms, Montreal: Hartley and Marks, 1997, pp.128, ISBN 0881791369
---
More on typography
More on technology
More on digital media
---