tutorial, commentary, study resources, and web links
Lord Jim (1900) explores the tensions of European colonialism and its role in the East Indies in the late nineteenth century. Although the principal characters are English, the presence of Dutch, French, and German characters spreads the responsibility of ideological and cultural dominance during the highpoint of imperialism, and it does so over a geographic area which stretches from Aden in the Arabian Sea to Manila in the Philippines. It's also a very dramatic story that explores one of Conrad's favourite themes – moral redemption via suffering and renunciation.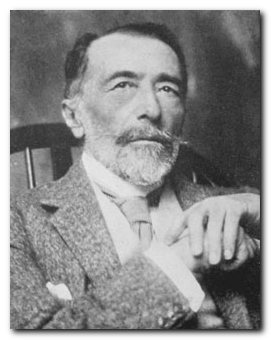 Joseph Conrad
---
Lord Jim – critical commentary
Narrative method
Lord Jim was the first of Conrad's full length novels to feature as principal narrator Charles Marlow, the former sea captain. Marlow assembles the facts of the story from a number of different sources – from people he knows, and from information passed on to him from others. The details are then relayed to a group of people Marlow is addressing – and hence to the reader. However, they are not relayed in chronological order but re-arranged to create maximum dramatic effect.
Marlow knows the outcome of the whole story from the outset, and from times to time he offers tantalising glimpses into what is to come. But for the main part he withholds crucial items of information, which creates both dramatic tension and a sense of grim expectancy.
The narrative comprises a radically dislocated series of events. A conventional opening relates Jim's career as chief mate of the Patna up to the very point of its accident in the Arabian Sea. But instead of describing the dramatic events of the Patna's fate and the scandalous behaviour of its crew, the story suddenly jumps forward to the judicial inquest, and is then taken over by Marlow who reminisces about Jim from a point in time long after the events of the novel have concluded.
Marlow intersperses the narrative with sketches of other characters and accounts of other events, and it is only very gradually revealed that Jim has abandoned the Patna along with the other crew members. Thus the narrative expands and contracts in terms of the psychological interest with which Conrad imbues his characters. For instance the few moments that comprise Jim's fears and misgivings as the ship is abandoned are stretched out over more than twenty pages, and the evening dinner at which Jim recounts these events to Marlow lasts more than fifty pages.
In common with his other novels narrated by Marlow (Heart of Darkness, Chance, and Youth) Conrad uses a literary sleight of hand to produce a narrative delivered by Marlow almost as if he were an eye-witness to events, even though he has only heard about them from the accounts of others. In the episode of the Patna's collision the narrative is actually passed back and forth between Jim (who tells Marlow what happened) and Marlow (who is relaying the story to his audience at a much later date).
"How long he stood stock-still by the hatch expecting every moment to feel the ship dip under his feet and the rush of water take him at the back and toss him like a chip, I cannot say. Not very long – two minutes perhaps.
Here is literary magic at work close to hand. Conrad simultaneously acknowledges uncertainty in the account of events ('I cannot say …perhaps') whilst giving the impression of honest accuracy ('two minutes').
The novel is as much about Marlow himself as the people whose story he tells. He is empathetic to Jim with very little reason to be so – except that he describes him in distinctly homo-erotic terms:
I looked at him. The red of his fair sunburnt complexion deepened suddenly under the down of his cheeks, invaded his forehead, spread to the roots of his curly hair. His ears became intensely crimson, and even the clear blue of his eyes was darkened many shades by the rush of blood to his head. His lips pouted a little, trembling as though he had been on the point of bursting into tears.
To an inattentive reader, Marlow appears to be describing Jim's actions in the story (which he only knows about from Jim) but a great deal of the time he is imagining how Jim might have felt. He is appealing to his audience to empathise with Jim's predicament in the drama he is reconstructing.
This is not unlike Marlow's attitude to Kurtz in Heart of Darkness, where he is predisposed to Kurtz before he even meets him. He imagines the sort of person he must be and invests his actions with some sort of grandeur. We have no independent evidence by which to judge – only what Marlow tells us.
The narrative chain
The first part of the novel starts out with the story reaching readers in what appears to be a conventional third person omniscient narrative mode. We are given Jim's background history and taken through his participation in the lead up to the Patna incident. But then an unnamed narrator reveals himself as a colleague of Marlow's – to whom he hands over the narrative.
The story then purports to be Marlow relating events to a group of people who sit smoking in semi-darkness – a device Conrad was to use again in Heart of Darkness written two years later. The next three-quarters of the book is Marlow's account of events. Jim tells him what happened on the Patna and then passes on the news of his subsequent life on future occasions when Marlow visits him a his outpost in Patusan.
But then the latter part of the novel is narrated in a manner which puts a great strain on any reader's credulity. Marlow leaves Jim for the last time with a quarter of the novel still to go, never to see him again. So how does the story reach us?
The unnamed outer narrator (one of Marlow's audience) tells us that just one of the listening group (described at the 'privileged reader') has the remainder of the story revealed to him. The information comes in the form of documents and an explanatory letter sent to him by Marlow. The principal document is a report written by Marlow of an account offeredto him by a dying man – Gentleman Brown.
There are all sorts of logical gaps, inconsistencies, and problems of credibility attached to this ending, and it must be said that this is not the only novel of Conrad's that gave him difficulties in shaping a satisfactory conclusion to his story.
For instance, the concluding document details the conflict between Jim and Gentleman Brown as the warring groups battle against each other for dominance in Patusan. Brown survives the conflict and escapes, only to encounter illness and near death in the Indian Ocean. Marlow is providentially on hand as he dies, and so hears Brown's account of the final conflict – which he of course relays as if he were a first-hand witness to the events.
But Brown escapes before the final scenes of Jim's moral collapse and suicide, so Conrad rather implausibly suggests that these events were relayed to Marlow by Tamb' Itam – Jim's loyal bodyguard and servant. This is a man who earlier in the novel could barely speak English.
More importantly, even if we assume that the outer narrator, the 'privileged reader' of the documents and Marlow are all present at the two hundred and fifty page meeting which delivers the first three quarters of the narrative – we are not told how the 'privileged reader' passes on the story to the outer narrator.
It seems to me that Conrad simply creates problems for himself which could have been avoided. A simple third person omniscient narrative mode would have been a lot easier for delivering the story – or even a narrative recounted by Marlow with fewer contortions of plot and coincidence.
It is often claimed that this complex narrative mode allowed Conrad to show events and characters from multiple perspectives. But the fact is that almost everything we know – characters, setting, and events – are filtered through Marlow's consciousness. He describes characters – and tells us what to think about them through both conventional description and layer upon layer of philosophising about the moral nature of man (rarely woman) in society.
It also has to be said that Conrad makes very little effort to put any distance between himself as autheor and Marlow as his fictional narrator. Readers have every reason to feel that Marlow is a mouthpiece for Conrad. His opinions are almost indistinguishable from those that Conrad records in his prefaces and notebooks. And Marlow slips repeatedly between the role of first person and third person omniscient narrator. It's as if Conrad gets carried away with his own (admittedly gripping) story, and forgets the logic of the narrative structures he has built for himself.
The imperialist legacy
It should be noted that despite all of the high-minded sermonising and quasi-philosophic reflections that Conrad puts into Marlow's words, the novel also contains many of the clichés of English Imperialism, handed to us straight from King Solomon's Mines. The protagonist Jim is a young, handsome, blue-eyed, curly haired Billy Budd figure who dresses all in white. The natives eventually worship him as a figure of unimpeachable correctness. A mixed-race girl falls in love with him, and he even has a native guard who is so selflessly loyal to Jim that he even pretends to sleep so that he will not worry his master.
---
Lord Jim – study resources

Lord Jim – Oxford World's Classics – Amazon UK

Lord Jim – Oxford World's Classics – Amazon US

Lord Jim – Penguin Modern Classics – Amazon UK

Lord Jim – Penguin Modern Classics – Amazon US

Lord Jim – Wordsworth Classics – Amazon UK

Lord Jim – Wordsworth Classics – Amazon US

Lord Jim – Everyman Library Classics – Amazon UK

Lord Jim – Everyman Library Classics – Amazon US

Lord Jim – Norton Critical Editions – Amazon UK

Lord Jim – Cliffs Notes – Amazon UK

Lord Jim – York Notes – Amazon UK

Lord Jim – eBook versions at Project Gutenberg

Lord Jim – AudioBook MP3 unabridged – Amazon UK

Joseph Conrad: A Biography – Amazon UK

The Cambridge Companion to Joseph Conrad – Amazon UK

Routledge Guide to Joseph Conrad – Amazon UK

Oxford Reader's Companion to Conrad – Amazon UK

Notes on Life and Letters – Amazon UK

Joseph Conrad – biographical notes

Joseph Conrad at Wikipedia – biographical notes, links

Joseph Conrad at Mantex – tutorials, biography, study resources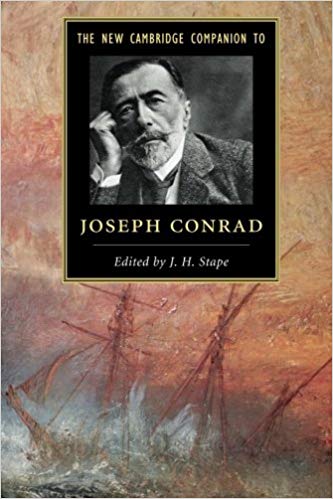 ---
Lord Jim – plot summary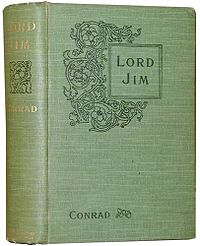 Jim is a young English sailor fired with romantic dreams of heroism in the face of danger. On a sea voyage transporting pilgrims from Singapore to Jeddah in the Red Sea, his ship the Patna is involved in a collision. Thinking that the vessel is sinking, the crew (including Jim) abandon ship. However, the ship does not sink, but is rescued by a French boat and towed to safety. There is an official inquest into the incident in Bombay, before which the German captain absconds and at which Jim is stripped of his seaman's certificate in dishonour.
Marlow meets Jim at the inquest and sympathises with his situation. Understanding Jim's wish to remove himself from the disgrace, Marlow finds him work in a remote location. Jim is successful, but when a reminder of the Patna affair resurfaces, Jim walks away from his position. This pattern of events is repeated, with Jim retreating further and further from civilization.
He eventually is given a job as trading post chief by Stein, a friend of Marlow's, and Jim finds himself in Patusan, a remote location in the East Indies. At first he is regarded suspiciously by the natives, but he makes himself popular by overthrowing a local war lord. He takes a common-law wife, and after two or three years feels that he has successfully reclaimed his self-respect and thrown off the shame of the Patna incident.
However, 'Gentleman' Brown a criminal marauding Englishman who has stolen a ship and run short of supplies, sails into Patusan and decides to plunder the natives at whatever the cost. He attacks the natives and sets up a temporary camp. Jim negotiates with him and persuades him to leave peacefully, so as to avoid further conflict. But he double-crosses Jim and attacks the natives again, killing the local chief's son. Jim realises that he has betrayed the trust of the people who looked up to him, and he commits a form of suicide by allowing the local chief to shoot him.
---
Lord Jim – film version
FILM – Lord Jim (1965) – starring Peter O'Toole

See reviews of the film at the Internet Movie Database
---
Principal characters
| | |
| --- | --- |
| I | an unnamed outer narrator who relays Marlow's story |
| Charles Marlow | a former sea captain, the principal narrator of events |
| Jim (James) | a young English sailor, fired with notions of heroism (his surname is never revealed) |
| Fat German | the cowardly captain of the Patna |
| Archie Ruthvel | principal shipping master in Bombay |
| Captain Elliot | master attendant in Bombay |
| Montague Brierly | head of the Patna enquiry, a haughty naval assessor, captain of the Ossa, who commits suicide |
| Mr Jones | chief officer of the Ossa |
| French Lieutenant | gun boat officer who boards the stricken Patna |
| Chester | seaman cum trader in Bombay with guano island scheme |
| Captain Robinson | former pirate, his business partner |
| Denver | rice mill owner in Rangoon to whom Marlow recommends Jim |
| Stein | German trader and entomologist |
| Cornelius | old cringing man, Jim's predecessor in Patusan |
| Doramin | Stein's overweight 'war comrade' in Patusan – chief of the second regional power |
| Dain Waris | Doramin's brave son |
| Tunku Allang | Rajah in Patusan |
| Sherif Ali | robber baron war lord in Patusan |
| Jewel | Jim's mixed-race common-law wife, step-daughter of Cornelius |
| Tamb' Itam | Jim's loyal native guard and servant |
| 'privileged reader' | an unnamed character to whom Marlow sends documents |
| 'Gentleman' Brown | 'son of a baronet' pirate and buccaneer |
---
Biography
---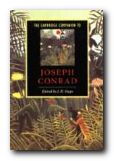 The Cambridge Companion to Joseph Conrad offers a series of essays by leading Conrad scholars aimed at both students and the general reader. There's a chronology and overview of Conrad's life, then chapters that explore significant issues in his major writings, and deal in depth with individual works. These are followed by discussions of the special nature of Conrad's narrative techniques, his complex relationships with late-Victorian imperialism and with literary Modernism, and his influence on other writers and artists. Each essay provides guidance to further reading, and a concluding chapter surveys the body of Conrad criticism.
---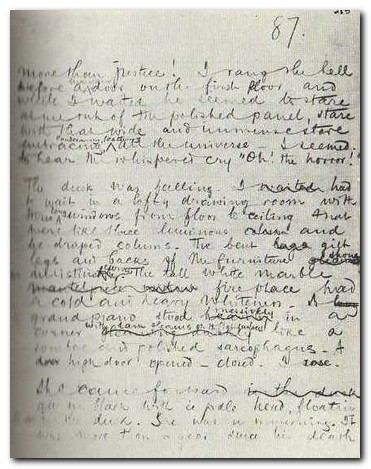 Manuscript page from Heart of Darkness
---
Further reading

Amar Acheraiou Joseph Conrad and the Reader, London: Macmillan, 2009.

Jacques Berthoud, Joseph Conrad: The Major Phase, Cambridge: Cambridge University Press, 1978.

Muriel Bradbrook, Joseph Conrad: Poland's English Genius, Cambridge: Cambridge University Press, 1941

Harold Bloom (ed), Joseph Conrad (Bloom's Modern Critical Views, New Yoprk: Chelsea House Publishers, 2010

Hillel M. Daleski , Joseph Conrad: The Way of Dispossession, London: Faber, 1977

Daphna Erdinast-Vulcan, Joseph Conrad and the Modern Temper, Oxford: Oxford University Press, 1991.

Aaron Fogel, Coercion to Speak: Conrad's Poetics of Dialogue, Cambridge, Mass: Harvard University Press, 1985

John Dozier Gordon, Joseph Conrad: The Making of a Novelist, Cambridge, Mass: Harvard University Press, 1940

Albert J. Guerard, Conrad the Novelist, Cambridge, Mass: Harvard University Press, 1958

Robert Hampson, Joseph Conrad: Betrayal and Identity, Basingstoke: Macmillan, 1992

Jeremy Hawthorn, Joseph Conrad: Language and Fictional Self-Consciousness, London: Edward Arnold, 1979

Jeremy Hawthorn, Joseph Conrad: Narrative Technique and Ideological Commitment, London: Edward Arnold, 1990

Jeremy Hawthorn, Sexuality and the Erotic in the Fiction of Joseph Conrad, London: Continuum, 2007.

Owen Knowles, The Oxford Reader's Companion to Conrad, Oxford: Oxford University Press, 1990

Jakob Lothe, Joseph Conrad: Voice, Sequence, History, Genre, Ohio State University Press, 2008

Gustav Morf, The Polish Shades and Ghosts of Joseph Conrad, New York: Astra, 1976

Ross Murfin, Conrad Revisited: Essays for the Eighties, Tuscaloosa, Ala: University of Alabama Press, 1985

Jeffery Myers, Joseph Conrad: A Biography, Cooper Square Publishers, 2001.

Zdzislaw Najder, Joseph Conrad: A Life, Camden House, 2007.

George A. Panichas, Joseph Conrad: His Moral Vision, Mercer University Press, 2005.

John G. Peters, The Cambridge Introduction to Joseph Conrad, Cambridge: Cambridge University Press, 2006.

James Phelan, Joseph Conrad: Voice, Sequence, History, Genre, Ohio State University Press, 2008.

Edward Said, Joseph Conrad and the Fiction of Autobiography, Cambridge Mass: Harvard University Press, 1966

Allan H. Simmons, Joseph Conrad: (Critical Issues), London: Macmillan, 2006.

J.H. Stape, The Cambridge Companion to Joseph Conrad, Cambridge: Cambridge University Press, 1996

John Stape, The Several Lives of Joseph Conrad, Arrow Books, 2008.

Peter Villiers, Joseph Conrad: Master Mariner, Seafarer Books, 2006.

Ian Watt, Conrad in the Nineteenth Century, London: Chatto and Windus, 1980

Cedric Watts, Joseph Conrad: (Writers and their Work), London: Northcote House, 1994.
---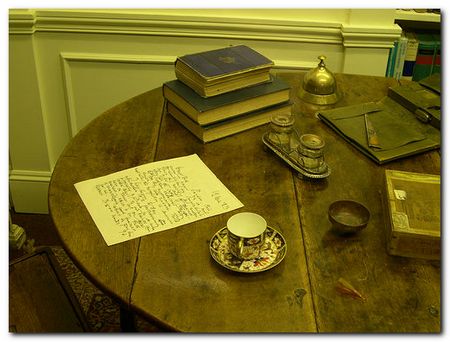 Joseph Conrad's writing table
---
Other novels by Joseph Conrad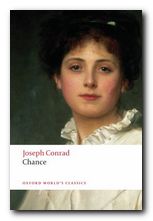 Chance is the first of Conrad's novels to achieve a wide commercial success, and one of the few to have a happy ending. It tells the story of Flora de Barral, the abandoned daughter of a bankrupt tycoon, and her long struggle to find happiness and dignity. He takes his techniques of weaving complex narratives to a challenging level here. His narrator Marlow is piecing together the story from a mixture of personal experience and conversations with other characters in the novel. At times it is difficult to remember who is saying what to whom. This is a work for advanced Conrad fans only. Make sure you have read some of the earlier works first, before tackling this one.


Buy the book from Amazon UK


Buy the book from Amazon US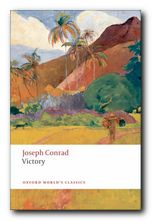 Victory (1915) is set in the legendary port of Surabaya and in an outpost of the Malayan archipelago. It is the story of Swedish recluse Axel Heyst, who rescues Lena, a young woman from a touring orchestra and runs off to live in remote seclusion, influenced by the pessimistic philosophy of his father. But he is pursued by two lying and scheming English gamblers, who believe he is concealing ill-gotten wealth. They corner him in his retreat, and despite the efforts of Lena to shield Heyst from their plans, there is a tragic confrontation which brings destruction into their island paradise.


Buy the book from Amazon UK


Buy the book from Amazon US
---
Joseph Conrad – web links

Joseph Conrad at Mantex
Biography, tutorials, book reviews, study guides, videos, web links.

Joseph Conrad – his greatest novels and novellas
Brief notes introducing his major works in recommended editions.

Joseph Conrad at Project Gutenberg
A major collection of free eTexts in a variety of formats.

Joseph Conrad at Wikipedia
Biography, major works, literary career, style, politics, and further reading.

Joseph Conrad at the Internet Movie Database
Adaptations for the cinema and television – in various languages. Full details of directors and actors, production notes, box office, trivia, and quizzes.

Works by Joseph Conrad
Large online database of free HTML texts, digital scans, and eText versions of novels, stories, and occasional writings.

The Joseph Conrad Society (UK)
Conradian journal, reviews. and scholarly resources.

The Joseph Conrad Society of America
American-based – recent publications, journal, awards, conferences.

Hyper-Concordance of Conrad's works
Locate a word or phrase – in the context of the novel or story.
© Roy Johnson 2010
---
More on Joseph Conrad
Twentieth century literature
More on Joseph Conrad tales
---