tutorial, commentary, study resources, plot, and web links
Youth was written in early 1898 and first published in Blackwood's Magazine for September 1898. It was later collected in book form as Youth, A Narrative and Two Other Stories published by William Blackwood in 1902. The two other stories were Heart of Darkness and The End of the Tether. The first American edition was published by McClure, Phillips in 1903.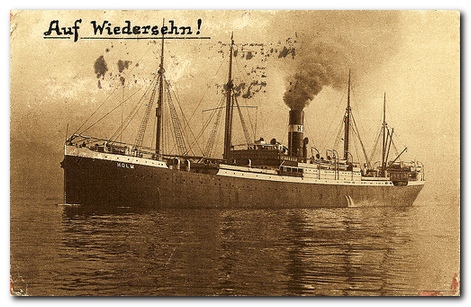 ---
Youth – critical commentary
Steam and sail
This is one of a number of stories which features as background the transition from sailing ships to coal fired steam ships. The age of sail is often depicted in Conrad's work as elegant, stylish, and requiring a ship's crew with practical skills and a disciplined sense of co-operation. Steam-powered ships on the other hand are often depicted as dangerous and mechanically crude vessels, with no particular glamour attached to them.
It is clear in this story and others that Conrad regards the old sailing ships as a more romantically pure form of sea travel – but that experienced mariners must be able to translate their skills to the newer world of steam-powered vessels. In Youth Marlow survives storms and then the collapse and finally the destruction of the Judea. But he survives these maritime experiences and sees them as a right of passage into adult life.
The narrative
The first point to note is that Conrad created his narrative using a construction which he used several times – as did his friend Henry James. A group of men are gathered round a table in conversation. An outer-narrator sets the scene and introduces the characters – including in this case the inner-narrator Charles Marlow, who takes over the story.
This is sometimes called a 'framed narrative' – but it is worth noting that the narrative baton is never handed back to the original outer-narrator. Marlow keeps the story to himself until the end of the tale – merely referring to the others around the table in his final paragraph.
As readers we tend to forget that the entire story is essentially a first-person narrative, and that Marlow may be prejudiced or even wrong about some of his suppositions within the text. This was a literary device with rich potential that Conrad developed in some of his later fiction – and it has to be said that he did not always keep the narrative logic under firm control. Some of his novels feature scenes which the narrator (Marlow and others) could not know about.
Evaluation
The main weakness with the story is that it is not much more than a rather repetitive catalogue of disasters befalling the unfortunate ship, and not much psychological drama between any of the characters and the events which harass them.
The repetition of the storms and re-fits to the Judea spoil any structural unity the story might have had, and they smack very much of being inspired by keeping a documentary record of personal experience, rather than the construction of a work of art. Indeed, in his preface to the collection of tales in which Youth appeared Conrad says of the piece himself "Youth is certainly a piece of autobiography (`emotions remembered [sic] in tranquillity')".
Marlow's concluding encomium on youthful aspirations is measured and ambiguous enough to include a certain amount of self-criticism. He is looking back from the age of forty-two when recounting the story amongst his conversational colleagues, and the implication of the concluding line surely includes a note of scepticism:
"…tell me, wasn't that the best time, that time when we were young at sea, young and had nothing, on the sea that gives nothing, except hard knocks – and sometimes a chance to feel your strength – that only – what you all regret?"
And we all nodded at him: the man of finance, the man of accounts, the man of law, we all nodded at him over the polished table that like a still sheet of brown water reflected our faces, lined wrinkled, our faces marked by toil, by deceptions, by success, by love; our weary eyes looking still, looking always, looking anxiously for something out of life, that while it is expected is already gone – has passed unseen, in a sigh, in a flash – together with the youth, with the strength, with the romance of illusions.
---
Youth – study resources

Youth – Oxford World Classics – Amazon UK

Youth – Oxford World Classics – Amazon US

The Complete Works of Joseph Conrad – Kindle eBook

Youth – Penguin Classics – Amazon UK

Youth – Penguin Classics – Amazon US

Youth – Wordsworth Classics – Amazon UK

Youth – Wordsworth Classics – Amazon US

Youth – eBook versions at Project Gutenberg

Joseph Conrad: A Biography – Amazon UK

The Cambridge Companion to Joseph Conrad – Amazon UK

Routledge Guide to Joseph Conrad – Amazon UK

Oxford Reader's Companion to Conrad – Amazon UK

Notes on Life and Letters – Amazon UK

Joseph Conrad – biographical notes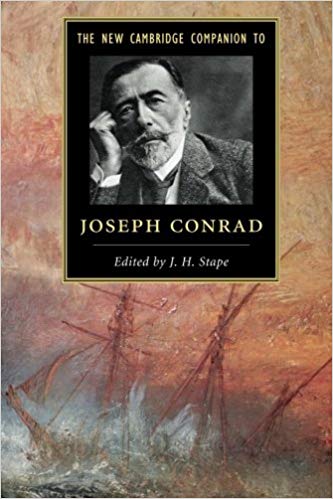 ---
Youth – plot summary
The inner-narrator Marlow recounts his first voyage in the East as second mate at the age of twenty on the Judea. He has transferred from an Australian clipper to a rusty old ship taking coal from the Tyne to Bangkok. The ship encounters gales in the North Sea and delays in Newcastle when there is a collision with a steamer. They sail into the North Sea where the ship begins to break up in further storms. But Marlow feels invigorated by surviving the ordeal and thinks of it as an 'adventure'.
The galley and seamen's quarters are swept away in the storm, and the steward is found completely mad with fear, from which he never recovers. When the storm abates they turn back to Falmouth, where the ship is repaired. When they set off again the crew refuse to continue. Even with a new crew, the same thing happens again. They become 'residents of Falmouth'. The ship is then completely re-fitted, at which point all the rats on board leave the ship. A new crew is recruited from Liverpool, and the ship sails for Bangkok.
All goes well until they reach the Indian Ocean, when the cargo of coal catches fire. The crew try to put out the fire by pumping water into the hold. Their efforts last for two weeks, at which point they finally celebrate their success. Shortly afterwards the coal gas causes an explosion which rips the ship apart. The captain ignores the damage and keeps going for Bangkok.
They seek assistance from a passing ship which tows them towards a nearby port. But en route the fire breaks out again. The captain opts to stay with the ship until its extinction, saving as much as possible for the underwriters. With the ship on fire and the lifeboats ready to depart, Marlow goes back on board to find the captain asleep and other members of the crew having a meal and drinking beer. When his lifeboat finally cuts loose from the ship, Marlow thinks of this as his first real command.
Marlow eventually reaches a small port on a nearby island, and is shortly afterwards joined by the captain. An English steamer agrees to take them as passengers to safety. Marlow awakes the next day face to face with the East of his dreams and ends the soliloquy with a rhapsodic tribute to youthful optimism.
---
Joseph Conrad – video biography
---
Youth – principal characters
| | |
| --- | --- |
| I | an un-named outer narrator |
| Charles Marlow | the inner-narrator and protagonist (20) |
| Mahou | first mate |
| The Judea | a rusty old steam ship (Motto – 'Do or Die') |
| Jermyn | the pilot with dripping nose |
| John Beard | a ship's captain |
| Jenny Beard | his wife |
| Abraham | the steward, a mulatto |
---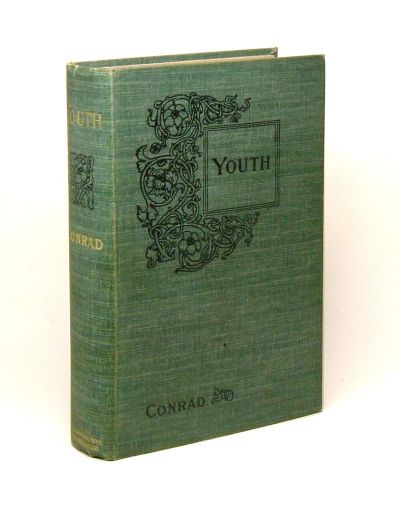 Blackwood and Sons, 1902
---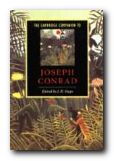 The Cambridge Companion to Joseph Conrad offers a series of essays by leading Conrad scholars aimed at both students and the general reader. There's a chronology and overview of Conrad's life, then chapters that explore significant issues in his major writings, and deal in depth with individual works. These are followed by discussions of the special nature of Conrad's narrative techniques, his complex relationships with late-Victorian imperialism and with literary Modernism, and his influence on other writers and artists. Each essay provides guidance to further reading, and a concluding chapter surveys the body of Conrad criticism.


Buy the book at Amazon UK


Buy the book at Amazon US
---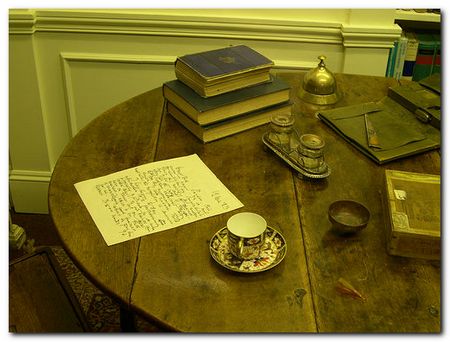 Joseph Conrad's writing table
---
Further reading

Amar Acheraiou Joseph Conrad and the Reader, London: Macmillan, 2009.

Jacques Berthoud, Joseph Conrad: The Major Phase, Cambridge: Cambridge University Press, 1978.

Muriel Bradbrook, Joseph Conrad: Poland's English Genius, Cambridge: Cambridge University Press, 1941

Harold Bloom (ed), Joseph Conrad (Bloom's Modern Critical Views, New York: Chelsea House Publishers, 2010

Hillel M. Daleski , Joseph Conrad: The Way of Dispossession, London: Faber, 1977

Daphna Erdinast-Vulcan, Joseph Conrad and the Modern Temper, Oxford: Oxford University Press, 1991.

Aaron Fogel, Coercion to Speak: Conrad's Poetics of Dialogue, Cambridge, Mass: Harvard University Press, 1985

John Dozier Gordon, Joseph Conrad: The Making of a Novelist, Cambridge, Mass: Harvard University Press, 1940

Albert J. Guerard, Conrad the Novelist, Cambridge, Mass: Harvard University Press, 1958

Robert Hampson, Joseph Conrad: Betrayal and Identity, Basingstoke: Macmillan, 1992

Jeremy Hawthorn, Joseph Conrad: Language and Fictional Self-Consciousness, London: Edward Arnold, 1979

Jeremy Hawthorn, Joseph Conrad: Narrative Technique and Ideological Commitment, London: Edward Arnold, 1990

Jeremy Hawthorn, Sexuality and the Erotic in the Fiction of Joseph Conrad, London: Continuum, 2007.

Owen Knowles, The Oxford Reader's Companion to Conrad, Oxford: Oxford University Press, 1990

Jakob Lothe, Joseph Conrad: Voice, Sequence, History, Genre, Ohio State University Press, 2008

Gustav Morf, The Polish Shades and Ghosts of Joseph Conrad, New York: Astra, 1976

Ross Murfin, Conrad Revisited: Essays for the Eighties, Tuscaloosa, Ala: University of Alabama Press, 1985

Jeffery Myers, Joseph Conrad: A Biography, Cooper Square Publishers, 2001.

Zdzislaw Najder, Joseph Conrad: A Life, Camden House, 2007.

George A. Panichas, Joseph Conrad: His Moral Vision, Mercer University Press, 2005.

John G. Peters, The Cambridge Introduction to Joseph Conrad, Cambridge: Cambridge University Press, 2006.

James Phelan, Joseph Conrad: Voice, Sequence, History, Genre, Ohio State University Press, 2008.

Edward Said, Joseph Conrad and the Fiction of Autobiography, Cambridge Mass: Harvard University Press, 1966

Allan H. Simmons, Joseph Conrad: (Critical Issues), London: Macmillan, 2006.

J.H. Stape, The Cambridge Companion to Joseph Conrad, Cambridge: Cambridge University Press, 1996

John Stape, The Several Lives of Joseph Conrad, Arrow Books, 2008.

Peter Villiers, Joseph Conrad: Master Mariner, Seafarer Books, 2006.

Ian Watt, Conrad in the Nineteenth Century, London: Chatto and Windus, 1980

Cedric Watts, Joseph Conrad: (Writers and their Work), London: Northcote House, 1994.
---
Other writing by Joseph Conrad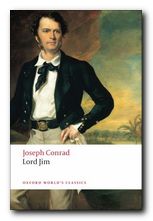 Lord Jim (1900) is the earliest of Conrad's big and serious novels, and it explores one of his favourite subjects – cowardice and moral redemption. Jim is a ship's captain who in youthful ignorance commits the worst offence – abandoning his ship. He spends the remainder of his adult life in shameful obscurity in the South Seas, trying to re-build his confidence and his character. What makes the novel fascinating is not only the tragic but redemptive outcome, but the manner in which it is told. The narrator Marlowe recounts the events in a time scheme which shifts between past and present in an amazingly complex manner. This is one of the features which makes Conrad (born in the nineteenth century) considered one of the fathers of twentieth century modernism.


Buy the book from Amazon UK


Buy the book from Amazon US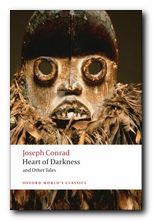 Heart of Darkness (1902) is a tightly controlled novella which has assumed classic status as an account of the process of Imperialism. It documents the search for a mysterious Kurtz, who has 'gone too far' in his exploitation of Africans in the ivory trade. The reader is plunged deeper and deeper into the 'horrors' of what happened when Europeans invaded the continent. This might well go down in literary history as Conrad's finest and most insightful achievement, and it is based on his own experiences as a sea captain. This volume also contains 'An Outpost of Progress' – the magnificent study in shabby cowardice which prefigures 'Heart of Darkness'.


Buy the book from Amazon UK


Buy the book from Amazon US
© Roy Johnson 2013
---
Joseph Conrad web links
Joseph Conrad at Mantex
Biography, tutorials, book reviews, study guides, videos, web links.
Joseph Conrad – his greatest novels and novellas
Brief notes introducing his major works in recommended editions.
Joseph Conrad at Project Gutenberg
A major collection of free eTexts in a variety of formats.
Joseph Conrad at Wikipedia
Biography, major works, literary career, style, politics, and further reading.
Joseph Conrad at the Internet Movie Database
Adaptations for the cinema and television – in various languages. Full details of directors and actors, production notes, box office, trivia, and quizzes.
Works by Joseph Conrad
Large online database of free HTML texts, digital scans, and eText versions of novels, stories, and occasional writings.
The Joseph Conrad Society (UK)
Conradian journal, reviews. and scholarly resources.
The Joseph Conrad Society of America
American-based – recent publications, journal, awards, conferences.
Hyper-Concordance of Conrad's works
Locate a word or phrase – in the context of the novel or story.
---
More on Joseph Conrad
Twentieth century literature
Joseph Conrad complete tales
---