international  logos, trademarks, and typography
Los Logos is arranged in four main sections: Pictorial Logos, Lettering, Typograms and Combinations. As well as hundreds of pages of beautifully laid out images, it also contains an interesting and informative introduction about the evolution of the logo. All the materials are presented in both English and German. It's a collection of around 3500 logos from a wide range of contemporary designers including the likes of Buro-destruct, DED associates, Eboy, Rinzen and Woodtli. In terms of colour it's interesting to note that the predominant choices fall into two groups. Pink, lime green, and peppermint blue crop up again and again for a twenty first-century hippy look. Orange, grey, and black do the same for the post-modern techno look.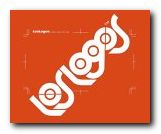 There are lots and lots of company logos – though surprisingly few that I recognised. For me, the best part of the book was the section on typography as a logo design element. There are some very attractive typefaces one would like to see in more detail. For instance, there's a very inventive font (reminiscent of Neville Brody's work) illustrated simply by the slogan 'mexico 686' which has been sprayed on a brick wall.
It's a very handsome publication, beautifully produced on good quality paper and top class printing. If there's a weakness, it's that we don't get to see the logos in any context. It would be useful to see the products to which some of these logos were attached, or the materials on which they were printed.
This is the sort of compilation which provides a rich source of visual stimulation for designers, and it's strongest point is the amazingly wide range of examples shown. There are attributions for all designs at the back of the book, but in keeping with the publisher's persistent habit of information minimalism, it's not easy to track them down.
© Roy Johnson 2004

  Buy the book at Amazon UK

  Buy the book at Amazon US
---
Los Logos, Berlin: Die Gestalten Verlag, 2004, pp.416, ISBN: 3931126927
---
More on typography
More on design
More on media
More on web design
---