diaries, journals, essays, and personal fragments
Lytton Strachey is best known through his letters, a voluminous outpouring which he maintained throughout his life. But those were written largely to amuse the recipients. This book gathers together his diaries, which he wrote in solitude for himself. It also contains autobiographical fragments, some travel journals, and two essays which were delivered to the Bloomsbury Memoir Club, plus occasional writings from periods of his life ranging from childhood to his last days. After a scene-setting opening which describes life at his family home at Lancaster Gate, the first entry is the journal of a holiday in Gibraltar, Cairo, and Capetown.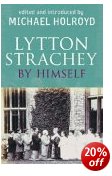 Then we get a confessional fragment on the first of his schoolboy love affairs, followed by a journal of his time studying literature at Liverpool University College. Next come reflections on Cambridge life and his preoccupations with sex, then an essay that records the events – or rather the thoughts and feelings – of a single day 'Monday 16 June 1916'. This piece, written amidst the horrors of the first world war, conjures up a languorous, privileged visit to Vanessa Bell's house at Charleston, doing virtually nothing the whole day long except lounge around in the garden, making plans to seduce the postman.
As Michael Holroyd admits in his linking commentary between the entries, this piece is guaranteed to infuriate Bloomsbury critics, but for those who are more sympathetic it offers a first-hand glimpse of what life was like amidst this group.
It's also remarkably similar in style to Virginia Woolf's poetic meditations and her shorter experimental fictions. It hovers tentatively in the regions of what we now call Proustian 'moments', and it is interesting to note that like the Lancaster Gate piece, it ends on a note of erotic confession.
This is a fairly lightweight compilation, but it fills in some gaps left by both the letters and the biography. Strachey is a fascinating character – far more complex than the picture of him as an effete neurasthenic which is commonly circulated.
© Roy Johnson 2005

Buy the book at Amazon UK

Buy the book at Amazon US
---
Michael Holroyd (ed) Lytton Strachey by Himself, London: Abacus, 2005, pp.248, ISBN 0349118124
---
More on Lytton Strachey
Twentieth century literature
More on the Bloomsbury Group
---