iconoclastic biographies of nineteenth-century heros
This is a book which marked a decisive step into the modern world of the twentieth century, and a clean break with the Victorian and Edwardian attitudes which preceded it. Lytton Strachey was hardly known when he published the book in 1918: afterwards, he was almost as notorious as Oscar Wilde. It's a group of biographical studies – of Cardinal Manning (1802-1892), Florence Nightingale (1820-1910), Dr Arnold of Rugby School (1795-1842), and General Gordon (1833-1885) in which Strachey overturns all the pious hagiographic work of his forebears and portrays these icons of Victorian life as ordinary beings locked in the social context of their age.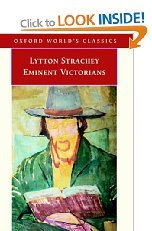 His sketches are witty, pungent, and very elegantly expressed put-downs which punctured the blind optimism of the age which had led up to the disasters of the first world war. Well, not exactly ordinary. These were people who felt they had a messianic duty to 'serve' the public, and all of them were fuelled by religious fervour. If there is one theme which unites these portraits it is the intellectual contortions and the exhausting spiritual struggles these people made in trying to reconcile contradictions in their religious belief system – in this case Christianity.
And Strachey is not blind to their good qualities. He has a certain admiration for Manning's soul-searching as he wavered on the edge of Protestantism and Catholicism. His account of Nightingale in the Crimea is largely a critique of the War Office's blundering and obstructiveness. And General Gordon is shown as almost a scapegoat for Britain's imperialistic equivocations.
It has to be said that by modern standards, Strachey is hopelessly unrigorous as a historian. He plagiarises his principal sources, fails to cite his quotations accurately; gets his dates wrong; invents 'facts'; and bends details to suit his narrative purpose. But the stories he creates have tremendous drive and interest.
The chapter on Cardinal Manning is more than just a potted biography for instance. Strachey deals with power struggles in the politics of ecclesiastical preferment and in particular the rivalry between Manning and Cardinal Newman. He's very interesting on the significance of the Oxford Movement (for Roman Catholicism) in relation to the State in nineteenth-century Britain.
In the case of Florence Nightingale Strachey's purpose is less to do with individual biography and much more to offer a scathing critique of government and military mismanagement in its conduct of medical support during the Crimean war. Only when the war ends, and she spends a further fifty years of her long life engaged in Good Works and social reforms does he focus on her personal life.
His targets are all well chosen, representing as they do Church, public service, Empire, and reforming social zeal. In the case of Thomas (Dr) Arnold, he shows the example of someone who attempted to re-shape the conduct of Rugby School in a form which others would follow. This regime included a curriculum of dead languages plus Christianity, the complete exclusion of any sciences, and an authoritarian regime of discipline with corporal punishment administered by a cadre of elite sixth-formers and the head himself for serious cases. But as Strachey points out
so far as the actual machinery of education was concerned, Dr Arnold not only failed to effect a change, but deliberately adhered to the old system. The monastic and literary conceptions of education, which had their roots in the Middle Ages, had been accepted and strengthened at the revival of Learning, he adopted almost without hesitation. Under him, the public school remained, in essentials, a conventional establishment, devoted to the teaching of Greek and Latin grammar.
Much of the same Christian evangelicism is present in the life of General Gordon (and it takes almost as a matter of course an anti-Semitic and anti-Muslim element). Strachey produces a narrative which is amazingly contemporary in revealing the connections between government, military, and the press which resulted in General Gordon being sent on a mission to 'save' Khartoum – only to find himself bogged down in an imperialistic quagmire which resulted in him paying with his life, waiting for a rescuing expeditionary force which arrived just forty-eight hours too late.
At any rate, it had all ended very happily – in a glorious slaughter of twenty thousand Arabs, a vast addition to the British Empire, and a step in the peerage for Sir Evelyn Baring.
© Roy Johnson 2009

Buy the book at Amazon UK

Buy the book at Amazon US
---
Lytton Strachey, Eminent Victorians, Oxford: Oxford University Press, 2009, pp.336, ISBN 019955501X
---
More on Lytton Strachey
Twentieth century literature
More on the Bloomsbury Group
---