tutorial, commentary, study resources, and web links
Man and Wife (1870) was one of the novels in which Wilkie Collins undertook to expose social injustice – in this case the absurdities which existed in British marriage laws. It was his ninth published novel. As someone who had briefly studied law himself, Collins took a keen interest in legal matters, particularly how they applied to domestic life. He himself never married, even though he maintained two separate families who lived quite close to each other in London's fashionable West End. The novel explores both the social and legal problems which arise from bad law and the cruelties inflicted on women trapped in abusive marriages.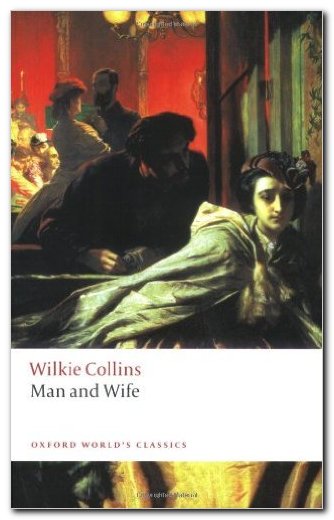 ---
Man and Wife – a note on the text
Man and Wife first appeared as a serial in Cassell's Magazine between January and June 1870. It was simultaneously serialized in the United States by Harper's Weekly and then published as a novel in three volumes by F.S. Ellis, to which Collins added a preface, a dedication, and an appendix. He often felt that he needed to explain and justify the subjects he chose for his novels, because they were considered slightly scandalous at the time, and many critics doubted the realistic validity of his subject matter.
---
Man and Wife – critical commentary
Principal issues
Readers will have no difficulty in appreciating that the main elements of the novel are the legal problems surrounding 'irregular' marriage, the social status of women, and irregularities and differences between the laws of England and of Scotland.
There are several long discussions between characters on the subject of the 'irregular' Scottish marriage. The essence of this is that a marriage did not need to be announced in advance (by the issuing of 'banns') did not need to take place in a place of worship, and did not need to be solemnised by a member of the church. A marriage could be legally established by mere assertion of the two parties concerned – with no scrutiny of the validity of their claim.
The problems and anomalies to which this arrangement might give rise are fully explored in the events of the novel, and full recognition is given to the fact that differences of legal opinion could arise on the status of a particular union.
Arnold Brinkworth marries Blanche Lundie in a perfectly orthodox manner in England – but is then shocked to discover that he is considered to have previously married Anne Silvester. This is because he merely announced himself as her husband and stayed overnight in the same remote inn where she was waiting for Geoffrey Delamayn.
Anne Silvester has a verbal agreement with Geoffrey Delamayne that they will marry in secret. She writes to him asserting their understanding, and he replies in agreement. And that letter alone is later regarded as 'proof' of their marriage.
Even though she later hates Delamayne, Anne agrees to respect the agreement and thereby sacrifices herself so that no shadow of scandal will blemish the marriage of her friend Blanche to Arnold. The tragic consequence of her action is that on the strength of this Delamayne eventually imprisons her (which the law permits) and plans to murder her so that he can marry the rich Mrs Glenarm.
Add to these instances the sad story of Hester Dethridge's marriage to an abusive husband from which she cannot escape, and the reader is presented with a whole range of complexities arising from bad law and the uncertain outcome of marriage (at any time). Wilkie Collins was obviously sceptical of the institution, as he reveals rather satirically when describing the wedding ceremony:
Thus, the service began—rightly-considered the most terrible surely of all mortal ceremonies—the service which binds two human beings, who know next to nothing of each other's natures, to risk the tremendous experiment of living together till death parts them—the service which says, in effect if not in words, Take your leap in the dark: we sanctify but we don't insure it!
The sensation novel
Man and Wife is often seen as the opening work of Wilkie Collins' 'later period' in which he took a 'moral and didactic' approach to social issues of the day. This is most evident in the close relationship of his marriage law subject matter and the constitutional changes taking place at the time, notably the Married Women's Property Act (1870).
But the novel also contains many elements of the sensation novel which had made his earlier works of the 1860s so popular – notably secret marriage, bigamy, blackmail, domestic violence, incarceration, and murder.
The main plot gets under way with two non-marriages which assume legal status. The first is Anne's proposal of a secret marriage to Geoffrey Delamayne. This takes place purely on paper – in a letter from Anne asserting their union which also contains Geoffrey's affirmative reply.
The second occurs when Arnold visits Anne at the inn pretending to be her husband. This leads directly to what Collins presents as the absurdity of the 'irregular Scottish marriage'. They are deemed to be married merely because they spend the night together under the same roof.
More seriously, because of this innocent accident Arnold later becomes guilty of bigamy when he marries Blanche. The whole of the second part of the novel is driven by attempts to unravel this Scottish marriage and to counter its social ramifications.
Part of the plotting and counter-plotting involves blackmail. The scurrilous waiter Bishopriggs gains possession of the vital letter of understanding between Anne and Geoffrey Delamayne. When Bishopriggs threatens to reveal its contents unless he is well compensated, Anne counter-threatens the same thing, which will make the letter worthless. (However, it is a serious flaw in the plot that he parts with it for the measly sum of five pounds.)
The mysterious figure of the dumb cook Hester Dethridge is eventually revealed as a victim of domestic violence. She is married to a man who is a drunkard, who takes and squanders all the money she earns, and who beats her savagely. Her written confession which presents this catalogue of abuse is clearly offered by Wilkie Collins as a polemical illustration of the lack of women's rights at the time.
The abuse is so severe that Hester feels she has no alternative but to remove its source – so she eventually murders her husband. She rather improbably escapes detection – but she is ever afterwards haunted by a recurrent homicidal impulse.
This finds its ultimate outlet when she is forced to assist Geoffrey Delamayne in his attempt to murder Anne using the same method she has used. But instead of helping him, she strangles him – though he appears to have a stroke at the same moment. It is not altogether clear if she is the actual killer – but she is nevertheless incarcerated as a result – in a mental asylum from which she will not be released for the rest of her life.
Dramatic structure
Wilkie Collins produced the novel as a prose narrative for serial publication in Cassell's Magazine. As such it sits alongside literary works in the novel genre produced by his contemporaries Dickens, Gaskell, Braddon, and Trollope. But it is quite clear that there is a strong sense of a stage drama underpinning the structure of the work.
The fact is that he first conceived the story as a play, and one of its principal weaknesses is that the narrative is comprised of a series of rather long-winded 'conversational' interludes sewn together by episodes of a quite different pace and style.
The main scenes in the unfolding of the plot are very static, and they take place usually in the drawing room, dining room, summer-house, library, or some other location easily rendered under the proscenium arch of a traditional stage.
There are lots of comings and goings in and out of doorways, and lots of situations packed with dramatic irony. It is closer in tone and genre to a country house comedy of manners than to the serious and dark melodrama into which the novel turns during its third and final volume.
Perhaps the most surprising structural weakness occurs at the end of the novel. Just as the story is being brought to its climax and the main theme of the story (the Anne-Geoffrey non-marriage) is being resolved – Collins interrupts the dramatic tension by inserting the potted biography of Hester Dethridge. This is a blatant passage of propaganda on the subject of women trapped in abusive relationships – and as such it completely disrupts the tone of the main narrative.
Moreover it culminates in Hester's murder of her abusive husband in a scene which is very badly explained in terms of dramatic invention. We are asked to believe that Hester puts her hands through a lath and plaster wall, suffocates her husband with a wet towel, then somehow repairs the wall leaving 'nothing disturbed or altered'. Geoffrey then plans to murder Anne in a gimcrack reprisal of the same method in the final scene, which is as rushed as it is far-fetched.
---
Man and Wife – study resources

Man and Wife – Oxford Classics – Amazon UK

Man and Wife – Oxford Classics – Amazon US

Man and Wife – Facsimilie Publisher – Amazon UK

Man and Wife – Facsimilie Publisher – Amazon US

The Complete Works of Wilkie Collins – Kindle eBook

Man and Wife – eBook formats at Gutenberg
---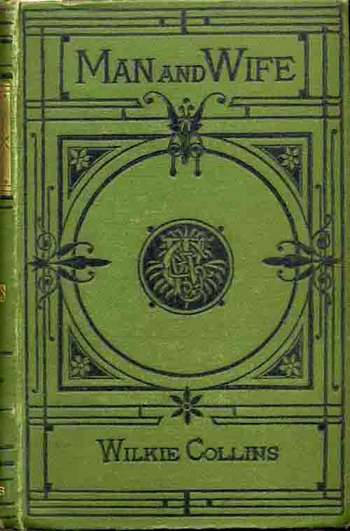 1875 edition
---
Man and Wife – plot synopsis
Prologue
I. Ambitious John Vanborough feels that his wife is holding back his chances of rising socially. He discovers that his marriage is technically invalid and throws himself at rich widow Lady Jane Parnell.
II. He marries her, enters parliament, and becomes famous. Delamayne enters parliament and becomes solicitor general. Vanborough commits suicide, leaving his daughter Anne Sylvester to be raised by Lady Julia Lundie, where she is governess to Blanche her step-daughter.
The Story
There is a garden party at the estate of Sir Patrick Lundie. Anne Sylvester is at odds with the termagant Lady Lundie. Sir Patrick discusses inheritance with young Arnold Brinkworth, who proposes to Blanche Lundie. Anne bullies Geoffrey Delamayne into a secret marriage because he has been paying court to her. News arrives that Delamayne's father is ill, so he deputes his friend Arnold to explain his absence to Anne.
Second Scene
Arnold takes the news to a distraught Anne at a nearby inn. They unwisely pass themselves off as newlyweds. Arnold misses his train and is forced to stay overnight. When Blanche arrives, Anne hides Arnold and gives Blanche a partial explanation.
Third Scene
Delamayne is in London. His father wishes him to marry, and his brother Julius presents an attractive alternative in rich widow Mrs Glenarm.
Fourth Scene
Blanche, Arnold, and Geoffrey assemble at Windygates to discuss Anne, who is in hiding . There are lots of dramatic ironies and much consideration of irregular Scottish marriages. A visiting surgeon makes a case against physical exercise, and predicts that Geoffrey is internally flawed. Anne suddenly returns to the house and is rejected by Geoffrey. Anne disappears again, and is pursued by Sir Patrick and Blanche. Anne sends Blanche a letter of terminal farewell. Sir Patrick urges marriage as a solution for Arnold and Blanche, to which Arnold agrees. Anne is traced to Glasgow.
Fifth Scene
In Glasgow Anne receives contradictory advice on her legal status under Scottish law. She then collapses at the hotel.
Sixth Scene
Geoffrey jousts verbally with Mrs Glenarm to whom he is secretly engaged. He trains for a running race – and shows signs of weakness. Blanche questions the waiter Bishopbriggs about Anne's letter which he plans to use in blackmailing Geoffrey and Mrs Glenarm.
Seventh Scene
On the evening of his wedding Arnold is questioned by Sir Patrick about Geoffrey's secret – which he feels he cannot honourably reveal. Arnold and Blanche marry and go on honeymoon. Letters arrive from Anne sacrificing herself and revealing the truth about her meeting with Arnold. Geoffrey's marriage to Mrs Glenarm is announced in the newspapers, as is the attempted blackmail of Mrs Glenarm. Anne moves to London.
Eighth Scene
Anne confronts the blackmailer Bishopriggs and pays him five pounds for her letter.
Ninth Scene
Anne confronts Mrs Glenarm and they dispute the veracity of Geoffrey's claim that Anne is married to Arnold.
Tenth Scene
Lady Lundie intervenes and interrogates the inn-keeper Mrs Inchbare. She then plots further with Mrs Glenarm.
Eleventh Scene
Lady Lundie confront's Blanche and convinces her that Arnold was already married to Anne, her closest friend. She then takes her away to London.
Twelfth Scene
Anne visits Geoffrey in Fulham, and is rejected anew. But Sir Patrick interprets Anne's letters to and from Geoffrey as proof that they were married under Scottish law.
Thirteenth Scene
Geoffrey loses the running race in Fulham and collapses after the event.
Fourteenth Scene
There is a meeting of lawyers to consider the legal status of the disputed marriage. Sir Patrick argues the case for Arnold and Blanche. He produces Anne's 'marriage' letter which proves the case – and Anne chooses to sacrifice herself for Blanche's sake.
Fifteenth Scene
Sir Patrick visits Lord Holcome who is dying. He has made a new will with provision for Geoffrey (and possibly Anne) but dies before the codicil can be signed.
Final Scene
Geoffrey Delamayne takes his 'wife' Anne to the lodgings run by Hester Dethridge. He plans to sue for a 'divorce' but cannot make a legal case. When his father dies, he imprisons Anne in the cottage. His brother Julius proposes to honour the unsigned codicil to his father's will if Geoffrey will agree to a separation. Geoffrey refuses. and becomes ill. Hester sees an apparition of some kind and tells Geoffrey he must leave. Geoffrey reads Hester's confession of how she killed her abusive husband. He prepares to murder Anne in the same way, but when he makes the attack through a bedroom wall he has a stroke, whilst Hester has another homicidal vision and kills him.
Epilogue
Six months later Hester has been placed in a mental asylum, Mrs Glenarm is in the process of becoming a nun, and Anne has become Lady Lundie by marrying Sir Patrick.
---
Man and wife – principal characters
| | |
| --- | --- |
| Delamayne | an ambitious lawyer who becomes Lord Holchester |
| Julius Delamayne | his elder son, who inherits the title |
| Geoffrey Delamayne | his profligate younger son |
| Lady Julia Lundie | a proud Scottish widow |
| Blanche Lundie | her young step-daughter |
| Sir Patrick Lundie | a retired lawyer |
| Anne Silvester | governess and friend to Blanche |
| Arnold Brinkworth | friend of Geoffrey, suitor to Blanche |
| Hester Dethridge | a dumb cook and landlady |
| Mrs Glenarm | a rich young widow |
| Samuel Bishopriggs | a crusty old Scottish waiter |
---
Man and Wife – further reading
William M. Clarke, The Secret Life of Wilkie Collins, London: Ivan R. Dee, 1988.
Tamar Heller, Dead Secrets: Wilkie Collins and the Female Gothic, New Haven: Yale University Press, 1992.
Winifred Hughes, The Maniac in the Cellar: Sensation Novels of the 1860s, Princeton: Princeton University Press, 2014.
Sue Lonoff, Wilkie Collins and his Victorian Readers: A Study in the Rhetoric of Authorship, New York: AMS Press, 1982.
Catherine Peters, The King of Inventors: A Life of Wilkie Collins, Princeton: Princeton University Press, 2014.
Walter C. Phillips, Dickens, Reade, and Collins: Sensation Novelists, New York: Library of Congress, 1919.
Lynn Pykett, Wilkie Collins: New Casebooks, London: Palgrave-Macmillan, 1998.
Nicholas Rance, Wilkie Collins and Other Sensation Novelists: Walking the Moral Hospital, London: Palgrave-Macmillan, 1991.
© Roy Johnson 2017
---
More on Wilkie Collins
More on the novella
More on literary studies
More on short stories
---