designs and examples for the modern enterprise
Mashups originated in the music industry, where a mashup was a combination of two or more songs to create a new experience. Typically, the vocal track of one song was combined with the instrumental background of another. The result was a hybrid – but something new. For most consumers, mashups are built with data from Google Maps, Flickr, YouTube, Amazon, and eBay. These companies were pro-active in offering up their data for other people's use. In Mashup Patterns Michael Ogrinz is more concerned with 'enterprise' (that is, Big Business) where there may be less enthusiasm in giving access to data. But it can be 'gathered' nevertheless – and he offers the polite euphemism 'harvesting' to avoid the more nasty-sounding term 'screen-scraping'.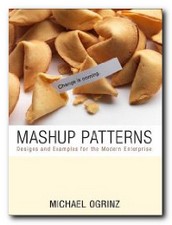 He also sees rich potential in the congruence of mashups with Software as a Service (SaaS) – firms which offer ready-made software solutions to which business users subscribe at very little cost. This saves them the heavy investment costs of developing their own. His emphasis is on showing useful solutions to problems: this is the 'patterns' of his title. A pattern is a solution to a problem which can be re-used elsewhere to solve a different problem. What he doesn't do is show the technical detail of how it's done. For that you might wish to consult the book's companion, J. Jeffrey Hanson's Mashups: Strategies for the Modern Enterprise.
It's understandably assumed that data will be taken from more than one source to create a mashup – but he gives examples where only one source is used. In both cases however, scheduling of gathering the data may be crucial, especially on time-sensitive issues such as stock market prices.
The book is rich in examples. An 'alerter' can be used to warn businesses of new software releases or product updates, or compare price fluctuations to identify buying opportunities. Similarly, price analysis mashups allow businesses to keep an eye on competitors and offer lower prices.
Mashups he calls 'Infinite Monkeys' can be used to analyse huge amounts of data, which are too big for human analysis. This is done to uncover hidden trends – such as geographic hot spots where more widgets sell, more accidents occur, or where house repossessions are on the rise.
Mashups can also analyse data in blogs, wikis, and email messages to deal with what he calls 'reputation management' – such as most frequently cited sources. The patterns he describes are given a 'fragility' rating – based on how likely the data they use is going to become unavailable (because sites do go down or even disappear).
One of the most obvious uses of mashup technology is the holiday planner. Data can be drawn from multiple sources such as airline schedules, hotel booking agencies, car hire firms, and restaurants to produce a complete package.
All these applications are grouped into chapters which consider how information can be obtained from various sources, how it can be enriched, recombined, and repurposed. The term 'enterprise' in his subtitle is reflected in the fact that most concrete examples involve improving sales, making a business more effective, identifying new business opportunities, and in general maximising profit.
He finishes with some real life case studies in which companies successfully used mashups to solve problems – from Associated Press to the Philadelphia Stock Exchange and Reuters. This emphasis on commerce might make the book appeal to business users as well as the content creators and software developers who are most likely to be taken up with the possibilities of mashups.
© Roy Johnson 2009

  Buy the book at Amazon UK

  Buy the book at Amazon US
---
Michael Ogrinz, Mashup Patterns: Designs and Examples for the Modern Enterprise, London: Addison-Wesley, 2009, pp.400, ISBN: 032157947X
---
More on eCommerce
More on media
More on publishing
More on technology
---