tutorial, commentary, study resources, plot, and web links
Master Eustace first appeared in The Galaxy magazine for November 1871. Its first appearance in book form was as part of the collection Stories Revived published in three volumes by Macmillan in London 1885.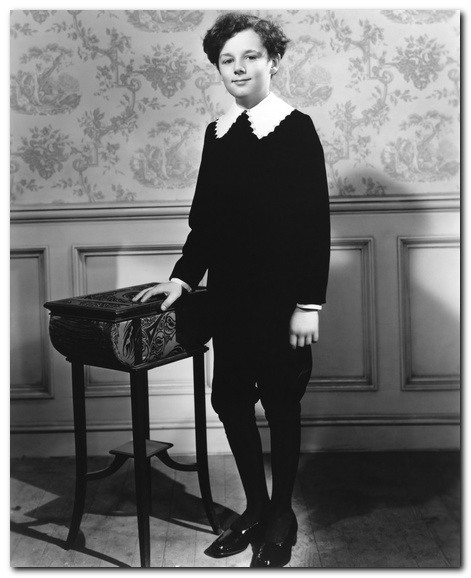 Freddie Bartholomew as Little Lord Fauntleroy
---
Master Eustace – critical commentary
Melodrama
This tale has many of the elements of the nineteenth century melodrama: the long-kept secret; the self-sacrificing mother; the demanding child; the sudden revelation of paternity; the attempted suicide. the death by emotional shock. Such ingredients were common in the fiction of that period. In fact the story in theme is not unlike Thomas Hardy's The Son's Veto which used similar elements nearly twenty years later.
Readers in the twentieth century began to find such emotionally loaded drama difficult to accept, and the vogue for convincing realism was established which most serious writers of fiction have followed ever since. For a time there was a similar reaction against Charles Dickens, who used very overt melodrama in the plots of his novels. In the twenty-first century however, there has been a greater tolerance of melodramatic effects – provided that narratives are not solely dependent on them for significant meaning, and provided that they are supported by compensating artistic effects and psychological insights.
Checkhov's gun
The Russian playwright and short story writer Anton Checkhov remarked that "If you say in the first chapter that there is a rifle hanging on the wall, in the second or third chapter it absolutely must go off. If it's not going to be fired, it shouldn't be hanging there". The term 'Checkhov's gun' is a metaphor for a dramatic principle concerning simplicity and foreshadowing.
In Matser Eustace the sudden mention of 'pistols' flags up to any alert reader the fact that they are likely to be used in what follows. We suspect that Eustace might shoot Mr Cope. But James adds a creative twist to this very traditional plot element. Eustace not only doesn't shoot Mr Cope, but shoots himself in a suicide attempt – and fails. So the gun in this case turns out to be something of a red herring
There is a similar false lead in the hurried marriage of Mrs Garnyer and Mr Cope. It seems as if he might be after her money, especially when he returns suddenly after Eustace has left and when he takes over the running of her affairs. But this too turns out not to be the case.
The framed narrative
James was very fond of using the 'framed narrative' device in his shorter fictions – that is, the strategy of having the main story relayed to a second party, who then makes it available to the reader. This creates an 'inner' and an 'outer' narrator. Various degrees of reliability can sometimes be built in to the characterisation of the narrators (as he did most famously in The Turn of the Screw.
Sometimes the 'frame' is not closed but left open-ended – but in the case of Master Eustace the outer narrator introduces the story with a single short paragraph, then reappears at the conclusion to top it off with two or three comments at the conclusion of the governess's tale. No attempt is made to construct a separate point of view by the creation of this outer narrator. These were early experiments in James's oeuvre but they foreshadow many complex experiments which were to come in later tales.
---
Master Eustace – study resources

The Complete Works of Henry James – Kindle edition – Amazon UK

The Complete Works of Henry James – Kindle edition – Amazon US

Complete Stories 1864—1874 – Library of America – Amazon UK

Complete Stories 1864—1874 – Library of America – Amazon US

Master Eustace – read the original text on line

The Cambridge Companion to Henry James – Amazon UK

Henry James at Wikipedia – biographical notes, links

Henry James at Mantex – tutorials, biography, study resources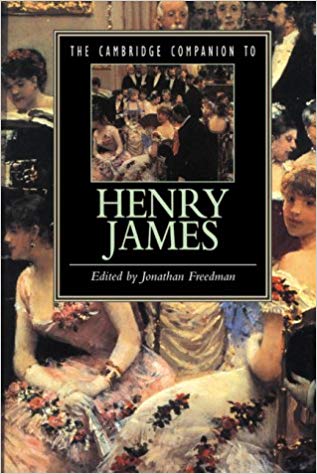 ---
Master Eustace – plot summary
Part I.   A young woman of modest means takes up a position as assistant to Mrs Garnyer, a sad and frail widow whose husband mistreated her. She has a son Eustace on whom she lavishes all her attention and pins all her hopes. The child is demanding, spoiled, and arrogant: he patronises and insults his governess.
Part II.   The child grows older, and a succession of tutors are employed. All of them fall in love with their employer, and are rejected out of hand. The governess becomes a companion and maid-of-all-sorts to Mrs Garnyer. The youth's birthdays are celebrated by dressing up and fantasies, and the mother remains completely isolated from society, treating her son almost as a lover in waiting.
Part III.   Eustace is keenly aware of what he will inherit and cultivates a taste for luxuries. He creates an idealised image of the father he has never known, and vows to live like him. Mrs Garnyer receives occasional advice from Mr Cope, an old family friend in India. He advises letting Eustace travel in Europe, as he wishes. The youth departs, then she receives a message saying that Cope will be returning. When he settles in the house Mrs Garnyer is transformed into a vibrant and youthful woman again. The governess too is very impressed with Mr Cope.
Part IV.   The governess presumes that Mrs Garnyer and Mr Cope were once due to marry, but were forced by circumstances to marry other (unsuitable) people. She writes to Eustace about Mr Cope and his mother's improved condition. Then Mrs Garnyer announces that she is due to marry Mr Cope, who will take over the running of her affairs. They marry quite quickly, then depart on honeymoon, leaving the governess in charge of the house.
Part V.   Eustace suddenly returns the next day. When he hears that his mother has actually married Mr Cope he explodes with petulant rage. The governess sends word to his mother that he has come home and is not well, asking her to come back. Later that nigh they all converge in the house. Eustace curses and disowns his mother in a jealous outrage.
Part VI.   Mrs Garnyer feels that her son's curse has killed her, and she unburdens herself to the governess. Mr Cope reveals to Eustace that he is his father. Eustace tries to commit suicide, but fails. Mrs Garnyer dies, and the two men shake hands – but only once, as father and son – and are never reconciled.
---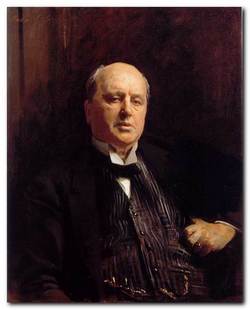 Henry James – portrait by John Singer Sargeant
---
Further reading
Biographical

Theodora Bosanquet, Henry James at Work, University of Michigan Press, 2007.

F.W. Dupee, Henry James: Autobiography, Princeton University Press, 1983.

Leon Edel, Henry James: A Life, HarperCollins, 1985.

Philip Horne (ed), Henry James: A Life in Letters, Viking/Allen Lane, 1999.

Henry James, The Letters of Henry James, Adamant Media Corporation, 2001.

Fred Kaplan, Henry James: The Imagination of Genius, Johns Hopkins University Press, 1999

F.O. Matthieson (ed), The Notebooks of Henry James, Oxford University Press, 1988.
Critical commentary

Elizabeth Allen, A Woman's Place in the Novels of Henry James London: Macmillan Press, 1983.

Ian F.A. Bell, Henry James and the Past, London: Palgrave Macmillan, 1993.

Millicent Bell, Meaning in Henry James, Cambridge (MA): Harvard University Press, 1993.

Harold Bloom (ed), Modern Critical Views: Henry James, Chelsea House Publishers, 1991.

Kirstin Boudreau, Henry James's Narrative Technique, Macmillan, 2010.

J. Donald Crowley and Richard A. Hocks (eds), The Wings of the Dove, New York: W.W. Norton and Company, 1978.

Victoria Coulson, Henry James, Women and Realism, Cambridge University Press, 2009.

Daniel Mark Fogel, A Companion to Henry James Studies, Greenwood Press, 1993.

Virginia C. Fowler, Henry James's American Girl: The Embroidery on the Canvas, Madison (Wis): University of Wisconsin Press, 1984.

Jonathan Freedman, The Cambridge Companion to Henry James, Cambridge University Press, 1998.

Judith Fryer, The Faces of Eve: Women in the Nineteenth Century American Novel, Oxford: Oxford University Press, 1976

Roger Gard (ed), Henry James: The Critical Heritage, London: Routledge, 1968.

Tessa Hadley, Henry James and the Imagination of Pleasure, Cambridge University Press, 2009.

Barbara Hardy, Henry James: The Later Writing (Writers & Their Work), Northcote House Publishers, 1996.

Richard A. Hocks, Henry James: A study of the short fiction, New York: Twayne Publishers, 1990.

Donatella Izzo, Portraying the Lady: Technologies of Gender in the Short Stories of Henry James, University of Nebraska Press, 2002.

Colin Meissner, Henry James and the Language of Experience, Cambridge University Press, 2009

John Pearson (ed), The Prefaces of Henry James, Pennsylvania State University Press, 1993.

Richard Poirer, The Comic Sense of Henry James, Oxford: Oxford University Press, 1967.

Hugh Stevens, Henry James and Sexuality, Cambridge University Press, 1998.

Merle A. Williams, Henry James and the Philosophical Novel, Cambridge University Press, 1993.

Judith Woolf, Henry James: The Major Novels, Cambridge University Press, 1991.

Ruth Yeazell (ed), Henry James: A Collection of Critical Essays, Longmans, 1994.
---
Other works by Henry James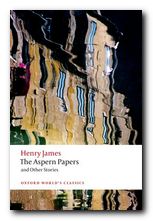 The Aspern Papers (1888) is a psychological drama set in Venice which centres on the tussle for control of a great writer's correspondence. An elderly lady, ex-lover of the writer, seeks a husband for her daughter. But the potential purchaser of the papers is a dedicated bachelor. Money is also at stake – but of course not discussed overtly. There is a refined battle of wills between them. Who will win in the end? As usual, James keeps the reader guessing. The novella is a masterpiece of subtle narration, with an ironic twist in its outcome. This collection of stories also includes three of his accomplished long short stories – The Private Life, The Middle Years, and The Death of the Lion.


Buy the book from Amazon UK


Buy the book from Amazon US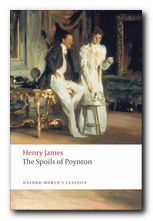 The Spoils of Poynton (1896) is a short novel which centres on the contents of a country house, and the question of who is the most desirable person to inherit it via marriage. The owner Mrs Gereth is being forced to leave her home to make way for her son and his greedy and uncultured fiancee. Mrs Gereth develops a subtle plan to take as many of the house's priceless furnishings with her as possible. But things do not go quite according to plan. There are some very witty social ironies, and a contest of wills which matches nouveau-riche greed against high principles. There's also a spectacular finale in which nobody wins out.


Buy the book from Amazon UK


Buy the book from Amazon US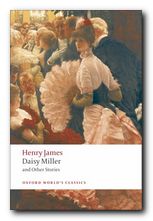 Daisy Miller (1879) is a key story from James's early phase in which a spirited young American woman travels to Europe with her wealthy but commonplace mother. Daisy's innocence and her audacity challenge social conventions, and she seems to be compromising her reputation by her independent behaviour. But when she later dies in Rome the reader is invited to see the outcome as a powerful sense of a great lost potential. This novella is a great study in understatement and symbolic power.


Buy the book from Amazon UK


Buy the book from Amazon US
---
Henry James – web links
Henry James at Mantex
Biographical notes, study guides, tutorials on the Complete Tales, book reviews. bibliographies, and web links.
The Complete Works
Sixty books in one 13.5 MB Kindle eBook download for £1.92 at Amazon.co.uk. The complete novels, stories, travel writing, and prefaces. Also includes his autobiographies, plays, and literary criticism – with illustrations.
The Ladder – a Henry James website
A collection of eTexts of the tales, novels, plays, and prefaces – with links to available free eTexts at Project Gutenberg and elsewhere.
A Hyper-Concordance to the Works
Japanese-based online research tool that locates the use of any word or phrase in context. Find that illusive quotable phrase.
The Henry James Resource Center
A web site with biography, bibliographies, adaptations, archival resources, suggested reading, and recent scholarship.
Online Books Page
A collection of online texts, including novels, stories, travel writing, literary criticism, and letters.
Henry James at Project Gutenberg
A major collection of eTexts, available in a variety of eBook formats.
The Complete Letters
Archive of the complete correspondence (1855-1878) work in progress – published by the University of Nebraska Press.
The Scholar's Guide to Web Sites
An old-fashioned but major jumpstation – a website of websites and resouces.
Henry James – The Complete Tales
Tutorials on the complete collection of over one hundred tales, novellas, and short stories.
© Roy Johnson 2013
---
More tales by James
More on literature
More on the novella
More on literary studies
More on short stories
---