new journalism, new publishing, new media
Mediactive is the latest stage in an argument that has been developing for some time now. In 2004 Dan Gillmor launched the notion of the 'citizen journalist' in his polemic We the Media. He argued that news is too important to be left entirely in the hands of professional journalists, and that bloggers (who were at that time a new phenomenon) had a corrective influence that should be encouraged. Since anyone with access to a computer and the Internet can start blogging within five minutes, it was in the power of ordinary people to create an additional and maybe an alternative voice to the established press and the broadcast media. They can also do this at virtually no cost, because the open source movement makes powerful software available to us free of charge. Since that time the sales of print newspapers have been plummeting, and bloggers have risen in importance and influence, to the extent that all major newspapers now have their own staff bloggers, having once ridiculed their very existence.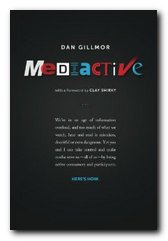 Mediactive is Gillmor's update to these arguments, in which he urges us all to become more active, sceptical, and open consumers of information – but also active participants in its creation. And he even provides the tools to do the job. In the past you needed to own printing presses, publishing companies, and distribution networks to make even the smallest item of information available to a wider audience. But now all that has changed. Because as he argues very persuasively (referencing Clay Shirky) – the barriers to entry are virtually zero. "You don't need anybody's permission, and you don't need much money either". In other words, individual entrepreneurs now have an entirely new opportunity to make information available to the public.
His book is in three parts: first, the arguments for becoming active in the creation of media (print, blogs, video, podcasts); second, the tools for engagement and how to use them; and third, the large socio-legal issues and conflicts in online advocacy and the realms of media literacy in education.
This is an interesting book in its own right as a physical object. Mediactive exists primarily as an on-going project, a web-based set of resources, of which this printed book is only one manifestation, which might well be called Version 1.0. Other manifestations already exist as web pages, and you can download the whole thing as a PDF file free of charge at Mediactive.com. In time, as new materials, updated evidence, modifications, and corrections are made, the version number will change – just as in the case of software at the moment.
Dan Gillmor is one of those people who believe that making books available as free downloads increases the sales of a print version. It has to be said that in this form of print on demand (POD) format these books are not very attractive. They have small page margins, the first lines of paragraphs are indented, typography is crude, and perhaps worst of all, underlining is used to show where hyperlinks exist in the online version.
It has no index, footnotes, or bibliography. All of these are available in the master copy which exists on line. It's rather like a book that has been produced by an enthusiastic amateur using a desktop publishing kit. It's also written in bite-sized chunks for reading on screen. What works in one medium doesn't necessarily translate well without problems for another
However this is the Brave New World of publishing and distributing ideas, and I think we might expect a few rough edges in these emerging forms, just as I'm equally confident that production standards will rise as the form matures. If you don't believe me, have a look at any document you produced twenty years ago.
Basically he wants us all to become more vigilant and active participants in using the new media tools at our disposal. His strongest argument in support of citizen media against traditional journalism and especially broadcast media is also its smallest and simplest elements – the hyperlink and the comment. If television news reports an event, we have no way of clicking through to check the source of the information or any alternatives there might be, and we have no way of offering corrective feedback or criticism.
Having urged participation, he then goes through the best known of the new media tools – blogs, YouTube, Flickr, and even content management systems (CMS), though like me, he drew the line at Drupal as a techie step too far.
All this creates an entirely new opportunity to the individual entrepreneur in any field of interest. That's because the barriers to entry are virtually zero. "You don't need anybody's permission, and you don't need much money either."
He poses interesting questions and raises thought-provoking questions. For instance, the apparently simple query: "What is journalism?" If somebody documents arguments over a planning application to build a new factory in their neighbourhood on a blog – is that journalism? And if not, why not? His answer would be yes – because even though you are not paid for writing the article or employed by a newspaper, the article is performing the function of journalism by making information publicly available.
He also poses an interesting notion that is reflected in the very nature of the book itself. "When is a work complete?" Why shouldn't a digital work live on and accrue to itself all the modifications, corrections, additions, and links to further information that become available over time? There is no reason why a book should not be like a Wikipedia entry – subject to constant updating and revision.
Of course this idea leads in turn to the question "What is a book?" – to which this production is an interesting answer. Of course we are accustomed to a book being a relatively static or fixed entity, existing in maybe at the most two or three editions. But there is no reason why we should not refer in future footnotes and references to Book Title, Version 3.1.5

  Buy the book at Amazon UK

  Buy the book at Amazon US
© Roy Johnson 2011
---
Dan Gillmor, Mediactive, Lulu.com, 2010, pp.183, ISBN: 0557789427
---
More on digital media
More on technology
More on theory
---