pocket academic writing style guide for humanities
The key to this style guide is in its subtitle: 'Notes for Authors, Editors, and Writers of Theses'. It has been produced by the Modern Humanities Research Association as a manual of advice and procedures for people preparing texts for publication. The MHRA Style Guide assembles a set of conventions to help users through the minutiae of the scholarly editing and presentation of texts.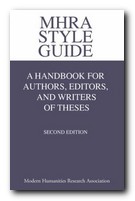 If you are a student, a researcher, or a writer, the net result is a brief and very usable guide. One of its principal advantages over other guides is its brevity: it only includes the essentials, and everything is easy to find. And yet it covers everything you would normally require for academic writing or formal publication – from spelling, abbreviations, and punctuation through to the thorny issue of bibliographic referencing, which is what often drives students into fits of nail-biting frenzy.
It's all very succinct, and yet manages to pack in the presentation of foreign languages, citations from articles, journals, and newspapers, and even a nod towards the Author-Date (or Harvard) system of referencing.
The latest edition has been expanded to cover preparing texts for electronic publication and there are sections on indexing and writing a thesis or a dissertation. There's a glossary, sections on book reviews and correcting proofs, and a good index.
I first came across this book when it was chosen by the Open University as a set text for some of its postgraduate courses. Getting students to follow the conventions is still hard work, but it's a lot easier than it used to be.
What I like most about the book is that it gives you the impression that you're just about to publish an important piece of work. Since it's also amazingly cheap, it's worth buying as a confidence-booster alone.
© Roy Johnson 2008

  Buy the book at Amazon UK

  Buy the book at Amazon US
---
MHRA Style Guide: Notes for Authors, Editors, and Writers of Theses, London: Modern Humanities Research Association, new second edition 2008, pp.95, ISBN: 0947623620
---
More on writing skills
More on language
More on grammar
---