creative ways to use Moodle for online learning courses
William H. Rice is something of a Moodle specialist. This is a follow up to his recent Moodle: E-Learning Course Development in which he seeks to explain the finer points of Moodle's dizzying array of features and how they can be used to construct ever more sophisticated models of online teaching and learning. Moodle Teaching Techniques looks at the current and the future versions of Moodle. For instance, many tutors want to control the sequence of the student's progress through a course, so that they need to understand one topic before they pass on to the next.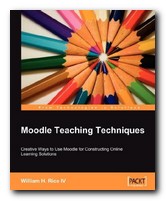 This is called 'activity locking', which is not available in the currently popular Moodle 1.8 version, but will be by the time version 2.0 appears. This is a good way of future-proofing the book's relevance. All the strategies are explained in a perfectly straightforward manner, and illustrated with screenshots from the relevant control panels within Moodle. Those people who are familiar with its interface will have no difficulty in finding their way around.
The central feature of Moodle's interactivity is the quiz option – and fortunately this is explored in some detail, showing how tutors can give graded levels of feedback on answers. I can tell you from first hand experience that all this is hard work – thinking up questions, correct solutions, and responses to all possible answers – but it does give students something more interactive than just reading flat text on a screen.
It's certainly true that Moodle gives tutors and administrators an amazing amount of control over what appears and what takes place on a course. Postings to a discussion forum can be rated for their relevance, ordered by priority, and monitored for the participation level. These features are particularly useful for students engaged with online college degree programs where there is less face-to-face contact with other students as well as tutors.
However, some features are explored to the point of Utopianism – such as the ability of tutors to conduct chat sessions with students in a foreign language, with all the keyboard allocations used to type in foreign characters.
It's good to know that Moodle has these features, but the basics of course construction still need to be explained and promoted – such as how to get more graphics, video, sound, and general animation and interaction into a typical course. Ninety-nine out of every hundred online tutors will still be having problems getting their students to the keyboard and keeping them there.
And some of the suggestions are workarounds bordering on the perverse – such as creating forums and allocating to them single students for what seems no more than what would be possible in a private email exchange. It's possible, and it's ingenious – but any tutor who has the time to do this ought to be making better use of it.
His suggestions for using Moodle's lesson and Wiki features are much more realistic, as well as his assessment of the relative advantages and disadvantages of the forum, blog and journal features. He finishes by showing how the block elements of a Moodle course can be re-arranged on the page – something I think might have been more usefully placed at the start of the book.
So on the whole I think that whilst all Moodle-using course designers will want to get their hands on this well-timed publication – the definitive guide to designing online learning experiences is still to be written.
© Roy Johnson 2007
---
William H. Rice IV, Moodle Teaching Techniques, Birmingham UK: Pakt, 2007, pp.172, ISBN: 184719284X
---
More on online learning
More on technology
More on digital media
More on web design
More on computers
---