tutorial, commentary, study resources, and web links
Mora Montravers was first published in the English Review in August-September 1909. It deals with a subject which was very popular around that time – the new woman. Since the 1880s and 1890s women had been fighting for independence, voting rights, and reform of the divorce laws. Alongside these larger political matters, they had also been claiming the right to make their own life choices. James deals here with these issues in his characteristically ambiguous manner.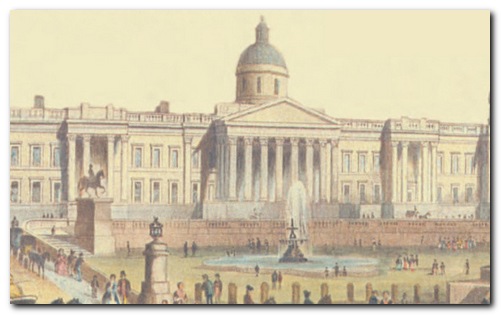 The National Gallery – London
---
Mora Montravers – critical commentary
Romance and reversal
Sydney Traffle is nurturing a subconscious desire for his wife's beautiful young niece Mora, which causes friction in his marriage to Jane. They take different views on what should be done about Mora's independent action in leaving them.
When Mora goes to 'live with' painter Walter Puddick, Jane is horrified, but her husband Sydney feels sympathetic towards Puddick, but misses Mora.
Despatched to deal with the problem, Sydney has an epiphanic meeting with Mora in the National Gallery but she turns out to be meeting another man (Sir Bruce Bagely).
When Sydney returns to deliver the news to his wife, the carpet is pulled from under his feet. She already knows all the news, has had a visit from Puddick, and looks forward to developing her relationship with him.
This is a slightly credibility-stretching volte-face on her part, but a neat reversal of the emotional power struggle between Sydney and his wife. It's as if they are acting out their latent hostility towards each other via proxy. Sydney has condoned Mora's actions in order to stay as close to her as possible, but he is outwitted by Jane, who constructs a relationship with Puddick that eclipses her husband's with Mora.
In this reading of the story, Mora is a catalyst – not the main subject. The story is about tensions within the Traffle marriage, and the surprising outcome of their connections with two other people – Mora and Puddick.
The new woman
The question remains – is Mora innocent or not? Sydney believes she is; Walter Puddick says she is; but Jane Traffle finally believes she is not. Mora does plan to leave her 'husband' only four weeks after marrying him. However, the technicalities of the marriage are described in such dismissive terms, it seems almost possible that it could be annulled.
We simply do not have enough hard evidence to make a judgement. Mora is obviously a New (young) Woman who is capable of acting in an independent manner. But there is little evidence of a convincing connection between Mora and Jane Traffle's abrupt change of attitude towards her.
---
Mora Montravers – study resources

The Complete Works of Henry James – Kindle edition – Amazon UK

The Complete Works of Henry James – Kindle edition – Amazon US

Complete Stories 1898—1910 – Library of America – Amazon UK

Complete Stories 1898—1910 – Library of America – Amazon US

The Complete Tales (Vol 12) – Paperback edition – Amazon UK

Selected Tales – Penguin Classics edition – Amazon UK

Mora Montravers – eBook format at Gutenberg Consortia Center

The Cambridge Companion to Henry James – Amazon UK

Henry James at Wikipedia – biographical notes, links

Henry James at Mantex – tutorials, biography, study resources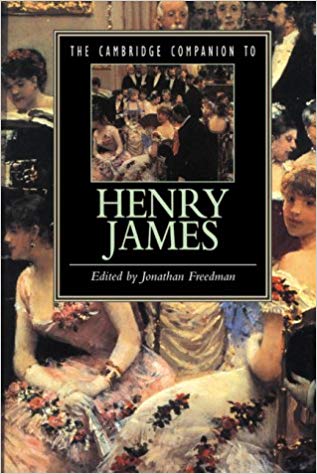 ---
Mora Montravers – plot summary
Part I. Sydney and Jane Traffle have looked after her niece Mora Montravers as a young woman since the death of her parents. Mora has now put them in a socially embarrassing position by going to live with her painting teacher Walter Puddick.
Part II. They disagree about the appropriate course of action that should be taken. Jane thinks Mora's behaviour is reprehensible and wishes Puddick to regularise the situation by marrying Mora. Sydney Traffle thinks the girl is best left alone to find her own way, and as a fellow painter, he quite likes Puddick's work.
Part III. Mora suddenly visits the Traffles – though Jane refuses to meet her. Mora explains that she simply wants to keep in touch with the family. Sydney Traffle accepts Mora's position, but Jane wants something to be done about it.
Part IV. They summon Walter Puddick to a meeting where Jane treats him imperiously, demanding to know details of his relationship with Mora. He tells her nothing, except that he adores Mora. Jane tries to bribe him with offers of an allowance if he will marry Mora, and she insists that he tell Mora – which would put him into a compromised position with her. Sydney is sympathetic to his case, but still manages to patronise him.
Part V. Some time later, Sydney is tempted to seek out Mora. He is wandering around London when he bumps into her in the National Gallery. She reveals to him that she is now married, but wants her aunt's promise of an allowance to go to Walter Puddick, who she is leaving for another man.
Part VI. Sydney returns home reluctantly to break the news to Jane, but he finds her curiously calm and positive. It transpires that she has had a visit from Walter Puddick, and he has relayed the whole story to her. She now feels a positive duty to support him financially with Mora's dowry; she believes Mora was a bad lot all along; and she looks forward to visiting Puddick's studio to develop an interest in his art.
---
Principal characters
| | |
| --- | --- |
| Sydney Traffle | respectable Wimbledon would-be painter |
| Jane Traffle | his wife |
| Mora Montravers | her beautiful artistic niece (21) |
| Walter Puddick | a young painter |
| Sir Bruce Bagley (Bart) | an art collector |
---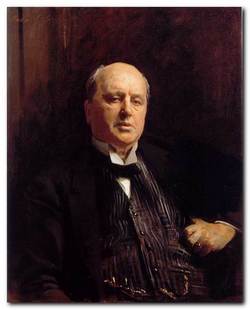 Henry James – portrait by John Singer Sargeant
---
Further reading
Biographical

Theodora Bosanquet, Henry James at Work, University of Michigan Press, 2007.

Leon Edel, Henry James: A Life, HarperCollins, 1985.

Henry James, The Letters of Henry James, Adamant Media Corporation, 2001.

F.O. Matthieson (ed), The Notebooks of Henry James, Oxford University Press, 1988.
Critical commentary

Ian F.A. Bell, Henry James and the Past, London: Palgrave Macmillan, 1993.

Millicent Bell, Meaning in Henry James, Cambridge (MA): Harvard University Press, 1993.

Kirstin Boudreau, Henry James's Narrative Technique, Macmillan, 2010.

Daniel Mark Fogel, A Companion to Henry James Studies, Greenwood Press, 1993.

Jonathan Freedman, The Cambridge Companion to Henry James, Cambridge University Press, 1998.

Barbara Hardy, Henry James: The Later Writing (Writers & Their Work), Northcote House Publishers, 1996.

Richard A. Hocks, Henry James: A study of the short fiction, New York: Twayne Publishers, 1990.

John Pearson (ed), The Prefaces of Henry James, Pennsylvania State University Press, 1993.

Ruth Yeazell (ed), Henry James: A Collection of Critical Essays, Longmans, 1994.
---
Other works by Henry James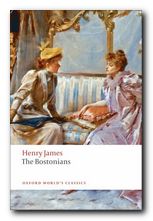 The Bostonians (1886) is a novel about the early feminist movement. The heroine Verena Tarrant is an 'inspirational speaker' who is taken under the wing of Olive Chancellor, a man-hating suffragette and radical feminist. Trying to pull her in the opposite direction is Basil Ransom, a vigorous young man from the South to whom Verena becomes more and more attracted. The dramatic contest to possess her is played out with some witty and often rather sardonic touches, and as usual James keeps the reader guessing about the outcome until the very last page.


Buy the book at Amazon UK


Buy the book at Amazon US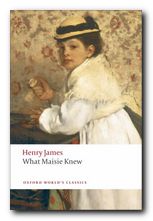 What Masie Knew (1897) A young girl is caught between parents who are in the middle of personal conflict, adultery, and divorce. Can she survive without becoming corrupted? It's touch and go – and not made easier for the reader by the attentions of an older man who decides to 'look after' her. This comes from the beginning of James's 'Late Phase', so be prepared for longer and longer sentences. In fact it's said that whilst composing this novel, James switched from writing longhand to using dictation – and it shows if you look carefully enough – part way through the book.


Buy the book at Amazon UK


Buy the book at Amazon US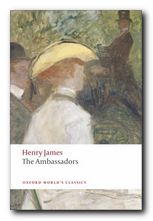 The Ambassadors (1903) Lambert Strether is sent from America to Paris to recall Chadwick Newsome, a young man who is reported to be compromising himself by an entanglement with a wicked woman. However, Strether's mission fails when he is seduced by the social pleasures of the European capital, and he takes Newsome's side. So a second ambassador is dispatched in the form of the more determined Sarah Pocock. She delivers an ultimatum which is resisted by the two young men, but then an accident reveals unpleasant truths to Strether, who is faced by a test of loyalty between old Europe and the new USA. This edition presents the latest scholarship on James and includes an introduction, notes, selected criticism, a text summary and a chronology of James's life and times.


Buy the book at Amazon UK


Buy the book at Amazon US
---
Henry James – web links

Henry James at Mantex
Biographical notes, study guides, tutorials on the Complete Tales, book reviews. bibliographies, and web links.

The Complete Works
Sixty books in one 13.5 MB Kindle eBook download for £1.92 at Amazon.co.uk. The complete novels, stories, travel writing, and prefaces. Also includes his autobiographies, plays, and literary criticism – with illustrations.

The Ladder – a Henry James website
A collection of eTexts of the tales, novels, plays, and prefaces – with links to available free eTexts at Project Gutenberg and elsewhere.

A Hyper-Concordance to the Works
Japanese-based online research tool that locates the use of any word or phrase in context. Find that illusive quotable phrase.

The Henry James Resource Center
A web site with biography, bibliographies, adaptations, archival resources, suggested reading, and recent scholarship.

Online Books Page
A collection of online texts, including novels, stories, travel writing, literary criticism, and letters.

Henry James at Project Gutenberg
A major collection of eTexts, available in a variety of eBook formats.

The Complete Letters
Archive of the complete correspondence (1855-1878) work in progress – published by the University of Nebraska Press.

The Scholar's Guide to Web Sites
An old-fashioned but major jumpstation – a website of websites and resouces.

Henry James – The Complete Tales
Tutorials on the complete collection of over one hundred tales, novellas, and short stories.
© Roy Johnson 2012
---
More tales by James
More on literature
More on the novella
More on literary studies
More on short stories
---