compendium of writing skills PLUS  specialist dictionary
This New Oxford Style Manual is the result of putting together in one volume the Oxford Guide to Style [formerly Hart's Rules] and the Oxford Dictionary for Writers and Editors. It starts from 'parts of the book' then moves on to punctuation, names, capitals, and numbers. The editor covers all other aspects of text presentation – such as how you should deal with music, mathematics, quotations, lists, tables, and even illustrations. There is even a special section on foreign languages which begins with the thorny issue of UK and American English – but it also covers Latin, European, Asiatic, Classical, and even Sanskrit.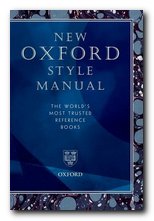 Works such as this reveal the small but important conventions which academics, journalists, and professional writers need to know – but which are hard to remember. How do you punctuate a reference given in a footnote for instance? How are abbreviations shown in foreign languages? Where do spaces go when showing degrees of temperature? It deals with special subjects, plus linguistics and phonetics, translations, audio and visual broadcasts, and electronic data. In addition, it also incorporates the most recent changes in citing digital media, and details on the submission of materials for publication.
The second part of the book is a specialist dictionary for writers, journalists, and text-editors. It offers rulings on words and spellings which are commonly problematic. For instance, do we write Muslim or Moslem, customise or customize? It covers the names of well-known people and places, foreign words and commonly-used phrases such as petit-bourgeois and persona non grata.
The editor Robert Ritter also covers abbreviations, capitalization and punctuation. Only today, I've looked up amendment [one 'm'] superseded [yes – it is spelt with an 's'] and manageable [it keeps the 'e']. It can also be used as a quick guide to many niceties of writing (the difference between hyphens and dashes) and as a potted encyclopedia for historical names (and their dates).
It should certainly be amongst the reference tools of anybody who takes a serious interest in writing. The single volume is even 25% cheaper than buying the two books separately. Fantastic value. Make sure you get the new revised edition which has materials gleaned from OUP's latest researches into the Oxford English Corpus – a gigantic database containing hundreds of millions of words in current and historic use.
© Roy Johnson 2012

  Buy the book at Amazon UK

  Buy the book at Amazon US
---
Robert M. Ritter (ed), The Oxford Style Manual, Oxford: Oxford University Press, new second edition 2012, pp.861, ISBN: 0198605641
---
More on journalism
More on creative writing
More on writing skills
More on publishing
---