two-volume reference dictionary with etymologies
When checking a word, I usually reach first for the Concise Oxford – because it's right in front of me on the desk. You can pick it up in one hand. If that doesn't give the answer, I go to the New Shorter Oxford English Dictionary. This involves a trip to the bookcase, because it's in two volumes – and they're heavy. The term 'Shorter' for this publication is almost misleading, because it's a big, serious, scholarly work of reference. It's only shorter in being an abridged version of the monumental Oxford English Dictionary.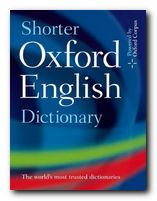 In recent editions however, the material draws on the OED's ongoing revision, as well as its own independent research program. The entries are slightly abbreviated, but still rich in historical etymology. This is a dictionary for those concerned with lexicological scholarship – people who need to know both the origin of a term, and how it has been used in printed history since the Renaissance. The headword is recorded in all its possible forms, and the linguistic, grammatical, and bibliographical apparatus surrounding it is rendered via a code of abbreviations. A typical entry might run as follows:
Endeavour (ende'vðr) sb. ME. [app. f. next vb.] 1. The action of endeavouring; action directed to obtain an object; a strenuous attempt. †2. Philos. Used by Hobbs: =L. conatus [see quote.] -1667.
1. On this high e. The light of praise shall shine WORDSW. Phr. To do one's endeavour(s): to do all one can; My best endeauours shall be done herein Merch. V. II.ii.182. 2. These small beginnings of Motion, within the Body of Man…are commonly called E.  HOBBES
Endeavour (ende'vðr) v. ME.[f. EN–1+DEVOIR sb. ; cf. F. se mettre en devoir de faire quelque chose to make it one's duty to do something; hence, to endeavour.] †1. refl. To exert onself -1655; †trans. to exert (one's power, etc.) -1642. †intr. for refl. To exert oneself; to direct one's efforts -1624. 3. intr. To try, strive, make an effort for a specified object; to attempt strenuously.   The only mod. sense.) 1594.   4. trans. To use effort for; to attempt (now arch.) 1581; †to try to fulfil (a Law) MILT.
3. To e. to compromise matters FROUDE.   To e. at eminence JOHNSON, after more riches MILL.   4. To e. the extirpation of Popery CLARENDON.   Hence Endea'vourer one who endeavours; an aspirant; also spec., a member of the Christian Endeavour Society founded in U.S. in 1881.   †Endea'vourment, endeavour.
You can see from this that it illustrates definitions with quotations which show precisely how the meanings of words have changed over the centuries. Each entry provides a wealth of information, including history and meaning, pronunciation, etymology, definitions, variant spellings, irregular inflections, quotations, idiomatic phrases and a record of the word's use. Some entries run to almost two columns on the page.
Thousands upon thousands of changing meanings are followed through history, illustrated by more than 83,000 quotations, from Benjamin Franklin to Lord Byron, and Jane Austen to Ricky Gervais.
The new edition has 600,000 definitions, 2,500 new words since the last edition in 2003, and 83,000 illustrative quotations. There's a full index of the authors cited, a guide to pronunciation, and it comes in either the two-volume printed edition, or on a CD-ROM.
The obvious advantage of the CD version is that you can use the SEARCH feature – and the program also searches by anagram and by rhyme, by quotation and by etymology. Perusing the headword group is like flipping the pages of the book version. You can also copy the CD sub-directories onto your hard disk, which means you can access the material without loading the compact disk. This improves performance, and leaves your CD drive free for other tasks.
If you don't want the complete Oxford English Dictionary this is the next best thing. It will last you a lifetime. In fact you'll be able to pass it on to your children and grandchildren.
© Roy Johnson 2007

  Buy the book at Amazon UK

  Buy the book at Amazon US
---
The Shorter Oxford English Dictionary (in 2 volumes) Oxford: Oxford University Press, 2007, pp.3800, ISBN: 0199206872
---
More on language
More on literary studies
More on writing skills
More on creative writing
More on grammar
---