recommended reading from the classics
Russia has a rich literary tradition which stretches from the early nineteenth century to the present day. Its great writers have done particularly well with the novel, allowing themselves to be influenced by other strong traditions, such as the British and French.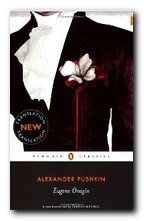 Eugene Onegin (1831) Alexander Pushkin is generally considered to be the father of modern Russian literature – a witty, sophisticated writer. He was principally a poet, but his masterwork is in fact a novel – which is written in verse. It's the story of a clever but bored aristocrat who charms a young woman Tatiana so much that she writes a letter declaring her love to him. He rejects her and continues with his bachelor existence. But years later, on meeting her again, he realises what he has missed. He asks for a second chance, but his time, despite the fact that she still loves him, it is she who rejects him. The novel exists in many translations, including the monumentally scholarly production by Vladimir Nabokov. It's a wonderfully light and entertaining story, but with lots of hidden depths. Many critics argue that Tatiana represents the soul of Russia, simple and truthful, and Onegin the more sophisticated but ultimately inappropriate spirit of Europe.


Buy the book from Amazon UK


Buy the book from Amazon US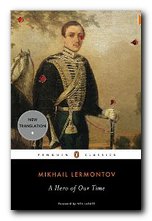 A Hero of Our Time (1839) Mikhail Lermontov is another one-novel writer who concentrated his attention, like Pushkin, on the theme of the 'Superfluous Man'. This is the talented and educated young Russian who has no outlets for his skills and no place to employ his intelligence, because of the closed, feudal, and autocratic nature of Russian society. Lermontov was a contemporary of Pushkin's, and like him he produced just this one substantial piece of fiction which seemed to sum up the epoch in which they lived. A Hero of Our Time turns on the events of a duel (which had killed Pushkin only ten years earlier). A young and disaffected soldier contemplates existential questions of will and identity, plus the perennial question of 'how to live'. In the end he kidnaps a woman and shoots a man in a duel to test out the limits of his freedom.


Buy the book from Amazon UK


Buy the book from Amazon US
Dead Souls (1842) Nikolai Gogol is probably at his best in shorter fictions such as The Nose and The Overcoat. These are both seminal works in the history of Russian literature. He writes in an inventive and peculiar style, rich in playful and sometimes absurd imagery. He also has a habit of butting in to his own narratives to pass comments which sometimes have nothing to do with the story. Dead Souls is his one big novel. It's a crazy satire on the corruption and inertia of nineteenth century provincial Russian life. The plot centres on someone who trades in the identities of peasants who have died but remain on the census records. Comic, absurd, and bitingly satirical, Gogol completed a sequel, but destroyed it in a fit of religious fanaticism whilst he was starving himself to death. This particular translation comes highly recommended. Vladimir Nabokov consigned all others to the rubbish bin.


Buy the book from Amazon UK


Buy the book from Amazon US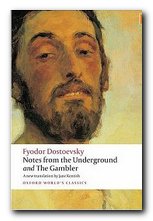 Notes from Underground (1864) Fyodor Dostoyevski represents the dark, tortured, and often violent side of Russian life. In his novels he explores all sorts of existential issues such as reason and free will, personal identity, guilt, religious belief, and the power of unconscious motivation. His treatment of these issues, the suspense in his plots, and his studies of tortured neurotic behaviour make him seem quite modern, and he is often included in studies of twentieth-century existentialism. Be prepared for complex plots, long meditations on philosophic issues, melodrama, and contradictions. The rewards are thrilling suspense and deep psychological studies of characters struggling with personal demons at the end of their behavioural tether. Notes from Underground is one of Dostoyevski's classic existential meditations. A first person narrator informs us "I am a sick man…I am an angry man. I am an unattractive man. I think there is something wrong with my liver" There is no plot: the character simply wrestles with his existence and debates whether to live according to reason or irrationality. You have the sense of something written in the middle of the twentieth century, not the nineteenth – and many modern writers make reference to this as a seminal work.


Buy the book from Amazon UK


Buy the book from Amazon US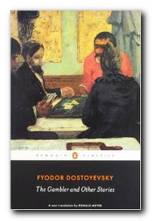 The Gambler (1867) This famous novel was written under extreme pressure. Unless Dostoyevski delivered the manuscript within six weeks, all future royalties on anything he wrote would go to his unscrupulous publisher. So Dostoyevski hired a stenographer – the star pupil from Russia's first school of shorthand dictation. He dictated the novel in four weeks – then married her. It's a tight-knit, complex tale of compulsive gambling set in a German spa town. A young man Alexei vows that he will quit gambling as soon as he breaks even at the roulette wheel. He has also fallen in love with a beautiful young woman who does nothing but humiliate him. The novel sees the disintegration and paradoxically increased euphoria of Alexei's character, until he is at the end so depraved that one wonders what keeps him from going mad.


Buy the book from Amazon UK


Buy the book from Amazon US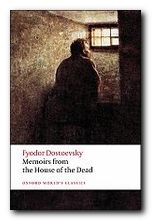 From the House of the Dead (1862) This isn't a novel, but a documentary reportage. It gives an account of the ten years Dostoyevski spent in Siberian labour camps – as punishment for having planned to publish revolutionary pamphlets. The horrors of internment – including prisoners being flogged to death – are recounted in stomach-churning detail. But what emerges from the book as a whole is the amazing endurance of the human will and its desire to survive no matter how merciless the circumstances. If you have a taste for this topic, the book can profitably be read alongside similar classics such as Alexander Solzhenitsyn's The Gulag Archipelago.


Buy the book from Amazon UK


Buy the book from Amazon US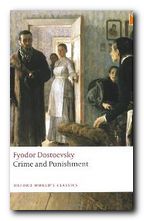 Crime and Punishment (1866) This is one of Dostoyevski's great masterpieces. Raskolnikov, a penniless student, decides to murder a greedy moneylender on principle in order to set himself outside and (as he sees it) above society. After he has done so, he is tormented by guilt and remorse. He is also pursued by a detective who seems to be able to read his mind, and to whom Raskolnikov repeatedly comes very close to confessing. In order to resolve his doubts about his own motivation and rationality, Raskolnikov in typical Dostoyevskian fashion decides to commit a second murder. This understandably makes matters worse. There is a great deal of conventional suspense – will he be found out, or not? – the outcome of which it would be unfair to reveal, but which is surprising nevertheless.


Buy the book from Amazon UK


Buy the book from Amazon US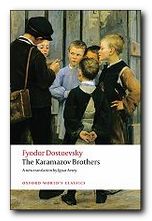 The Brothers Karamazov (1880) This is another existential study which turns on the issue of a brutal murder. Old father Karamazov is killed by one of his three sons – but we don't know which one. The eldest, Dmitri, is passionate, violent, and desperate for money; Ivan is an intellectual and an atheist; and Alyosha, the youngest, has love, faith, and compassion for everyone. (You don't need a brass plaque on your door to see that these are aspects of Dostoyevski's own personality.) Pay attention to the smallest details right from page one. This is a combination of a murder mystery, an exploration of the mind under extreme pressure, a study of the destructive nature of romantic love, and an argument for and against the existence of God. Many people regard this as Dostoyevski's masterpiece.


Buy the book from Amazon UK


Buy the book from Amazon US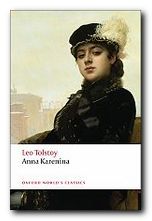 Anna Karennina (1875) Count Leo Tolstoy was a great novelist, but as a man he was full of contradictions. He was a pious Christian who did plenty of sinning; a rich land-owning aristocrat who was a passionate believer in the simple life; a compulsive gambler who believed in self-discipline; and an ascetic puritan who believed in sexual abstinence but who was a compulsive philanderer. As a social reformer, he might have been the man for whom the expression 'Do as I say, not as I do' was coined. Anna Karenina is the most approachable of his big novels. It's the story of a beautiful woman torn between the man she loves and her duty to her husband and son. This story is counterpointed with that of Levin, a rich landowner who is seeking for the right way to live. He tries agriculture and politics, but ends up turning to God (not very convincingly). As the cultural philosopher Isaiah Berlin said of Tolstoy, his solutions are usually wrong; but what's important is that he asks the right questions. However, it is the story of Anna's love affair with Vronsky which dominates the novel and makes this an enduring masterpiece. This is the Russian equivalent of Flaubert's Madame Bovary and a highlight of the nineteenth-century novel.


Buy the book from Amazon UK


Buy the book from Amazon US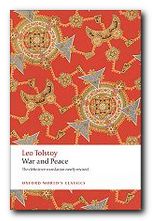 War and Peace (1863-9) As everyone knows, this is the archetypal nineteenth-century blockbuster. It is an epic study of birth, marriage, life and death set against the background of Napoleon's invasion of Russia, the sacking of Moscow, and his tragic retreat in 1812. Tolstoy does a very good job of depicting war as a shambolic mess, and he is successful in undermining the idea that historical events are shaped by Great Men. It is a long novel. Be prepared for extended episodes featuring lectures on the philosophy of history. But the writing is crystal clear and the characters unforgettable.


Buy the book from Amazon UK


Buy the book from Amazon US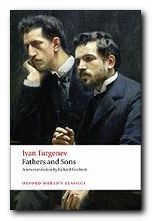 Fathers and Sons (1862) Ivan Turgenev was the first Russian writer to find success in Europe, and he spent most of his adult life there. He was a supporter of the Western solution to Russia's problems. His work might seem rather lightweight compared to Tolstoy and Dostoyevski, but he touches on important Russian themes, and his novels are well composed and easy to read. Fathers and Sons looks at the conflict between generations. The older landowners wish to preserve traditional systems, whilst the younger generation are yearning for some form of revolution to free them from the dead hand of conservatism. Neither party wins out in the end, but it is to Turgenev's credit that the novel presciently flags up political issues which were to erupt forty years later in Russian history. This new translation, specially commissioned for the World's Classics, is the first to draw on Turgenev's working manuscript, which only came to light in 1988.


Buy the book from Amazon UK


Buy the book from Amazon US
© Roy Johnson 2009

  Twentieth Century Russian Novels
---
More on literary studies
More on writing skills
More on creative writing
More on grammar
---