recommended classic reading
St Petersburg (1916) Andrei Biely (pseudonym of Boris Nikolaevich Bugaev) is a much-neglected figure from the period of modernist experimentation. He was a novelist, a poet, a theorist, and literary critic. His major work is a novel with a ticking bomb (concealed in a sardine can) at its centre – a sort of meditation on violence. It's the story of the hapless Nikolai Apollonovich, a never-do-well who is caught up in revolutionary politics and assigned the task of assassinating a certain government official — his own father. Nikolai is pursued through the impenetrable Petersburg mists by the ringing hooves of the famous bronze statue of Peter the Great. It is not unlike James Joyce's Ulysses in its literary experimentation, and in being concerned with the events one day in one city. But the experimentation is of a different kind. Biely was a symbolist and a mystic. He uses his poetic style in this novel to bring the city to life as if it were a living, breathing being.


Buy the book from Amazon UK


Buy the book from Amazon US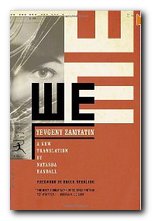 We (1921) Yevgeny Zamyatin is also an unjustly neglected master of the school of experimental modernism which flourished in Russia until the early 1920s. His one novel is a very original science-fiction dystopia, and a satirical critique of the Russian revolution (which he had supported) as he saw it being betrayed by the forces of totalitarianism. It is a novel which deserves to be much better known. In a totally regulated society where people are known by numbers, two lovers embody irrational urges towards which the state is hostile. The novel was tragically prophetic of the Stalinism which was to come. It is written in a dazzlingly poetic and experimental style, and it was quite clearly the model for both Aldous Huxley's Brave New World (1932) and George Orwell's Nineteen Eighty-Four (1949). Both of these writers had read the novel: this, the original, is far superior. Do yourself a favour: add this to your reading list.


Buy the book from Amazon UK


Buy the book from Amazon US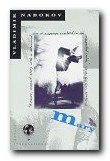 Mary (1923) Vladimir Nabokov is a great Russian writer, even though he left the country in flight from the revolution in his youth, and spent the rest of his life in exile, living in Germany, America, and Switzerland. In fact he wrote half of his huge output in English. He represents the playful, experimental side of modernism which the Stalinists did their best to stamp out. His writing is amazingly stylish – rich in imagery, erudite, stuffed full of verbal tricks and special effects.
Of course he is best known for Lolita, which he wrote in English whilst living in America. But he wrote novels in Russian during the 1920s and 1930s whilst living in Germany. He can be very lyrical as he is in his early novels Mary and Glory (1932) where he evokes the raptures of youthful pleasures, and the discovery of passion and loss. His lyrical prose records a young Russian exile's recollections of his first love affair. But the woman in question clearly symbolises his relationship with Russia. He is also good at a creating a marvellous sense of awe in contemplating the quiet aesthetic pleasures in everyday events and special moments of being.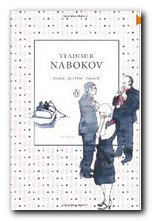 Other novels such as King, Queen, Knave show a much darker side to his nature, with its focus on adultery, deception, and cruelty. These traits are taken to an uncomfortable extreme in Laughter in the Dark (1932) which plots the downfall of a man who runs off with a young girl who, when he is rendered blind in a car accident, secretly moves her lover in to live under the same roof. The sleazy pair of them torment the protagonist in a particularly gruesome fashion. This theme of the older man driven to self-destruction by desire for a younger woman was something Nabokov explored again in The Enchanter which he wrote in Paris in 1939, and twenty years later in Lolita which he wrote in English whilst teaching in an American college.


Buy the book from Amazon UK


Buy the book from Amazon US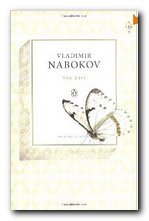 The Gift (1936) is generally held to be the greatest of Nabokov's Russian novels. It deals with the ironies and agonies of exile. It's also the last of the novels Nabokov wrote in his native Russian language and the crowning achievement of that period in his literary career. It's also his ode to Russian literature, evoking the works of Pushkin, Gogol, and others in the course of its narrative, and it also has at its centre a critique of Chernyshevsky. It is the story of Fyodor Godunov-Cherdyntsev, an impoverished émigré poet living in Berlin, who dreams of the book he will someday write – a book very much like The Gift. The novel plays the most pleasurable kind of havoc with conventional notions of narrative structure and linguistic protocol. It also includes a deeply felt fictionalisation of the murder of Nabokov's own father in 1922 whilst he was attempting to stop a political assassination.


Buy the book from Amazon UK


Buy the book from Amazon US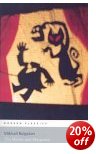 The Master and Margarita (1940) Mikhail Bulgakov was originally a doctor. His early works The Diary of a Country Doctor and The White Guard are written in a lucid, plain style not unlike Chekhov (who was of course also a doctor). In the 1920s and 1930s Bulgakov turned to the theatre, and despite conflicts with the Stalinists at the height of their purges, he managed to survive just long enough to complete his masterpiece. The Master and Margarita is a wonderful mixture of realism and fantasy which offers a satirical view of communist Russia. The story involves the arrival of the Devil into Moscow, causing all sort of mischief and disruption. This is interspersed with chapters re-telling the story of Pontius Pilate and the crucifixion of Jesus Christ, plus other sections related to an artist and his relationships with his art and his lover. All three layers of the story are blended with spellbinding imaginative force.


Buy the book from Amazon UK


Buy the book from Amazon US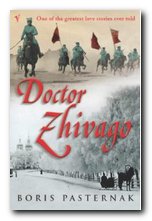 Dr Zhivago (1957) Boris Pasternak is principally a poet so far as Russian literature is concerned, but it is his novel by which he is best known to the general reading public in the West. He was awarded the Nobel prize for it, but forced to turn it down by the Soviet authorities. This is a sprawling epic of the Russian revolution, a passionate love story, and a memorable portrait of a doctor-poet caught up in the wheels of history. Zhivago seeks to do good and live with simple dignity, but his efforts are thwarted by war, revolution, and his love affair with Lara, who is married to a Bolshevik general. Critical opinion has been somewhat divided over this work, with some readers seeing it as no more than a nineteenth century novel in disguise. With the general reading public however, it has never lost its appeal.


Buy the book from Amazon UK


Buy the book from Amazon US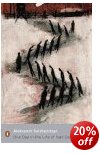 One Day in the Life of Ivan Denisovitch (1962) This is the short novel that made Alexander Solzhenitsyn famous overnight. It recounts a typical day's work, deprivation, and suffering of a prisoner in one of Stalin's labour camps. Publication was 'allowed' as part of Krushchev's post 1956 attack on Stalin and his legacy. The facts of the story were deliberately understated to meet the censor's requirements at the time. It catapulted Solzhenitsyn to fame, and yet within a couple of years his work was banned again.
Solzhenitsyn writes in a simple, restrained style in which ornamentation is stripped away in favour of moral purpose. The results celebrate a stoical, almost puritan heroism in the face of all that the Russian people have had to endure – government-constructed poverty, war, political corruption, censorship, and totalitarian repression.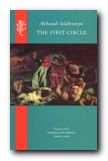 The First Circle (1968) This novel is set in a special research-cum-detention centre reserved for mathematicians and scientists who are nevertheless political prisoners. This is what might be called a novel of ideas, as the characters discuss the political and historical forces which have brought them to their present unjust imprisonment. Of the main characters, one is eventually released, another is sent off to a much harsher regime, and the third remains where he is. It is based very closely on Solzhenitsyn's own experiences of his first period of imprisonment by the Stalinist regime.


Buy the book from Amazon UK


Buy the book from Amazon US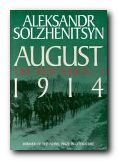 August 1914 (1984) This is the first part of a multi-volume epic, a historical novel on a grand scale about the origins of the Soviet Union and how communism came to take root there. Solzhenitsyn sees the Battle of Tannenberg at the start of the First World War as the first major turning point in this process. Using a range of modernist-cum-experimental techniques, he sets in motion a huge cast of characters against the backdrop of this decisive battle. The whole enterprise was called The Red Wheel. There were further volumes in the cycle published, but towards the end of his life Solzhenitsyn transferred most of his energy into books arguing for social and political reform – rather in the same manner as Tolstoy.


Buy the book from Amazon UK


Buy the book from Amazon US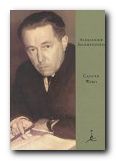 Lenin in Zurich (1976) This is a short novel composed of some separate chapters from The Red Wheel. It focuses largely on Lenin in exile, immediately prior to his triumphant return in a sealed train to St Petersburg's Finland Station. It's a very interesting study, because Solzhenitsyn is clearly critical of Lenin as one of the central architects of communism – yet he narrates the story largely from Lenin's point of view. Steeped in history, this is a major attempt at a political and psychological portrait of a historical figure.


Buy the book from Amazon UK


Buy the book from Amazon US
© Roy Johnson 2009

 Nineteenth Century Russian Novels
---
More on literary studies
More on writing skills
More on creative writing
More on grammar
---