sketches of the Bloomsbury Group and its members
Clive Bell was one long term member of the Bloomsbury Group who did not leave behind a substantial oeuvre. These are biographical sketches and his memories of various Bloomsbury figures with whom he was closely associated over thirty years. Some of his reflections are offered as correctives to the false impressions which began to circulate about the Bloomsbury Group and its influences shortly after its heyday.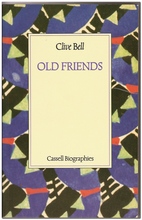 It's easy to forget that Bloomsbury was under critical attack by the cultural establishment from 1930 onwards. Despite the fact that many of them were radicals and socialists, their aestheticism led them to be attacked from both left and right in the period leading up to the war. Bell's subjects are those people he knew best – and for longest. For instance, Lytton Strachey who he had met at Cambridge in 1899; John Maynard Keynes who was also at Cambridge and was a fellow member of the Apostles and the Midnight Society.
There's also Virginia Woolf whose sister he married; and Roger Fry with whom he shared an interest in art criticism – to say nothing of a personal connection with Vanessa Bell, about whom he has surprisingly little to say.
He writes as if he still had one foot in the glorious nineties of the previous century: he's much given to bitchy point-scoring and bon mots a la Whistler and Wilde, and his style is Mandarin – lofty, opinionated, and full of the posturing which he deplores in his subjects.
His account of Lytton Strachey recalls the formation of the Midnight Society at Trinity College Cambridge, which was to form the nucleus of the Bloomsbury Group, and certain moments are unforgettable: for instance, John Maynard Keynes sending word to the conscientious objection tribunal that he was far too busy to attend.
His writing on Roger Fry takes him deep into the realm of art criticism and the debate about 'Significant form' which they had discussed throughout their long friendship. But he completely dismisses his competence as a practising artist, reducing his achievement to 'those plain white pots and plates … he did for the Omega' – though he rates his as the greatest ever critic of art.
Some of his other opinions will surprise modern readers. On Virginia Woolf he states quite firmly:
Neither male nor female can be wholly objective about Three Guineas; but for my part I feel sure it is her least admirable production.
But of course this seminal text was dedicated to exposing the prejudice, cant, hypocrisy, and sham which formed the basis of the very class to which Clive Bell belonged – and of which he was a shining example.
Yet considering that he knew all these people so well – he was after all married to Virginia Woolf's sister – there is remarkably little personal revelation about any of them. You would not know that Keynes and Strachey were homosexuals, or that Roger Fry had been his wife's lover.
Bloomsbury is famous for the complex personal relations and the gossip of its members, yet Bell's overall message is that we should be cautious about believing everything they wrote and said about each other – because quite a lot of it (he claims) was simply not true. And he knew because he was there.
He was amazingly well connected in the art world, and devotes a chapter to his relationships with Matisse, Derain, Cocteau, Satie, and Poulenc. This chapter culminates in a famous party which included Stravinsky, Picasso, James Joyce, and Marcel Proust. Joyce arrived late and fell asleep; Proust showed up even later, enquiring of Stravinsky which of Beethoven's work he admired most. "I detest Beethoven" was the reply. One can almost imagine Proust saying "I'll get my coat" – except that he would already have been wearing it.
© Roy Johnson 2000
---
Clive Bell, Old Friends, London: Cassell, 1956, pp.200, ISBN 030431479X
---
More on biography
More on the Bloomsbury Group
Twentieth century literature
---