short guide to intermediate language skills
Do you know the past tense of the verb to dive? Is it dived or dove? Don't worry – most other native English speakers wouldn't know either. The same is true of the verb to dream. Is it dreamed or dreamt? That's slightly less of a worry – because both options are correct. This guide offers straightforward, up-to-date guidance on questions of English usage, all affecting the language we choose.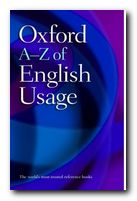 Common confusions such as uninterested and disinterested are explained, differences between British and American practice are highlighted, and it takes a realistic attitude towards famous examples such as splitting infinitives, ending a sentence with a preposition, and when it is correct to say you and me or you and I.
There are highlighted mini-essays on issues such as case agreement, Latin plurals, and the endlessly vexed issue of -ise and -ize. Editor Jeremy Butterfield also deals with issues for writers, such as how to punctuate bulleted lists.
There's a strong element of political correctness at work here in definitions to do with race, colour, and disability, yet he doesn't offer alternatives to the contractions BC and AD, and he suggests that the equivalent of African-American in the UK is black, which some people might challenge.
There's an interesting section on what he calls 'electronic English', and he does his best to reveal folk etymologies – explaining where and why an expression has become distorted and replaced the original – as in slight of hand, which has successfully transplanted the original sleight of hand.
He takes the trouble to distinguish terms which are often confused in English because their spellings are so similar, and they are very often pronounced almost identically – such as discrete and discreet. And he unravels words which are often mistaken for each other – such as blatant and flagrant.
I would say that this is a book for intermediate to advanced users of English – writers, editors, and students who want to make an effort to get things right. It's the latest addition to a series which includes Oxford A-Z of Grammar and Punctuation, Oxford A-Z of Spelling, and the Oxford Guide to Plain English – all of which have been very successful.
© Roy Johnson 2007

  Buy the book at Amazon UK

  Buy the book at Amazon US
---
Jeremy Butterfield, Oxford A—Z of English Usage, Oxford: Oxford University Press, 2007, pp.172, ISBN: 0199231532
---
More on journalism
More on creative writing
More on writing skills
More on publishing
---