essential handbook of the English spoken word
How do you pronounce the word controversy? Is it kohn-trov-ersy, or kohn-trov-ersy? And how about schedule – do we say shed-yool, or sked-yool? Pronunciation can be something of a minefield in the UK – especially when it is also linked to class accent and language usage. The Oxford BBC Guide to Pronunciation is is an ideal source for finding out how to pronounce controversial or difficult words and foreign names. Expert guidance is given on how to pronounce 15,000+ less-than-usual terms.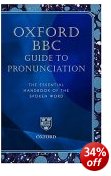 Entries run from Aachen and Aalvar Alto, via Maastricht and the Mabinogion, to Zyklon B and zymurgy (which is a type of fermentation, just in case you wondered). There's a guide to how the word should sound shown by splitting it into its stressed and unstressed parts, then by showing it written in the International Phonetic Alphabet (IPA).
The compilers of this guide – both experts from the BBC's pronunciation unit, have opted to give just one recommended pronunciation for each term. But if there are serious contenders as alternatives, these are listed too. And the guide to how words should be spoken is based on received pronunciation.
Yet we can no longer really call it 'BBC English' – and for very good reasons. The BBC has been forced to use more and more people with non-standard accents as announcers. Now it is quite common for someone with a regional accent to be reading the news (Huw Edwards for instance), or commenting on political matters (as does Newsnight reporter Paul Mason – who is from the same part of the north as me).
What do you do with those people who seek to aggrandise themselves by adopting idiosyncratic pronunciations for their own names? – that is, the Cole-in Powells and Anthony Poles of this world. Why not Cole-in Pole? The editors politely sidestep this issue by observing of the American general that "The unusual pronunciation for the first name is his own" – though no such note is made on the surname of the English novelist and toff.
It has often been rumoured that during the second world war the British government tested suspect German spies (who were claiming to be English) by inviting them to discuss people with weirdly aberrant English family names. I was amazed to find that these had even more variations than I knew:
Featherstonehaugh British family name

feth-uhr-stuhn-haw
fan-shaw
fest-uhn-haw
fee-suhn-hay
feer-stuhn-haw
A great deal of the substance here is how to pronounce foreign terms, and in fact there are special panels which deal with the pronunciation of other languages, ranging from Arabic to Welsh. The entries have been chosen to reflect themes and topics of contemporary relevance, and they include newly-researched material from the BBC's pronunciation database.
© Roy Johnson 2006

  Buy the book at Amazon UK

  Buy the book at Amazon US
---
Oxford BBC Guide to Pronunciation, Oxford: Oxford University Press, 2006, pp.432, ISBN: 0192807102
---
More on language
More on literary studies
More on writing skills
More on creative writing
More on grammar
---