classics of the essay genre written in English 1700-2000
The Oxford Book of Essays is a compilation of short literary prose studies edited by John Gross of pieces written in English stretching from Francis Bacon in 1625 to Clive James in 1980. He admits in his introduction that it's almost impossible to define the literary essay (as distinct from the academic essay). The essay has no set rules or even recognisable shape: it can take the form of a moral homily, a character sketch, a piece of travel writing, or even a book review. The only requirement (to paraphrase Henry James) is that it should be interesting.
The grand-father of the Renaissance essay is Michel de Montaigne – who is actually mentioned in Fancis Bacon's earliest entry in this collection – a figure who almost 'invented' the modern discursive essay, which generally combines personal reflection, entertaining anecdote, and historical background reference.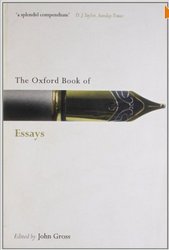 Some of the best of the earliest essayists in this plump volume have a genius for casting their thoughts almost in the form of aphorisms. Thomas Browne for instance, in his essay On Dreams reflects '[Sleep] the brother of Death extracteth a third part of our lives', going on to observe that 'If some have swooned, they may also have died in dreams, since death is but a confirmed swooning' (1650). And Swift is equally succinct in On Good Manners: 'Pedantry is properly the overrating any kind of knowledge we pretend to' (1714).
As a literary genre the essay came to its first maturity when an educated readership coincided with the establishment of a vigorous periodical press. This was during the heyday of the The Spectator and the Tatler edited by Joseph Addison and Richard Steele.
These journals also introduced the idea of a persona who made comments on coffee house gossip and social characters of the time . In the 'Sir Roger de Coverley Papers' Addison pushed the boundaries of the essay form towards narrative fiction. And he writes entertaining reflections on mortality and death couched in essays on the buildings at his disposal – Westminster Abbey and The Royal Exchange.
In general the pieces written around this golden era tend to be witty, satirical, and deeply engaged with contemporary events. They represent the forming of modern post-Renaissance consciousness – the Age of Enlightenment. Even James Boswell's slightly self-regarding style cannot dampen the impact of his passionate tirade against militarism in On War, a piece occasioned by a visit to the Arsenal in Venice.
The form of the assay is certainly loose, but there always seems to be a danger of falling into triviality – as in William Hazlitt's piece considering the affectations of Beau Brummell or Anthony Trollope's Pooteresque railings against plumbers. But on the other hand there is no rule that says the essay must always be serious. Nevertheless, it is those essays and reviews that embrace a rigorous critical attitude which remain the most impressive.
G.K. Chesterton's defense of 'penny dreadfuls' which predates George Orwell's essay on 'Boy's Weeklies' by forty years is one of these. Philip Larkin's review of the work of the Opies on children's street rhymes is impressive as it calls the whole concept of childhood into question. V.S. Naipaul takes a similar attitude, smashing the reputation of Christopher Columbus (real name Christobal Colon) into pieces. And the finest work in the collection is an impassioned study of the White Man and the Black Man in America written by James Baldwin when he was staying in a remote Swiss village.
In terms of selection and editing, John Gross does seem to be cheating somewhat by including 'essays' which have been created by shortening longer pieces of work (by writers such as Lord Macaulay, John Stuart Mill, and Matthew Arnold). This approach devalues the very notion of the essay as a genre and reduces its definition to any short example of prose. But Gross compensates by including some excellent pieces from later twentieth century writers we might not normally think of as essayists – proving that the genre is still alive and in very good health.
© Roy Johnson 2014
Buy the book at Amazon UK
Buy the book at Amazon US
---
John Gross (editor), The Oxford Book of Essays, Oxford: Oxford University Press, 2008, pp.704, ISBN: 0199556555
---
More on literature
More on the novella
More on literary studies
More on short stories
---