tutorial, study guide, commentary, and web links
Pale Fire (1962) is a bizarre and playful 'novel' from the master of literary inventiveness, Vladimir Nabokov. It was written at the same time that he was editing his scholarly translation of Pushkin's novel in verse, Eugene Onegin. What Pale Fire offers is a comic parody of the same enterprise. It is a novel comprised of a spoof academic introduction written by the editor, a long poem written by his neighbour which gives the novel its title, and then the editor's elaborate commentary which purports to explain hidden meanings in the text. All the notes are cross referenced with a scholarly apparatus. He then even adds an index.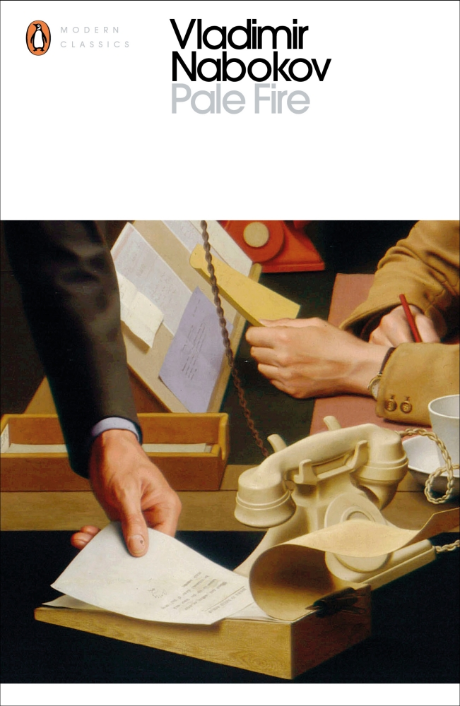 ---
Pale Fire – critical commentary
Structure
Perhaps the most interesting feature of the novel is its successful parody of an academic study – complete with bibliographic introduction, cross references, a scholarly apparatus, critical commentary, and index. All of these are brought to bear on the central text – John Shade's poem Pale Fire – which has absolutely nothing to do with the Boy's Own adventure story into which it is embedded.
Moreover, as a self-proclaimed 'editor', Charles Kinbote is a comic failure in his enterprise. He not only completely fails to understand Shade's poem; he gets lots of details wrong; he fails to spot things that are obvious; he can't be bothered to follow up his own 'researches'; and he sets up links in his commentaries which turn out to be non-sequiturs.
Nabokov also makes Kinbote quite laughable as a character. He misunderstands what is happening around him. He is insensitive to the reactions of the people he encounters. And he is given quasi-absurd opinions – such as his half-baked critique of Proust and A la recherche du temps perdues (which is incorrectly capitalised in the index).
The unreliable narrator
Nabokov was a master of fiction delivered by unreliable narrators. From his earliest works as a writer of short stories such as The Eye (1930) and Spring in Fialta (1936) he created narrators who recount events that the reader is invited to interpret otherwise. Some of these narrators tell lies or attempt to mislead the reader. They play a form of literary hide and seek in which they deliver information which does not seem quite consonant with the rest of the story – and we begin to doubt their judgement. It is a skilful manipulation of point of view on the author's part, and an invitation to readers to 'participate' in creating the 'true meaning' of the story.
This literary device can sometimes be stretched over the length of a novel. Henry James used it in The Sacred Fount (1901). But it is usually confined to the short story or the novella – for good reasons. The most important reason is that once the reader has realised that information is coming from an unreliable source, dramatic tension in the tale is put at risk.
It should be immediately apparent to most intelligent readers of Pale Fire that the editor-narrator Kinbote is both unreliable and not who he claims to be. In the Foreward he relates that a certain 'ferocious lady' says to him 'What's more you are insane'. She is quite right, and most readers will have no trouble realising that his account of the King's 'escape' from Zembla is his own (factitious) autobiography. Shortly afterwards, if not at the same time, they will realise that the whole story is the delusion of a madman.
The problem is that they will realise this quite quickly, when there is still considerable plot-commentary to be revealed – which dilutes the effectiveness of any dramatic tension that follows. To offset this weakness, Nabokov introduces a second plot element in the character of political gangster Jakob Gradus whose role is to pursue and assassinate King Charles.
This too turns out to be part of Kinbote's delusion – for the man who shoots John Shade is not a foreign political assassin but an escapee from a lunatic asylum seeking to avenge himself on the man (Judge Goldsworth) who has sent him there.
Interpretation
It has to be said that the apparent levels of fictionality in the novel have thrown critics into all sorts of acrobatic interpretations. There are some who believe that the commentary to the poem was written by John Shade himself, and others who think the ghost of Hazel Shade is somehow involved.
Nabokov, as the author of all the mischievous hints and clues scattered throughout the book, muddies the water even further by introducing a character called Professor V. Botkin, whom he describes as 'an American scholar of Russian descent'. This sends other commentators into analytic raptures, pointing to the fact that the name Botkin is merely Kinbote in reverse. Perhaps Kinbote is the alter-ego of Botkin – or the other way round?
But the multiple levels of fictionality are apparent rather than real. Kinbote is clearly a fictional character, created by the author Vladimir Nabokov. Kinbote is operating as a teacher in a fictional (but credible) American university called Wordsmith College in the Appalachians. Kinbote claims to be the exiled king of a not-so-credible country called Zembla – and his escape from it is related via cardboard and comic operetta sequence of events. He is clearly delusional and his tale is a fantasy-invention. Interpretation of the novel is much simpler than its complicated story.
We know that Nabokov 'lost his kingdom' and had to flee Russia following the revolution; we know that he eventually emigrated to America; we know that he taught at a provincial college (Wellesley College) and wrote about the experience in other fictional productions (such as Pnin). We know that Nabokov had been translating and editing a scholarly version of Eugene Onegin – which comprised an introduction, the text of Pushkin's poem/novel, and two volumes of commentary plus an index.
Pale Fire is nothing more than a literary spoof which re-mixes these biographical elements to offer a playful charade, a jeu d'esprit that is laced with the sorts of in-house jokes, narrative tricks, and literary spasms (wordplay, neologisms, and obsessive alliteration) that mark his later works following the high point of Lolita in 1955.
Extras
It should be clear from a few pages into the novel and everything following that Kinbote is a homosexual. What is not clear is why Nabokov should add this characteristic to his protagonist. The repeated and coy references to young boys and 'manly behaviour' become quite irritating – mainly because they are not in any way connected to the rest of the narrative. They eventually assume a sort of schoolboy smuttiness and reinforce other silly elements of the plot.
---
Pale Fire – study resources
Pale Fire – Penguin – Amazon UK
Pale Fire – Penguin – Amazon US
Pale Fire – Library of America – Amazon UK
Pale Fire – Library of America – Amazon US
Nabokov's Pale Fire – Princeton – Amazon UK
Celestial Keys to Pale Fire – Sputnik – Amazon UK
The Cambridge Companion to Nabokov – Amazon UK
Vladimir Nabokov: The Russian Years – Biography: Vol 1
Vladimir Nabokov: The American Years – Biography: Vol 2
Zembla – the official Nabokov web site
The Paris Review – Interview with Vladimir Nabokov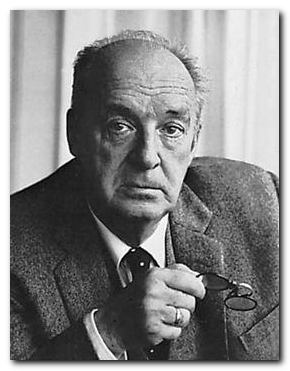 ---
Pale Fire – plot summary
Foreward
The 'editor' Charles Kinbote presents a scholarly description giving the provenance of John Shade's poem Pale Fire. He details the rivalries surrounding ownership and publication of the manuscript. He meets Shade and his wife Sybil when he becomes their next door neighbour whilst teaching at the same institution – Wordsmith College. Kinbote is a figure of fun at the college, and is clearly a homosexual.
Pale Fire
The poem in four cantos is an autobiographical meditation on Shade's domestic life and his reflections on the borderlines between life and death. His parents die when he is young, and he is raised by his aunt Maude. He loses his religious belief, but searches for a meaning in life and wonders about the possibilities of life beyond the grave.
He meets his wife Sybil at high school, and still loves her forty years later. They have a daughter Hazel who is solitary, dyslexic and unattractive. She goes out with friends as a teenager and is shunned by the group. She pretends to go home, but drowns herself in an icy lake.
Shade meditates on life as a preparation for what will happen after death and the possibilities of reincarnation. He wonders who we might meet in the afterlife. Sybil thinks she receives signals from their dead daughter. After giving a lecture one evening Shade has a minor heart attack and a 'vision' of being briefly 'dead', when he sees the image of a white fountain. When he reads of a woman who has had the same experience he goes to interview her – but she thinks it is a social call. Nevertheless, he feels he has discovered some hidden pattern in life which gives it meaning.
He reflects on the difficulties of poetic composition and describes shaving whilst in the bath. He thinks about his wife, his dead daughter, and the books of poetry he has written. Finally he finds some comfort in his appreciation of the everyday life that surrounds him.
Commentary
Charles Kinbote examines the poem in close detail and explains meanings hidden in the text. He has forcibly befriended his neighbour the American poet John Shade and recounted to him the amazing story of King Charles II's escape from a revolution in Zembla. Kinbote hopes that Shade will re-tell this story in a long poem on which he is currently working.
Kinbote's story is that when a revolution occurs in Zembla, the king is imprisoned in his castle, from which he escapes via a secret passageway. He travels over mountains and eventually reaches the seashore. Zembla is divided politically into supporters of the king (Karlists) and their rival Extremists, including would-be regicides (the Shadows) who elect Jakob Gradus as their assassin.
The king is eventually parachuted into the USA where his friend Sylvia arranges for him to teach at Wordsmith College. He rents a house from Judge Goldsworth, next door to John Shade and his wife Sybil. Although he has only been there a short time, he claims to be close friends with Shade – though it is quite clear that these feelings are not reciprocated.
Kinbote spies on Shade day and night, whilst Sybil makes transparent excuses to protect her husband's privacy by keeping Kinbote away from the house. Meanwhile the stupid and incompetent Gradus is making his way across northern Europe in search of King Charles. Gradus fails at every point, until he is eventually instructed to go to America.
Kinbote is saving a big surprise for John Shade when he completes his poem. It is quite clear that this is the revelation that he is King Charles. But on the very day the poem is finished and Kinbote has invited Shade for a celebratory drink, Gradus arrives and bungles the assassination, killing Shade in error.
Believing that Kinbote tried to protect Shade from the assassin, Sybil gives him the right to be the poem's official editor. Gradus turns out to be an escaped lunatic who has gone to kill the person who sentenced him to an asylum – Judge Goldsworth, Kinbote's landlord. Gradus subsequently commits suicide in jail.
Kinbote confiscates the manuscript of Pale Fire and at first is horrified to realise that it contains no mention of his escape from Zembla. Later he convinces himself that Shade has cleverly hidden the account in minor details of the poem – and so his commentary is designed to squeeze meaning out where none exists.
---
Pale Fire – principal characters
| | |
| --- | --- |
| Charles Kinbote | the deposed King Charles II of Zembla |
| John Shade | an American poet and college teacher |
| Sybil Shade | his protective wife |
| Hazel Shade | their teenage daughter who commits suicide |
| Jakob Gradus | aka Jack Grey a bungling criminal and lunatic |
| Judge Goldsworth | the absent owner of Kinbote's rented house |
© Roy Johnson 2018
---
More on Vladimir Nabokov
More on literary studies
Nabokov's Complete Short Stories
---