painter, engraver, war artist, and English modernist
Paul Nash (1889-1946) was a British painter and a war artist who was strongly associated with the development of Modernism in the visual arts in the early part of the twentieth century. Although he has always been associated with a bucolic vision of England, he was actually born in Kensington in the heart of London. But his relatives were all from the countryside and the family eventually moved to live in Buckinghamshire – largely because of his mother's fragile mental health.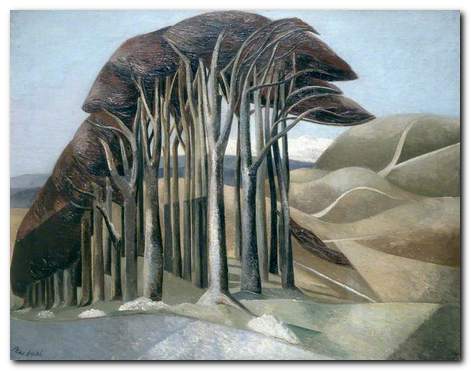 Wood on the Downs (1929)
Nash was generally a failure at formal schooling, but because he had a gift for sketching he enrolled at Chelsea Polytechnic, then went on to the London School of Photo-engraving and Lithography, off Fleet Street. He was advised by his friend, the poet Gordon Bottomley, and by the artist William Rothenstein, that he should attend the Slade School of Art at University College, London.
His early influences were the Pre-Raphaelites and William Blake, and his first paintings were visionary works. These were admired by William Rothenstein, who encouraged him to study formally. Unfortunately, his father had no money, having been ruined by medical expenses for his wife, who died in a mental asylum in 1910. But Nash earned enough that year from his work as an illustrator to pay for twelve months' tuition.
He enrolled in October 1910, though he later recorded that on his first meeting with the Professor of Drawing, Henry Tonks, 'It was evident he considered that neither the Slade, nor I, were likely to derive much benefit'. Nash's fellow students included Ben Nicholson, Stanley Spencer, Mark Gertler, William Roberts, Dora Carrington, Richard Nevinson and Edward Wadsworth. Nash struggled with figure drawing, and spent only one year at the school. Like his contemporary Stanley Spencer he travelled in by train every day to attend classes.
Discouraged at first, he made rapid progress after the first few weeks. His main friendship during the year was with the young Ben Nicholson. He also fell in love (as did so many others) with one of the year's intake – the raffishly attractive Dora Carrington.
Like a number of his contemporaries, he left the Slade early, feeling it had nothing more to offer him. Paradoxically, he moved away from his home in the home counties to live in London, yet simultaneously discovered his love of the English countryside. He produced a series of works celebrating Nature and had a critically acclaimed show at the Carfax Gallery, near Piccadilly.
The year 1913 was a significant step in Nash's career. He had a two man show with his brother John at the Darien Leigh Gallery in South Kensington at which several collectors bought his work and he was praised by Roger Fry. Success also came at a personal level. He met Margaret Odeh, an Oxford graduate and a full time worker in the women's movement. They became engaged almost immediately, although at first they didn't have enough money between them to get married. By the summer of 1914 Nash was enjoying some success and during that year he worked briefly at the Omega Workshops under Roger Fry.
At the outbreak of war in 1914 he was the first of the Slade students to enlist for military service, albeit reluctantly, observing 'Personally I am more in favour of mending men than killing them'. He was posted on guard duty at the Tower of London, which allowed him time to continue painting and drawing. Then in 1916 he began officer training. His company was eventually involved in the disastrous Big Push' of 1917 which was supposed to bring a quick end to the war. He had the 'good luck' to break some ribs in a fall a few days before, and was sent back to London as an invalid. Most of the men in his company were slaughtered in the attack.
Nash managed to organise a successful one-man exhibition at the Goupil Gallery in 1917, but as the war ground on towards its horrendous climax, he was recalled to service. Fortunately he managed to secure a commission as a war artist – complete with batman and a chauffeur driven car. However, he was horrified by the spectacle of the war-ravaged battlefields in which Nature had almost been extinguished. He captured what he saw in a series of pen and ink drawings which were later used as the basis for an exhibition of masterful oil paintings he showed at the Leicester Galleries in 1918. They were also used as the basis for his most important work – The Menin Road.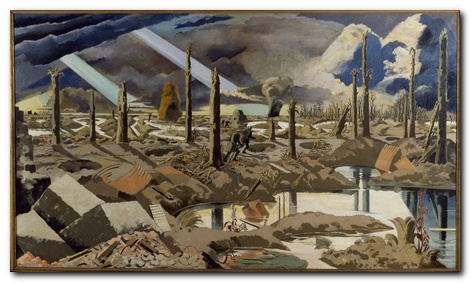 The Menin Road (1919)
After the war he emerged with what we now call post-traumatic stress disorder and became 'a war artist without a war'. He was unsure how to develop his sense of modernism and reverted to traditional landscape painting. He also began producing wood engravings and was for a while a teacher at the Royal College of Art, where his students included Eric Ravilious and Edward Bawden. There was also a brief period in the nineteen-thirties when he produced abstract and surrealist works.
At the onset of World War Two, Nash was appointed to a full-time salaried post as war artist, attached to the Royal Air Force. But the works he produced did not meet with the approval of the Air Ministry, because they wanted heroic portraits of pilots and their air crew. In fact the works he painted managed to combine successfully his interests in landscape, realism, abstraction, and a form of visionary allegorical painting which is now generally recognised as the finest art work to come out of 1939-45.
After the war he suffered from a number of periods of bad health – most notably from asthma – he had difficulties painting, and he turned increasingly to photography, producing some collages. He spent the remaining eighteen months of his life encased in what he himself described as 'reclusive melancholy', and he finally died of heart failure in 1946.

Paul Nash paintings and watercolours – Amazon UK


Paul Nash paintings and watercolours – Amazon US

Paul Nash (British Artists series) – Amazon UK


Paul Nash (British Artists series) – Amazon US
© Roy Johnson 2015
---
More on art
More on media
More on design
---