artist, critic, designer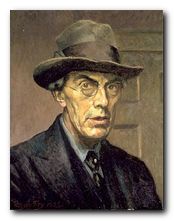 Roger Fry was an influential art historian and a key figure in the Bloomsbury Group. He was born in 1866 in Highgate, London, into a wealthy Quaker family. He studied at King's College, Cambridge, where he took a first in the Natural Science 'tripos'. Much to his family's regret, he decided after university to pursue an artistic career rather than continue his scientific studies. In 1891 Fry went to Italy and then Paris, to study painting. He began to lecture on art, and became a critic and author. He made his debut in art criticism in 1893 with a review of George Moore's book Modern Art for the Cambridge Review. Then in 1894 he began lecturing on Italian art for the Cambridge Extension Movement (classes for working people).
He married the artist Helen Coombe in 1896, but although his career as an artist and critic was a success, his personal life was troubled. His wife suffered from mental illness and had to be committed to an institution, where she stayed until her death in 1937. Fry was left to look after their children Pamela and Julian.
His first book on Giovanni Bellini, was published in 1899. He regularly contributed articles and criticism to the magazines Monthly Review and The Athenaeum, and in 1903 he was involved in the founding of Burlington Magazine, acting as joint editor between 1909-18, and making it into one of the most important art magazines in Britain. From 1905 to 1910, he was the Curator of Paintings for the Metropolitan Museum in New York.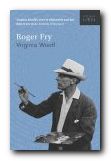 He first met the artists Clive Bell and Vanessa Bell in 1910, when they invited him to lecture at Vanessa's Friday Club. This was the artistic equivalent of her brother Thoby's literary soirees held on Thursday evenings. He subsequently became a regular member of the Bloomsbury Group, and Virginia Woolf later wrote his biography. His affair with her sister Vanessa Bell began in 1911 when he accompanied the Bells on a holiday to Turkey. It ended when she transferred her affections to Duncan Grant in 1913.
In 1910, Fry organized the first Post-Impressionist exhibition (and indeed, coined the phrase) for the Grafton Galleries in London, and later published books on Cézanne (1927), and Matisse (1930). In 1913, he organized the Omega Workshops, a collective that encouraged the involvement of young artists in the design and decoration of everyday functional objects. This remained active until 1919.
Fry re-edited and updated a collection of his best articles and writings to produce his best known book, Vision and Design which was published in 1920. As well as Western art, the book examined the use of form and aesthetics in ethnic art from Africa, America and Asia. It was a great success, reinforcing his position as England's leading critic and it is still recognised as an extremely influential work in the development of modernist theory.
In his ideas, Fry emphasised the importance of 'form' over 'content': that is, how a work looks, rather than what it is about. He thought that artists should use colour and arrangement of forms rather than the subject to express their ideas and feelings, and that works of art should not be judged by how accurately they represent reality.
In his personal life, it was not until 1924 after several short lived relationships (including affairs with Nina Hamnett, one of the Omega artists; and Josette Coatmellec, which ended tragically with her suicide), that he found happiness with Helen Anrep. Twenty years his junior, she left her husband and became a great support to Fry in his career, and lived with him until his death.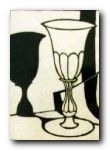 In 1933 Fry was offered the post of Slade Professor at Cambridge and began a series of lectures on the nature of art history that he was never to complete. The text for the lectures was published after his death in 1939 as Last Lectures. Fry died on 9 September 1934 following a fall at his London home. His ashes were placed in the vault of Kings College Chapel, Cambridge, in a casket decorated by Vanessa Bell.
---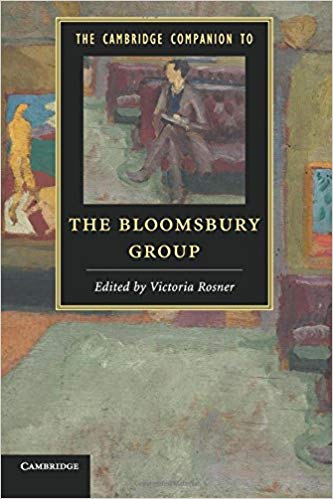 ---
Bloomsbury Group – web links

Hogarth Press first editions
Annotated gallery of original first edition book jacket covers from the Hogarth Press, featuring designs by Vanessa Bell, Roger Fry, and others.

The Omega Workshops
A brief history of Roger Fry's experimental Omega Workshops, which had a lasting influence on interior design in post First World War Britain.

The Bloomsbury Group and War
An essay on the largely pacifist and internationalist stance taken by Bloomsbury Group members towards the First World War.

Tate Gallery Archive Journeys: Bloomsbury
Mini web site featuring photos, paintings, a timeline, sub-sections on the Omega Workshops, Roger Fry, and Duncan Grant, and biographical notes.

Bloomsbury: Books, Art and Design
Exhibition of paintings, designs, and ceramics at Toronto University featuring Hogarth Press, Vanessa Bell, Dora Carrington, Quentin Bell, and Stephen Tomlin.

Blogging Woolf
A rich enthusiast site featuring news of events, exhibitions, new book reviews, relevant links, study resources, and anything related to Bloomsbury and Virginia Woolf

Hyper-Concordance to Virginia Woolf
Search the texts of all Woolf's major works, and track down phrases, quotes, and even individual words in their original context.

A Mrs Dalloway Walk in London
An annotated description of Clarissa Dalloway's walk from Westminster to Regent's Park, with historical updates and a bibliography.

Women's History Walk in Bloomsbury
Annotated tour of literary and political homes in Bloomsbury, including Gordon Square, University College, Bedford Square, Doughty Street, and Tavistock Square.

Virginia Woolf Society of Great Britain
News of events, regular bulletins, study materials, publications, and related links. Largely the work of Virginia Woolf specialist Stuart N. Clarke.

BBC Audio Essay – A Eulogy to Words
A charming sound recording of a BBC radio talk broadcast in 1937 – accompanied by a slideshow of photographs of Virginia Woolf.

A Family Photograph Albumn
Leslie Stephens' collection of family photographs which became known as the Mausoleum Book, collected at Smith College – Massachusetts.

Bloomsbury at Duke University
A collection of book jacket covers, Fry's Twelve Woodcuts, Strachey's 'Elizabeth and Essex'.
© Roy Johnson 2000-2014
---
More on biography
More on the Bloomsbury Group
Twentieth century literature
---