techniques of telling stories in visual media
Pause and Effect examines the intersection of storytelling, visual arts, new media, and interactivity. It's a mixture of a little theorising with plenty of practical examples. Mark Meadows starts reasonably well with some interesting reflections on narrative and perspective, and then plunges valiantly into the realm of literary narratives. But before giving himself time to consider them seriously, he's off into Excel spreadsheets and interactive games. It's a very elegantly designed book. Almost every page is illustrated with diagrams, screenshots, and paintings.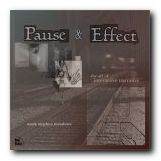 He ventures bravely into first, second, and third person narratives, plus point of view. Famous names come thick and fast – Homer, Aristotle, Dostoyevski, Giotto, James Joyce. We get reflections on novels, TV programs, video games, and Spiderman comics. But it's hard to find a coherent argument. Most of what he has to say is descriptive rather than analytical.
This is a shame, because theoretical reflections on new media design would be very welcome – but here there is the sense of someone struggling with issues which even literary theorists have sorted out long ago.
He does look at some interesting examples of narrative art – religious paintings and tablets. But when you think about it, the traditional narrative painting is 'cheating' in terms of conveying a new story. Viewers of 'The Annunciation' already know the sequence of events when they see the depiction of them in two dimensions.
There are some interviews with designers of multimedia and interactive events, plus case studies which feature contemporary games designers. He also covers interesting reports of experiments which seek to blend digital genres. Probably the best part of the book however is where he offers reflections on narrative and architecture, second-person point of view, and 3D virtual reality.
This is a publication which will appeal to people who want to pursue ideas about narrative theory. Web designers and new media buffs will certainly pick up some new lines of investigation to think about.
© Roy Johnson 2003

  Buy the book at Amazon UK

  Buy the book at Amazon US
---
Mark Stephen Meadows, Pause and Effect: the art of interactive narrative, Indianapolis (IN): New Riders, 2003, pp.257, ISBN: 0735711712
---
More on digital media
More on technology
More on theory
---