web site design and maintenance on a budget
This publication has an interesting history. Peter Kent is an author of best-selling titles, yet when he wrote Poor Richard's Web Site, a plain folk's guide to the most rapidly expanding part of Information Technology, publishers didn't want to touch it. He therefore released it himself in the form of Word files on disk. This fortunately led to print publication, in which form it now comes to us in a new second edition, swathed in well-deserved commendations.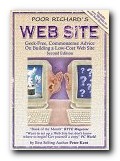 Part I offers four introductory chapters on choosing an Internet Service provider and domain name. This is very logical, but somehow I think its position at the front of the book might deter readers who want to more rapidly approach the meatier and less abstract matter of planning and designing their site. Part II on the creation of a site is where the book really comes to life. He covers the basics of the site and its purpose.
There's an introduction to HTML; choosing authoring tools; making the site interactive; and how to use auto-responders and email to enhance commerce generated by your pages. He includes a brief guide to the many sources of information which are available free on line. Lots of resource centres are listed for HTML editors, scripts, and graphics. A beginner would save the price of the book in the space of two or three downloads.
Part III deals with the commercial aspects of registration and promotion. He offers multiple sites to check your pages for browser compatibility – an important feature during the on-going browser wars. The going gets a little complicated when discussing CGI scripts – but he does his best to be reassuring.
His approach is emphatically clear, logical, and (as his rum sub-title claims) full of common sense. At every stage of his exposition he points to examples. There's a list of award-winning sites, and even a list of the worst – some of which are quite funny. He's certainly done the spadework of analysing Web sites on behalf of the reader, and in this respect this publication is very good value as a guide and a source of reference. The inclusion of so many Web addresses is particularly useful for UK readers who (paying for local telephone calls) can't afford to surf freely for this information like their US counterparts.
The first edition was written two years ago. Quite a bit has changed since then. There are better ways to connect, better and more software is available, and there are more services out there. This new edition covers the basics, but it also discusses newer issues like registering and modifying your domain name, the additional service offered by Web hosting companies, and how to use e-mail more effectively. It's a shame that there's no bibliography, because he mentions en passant a number of useful-sounding publications. However, by the time you read this they might have been added to the book's own web site, where the 800 plus links are listed.
© Roy Johnson 2000
---
Peter Kent, Poor Richard's Web Site: Geek-free, Commonsense Advice on Building a Low Cost Web Site, Colorado: Top Floor, second edition, 2000, pp.418, ISBN 0966103203
---
More on web design
More on digital media
More on technology
---