beginner's practical guide to promotional writing skills
Oxford University Press have just brought out a series of short beginner's manuals on communication skills. Their emphasis is on compact, no-nonsense advice directly related to issues of everyday life. Alison Baverstock's guide shows you how to generate effective publicity and promotional writing skills through careful writing. It's aimed at anyone who needs to publicise an event, an organisation, or a cause – whether it's a big commercial business or just your own hobby. She starts from the position that the written word is powerful and important, and that different standards of correctness or informality are required depending on the medium – be it email, letters, press releases, or company reports.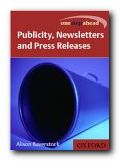 Next comes what she calls 'promotional writing' – copy which is trying to persuade, sell something, or convince readers. Her advice is to avoid jargon, and to choose short, clear expression, rather than writing which is striving to impress. You should check your grammar, and avoid the common pitfalls of weak writing – such as split infinitives, misplaced apostrophes, and inconsistent tenses.
She shows how to write press releases to gain publicity, and how to angle a story to make it more appealing. The secret is to make clear distinctions between different media, and she gives plenty of examples, showing how to contact people to advantage in a way that's more likely to get your story accepted.
The general advice is quite logical. You need to make your appeal for attention attractive, accurate, and functionally effective. This means going into a lot of detail and being rigorous about names, phone numbers, and contact details.
On newsletters she emphasises the importance of the relationship with subscribers. As a newsletter editor myself, I was interested to see that she places maximum importance on the interest of the reader, not on the writer or editor. Obviously, the newsletter should be interesting, and she explains a number of strategies for hooking the reader's attention.
There are also lots of excellent tips along the way, and examples of good and bad practice based on real-life situations. This guide will be of use to anybody who wants to engage with the world of public writing.
© Roy Johnson 2003

  Buy the book at Amazon UK

  Buy the book at Amazon US
---
Alison Baverstock, Publicity, Newsletters and Press Releases, Oxford: Oxford University Press, 2002, pp.98, ISBN: 0198603843
---
More on journalism
More on creative writing
More on writing skills
More on publishing
---