major works of prose fiction and drama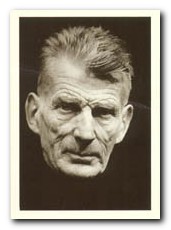 Samuel Beckett began writing in the 1930s, and was deeply influenced in his early period by James Joyce, for whom he worked briefly as secretary. He was also influenced by the literary developments of the avant-garde modernist movement and both the existentialist and absurdist tendencies in cultural life which arose just before and intensified after the second world war. However, after Joyce's death in 1941 he began to develop a style of his own – a style which became more gaunt and sinewy to reflect his increasingly bleak view of life, which is witheringly unsentimental at its most generous and darkly tragic at its most powerful.
His writing became progressively minimalist, yet it is characterised by a lyrical beauty that reveals his deep feeling for the rhythms of speech and the cadences of the written word. He is not afraid to use repetition, assonance, alliteration, and the other common devices of poetry in his prose fiction. Since much of his work is written in the form of both spoken and 'internal' monologues, this has made his work a great favourite for actors.
He also combines his bleak, unsparing view of life with a very comical attitude to human frailty – often wrapped up in quasi and cod-philosophic observations. It is a black humour very consonant with the underlying public mood of post-holocaust shock prevalent during the latter half of the twentieth century.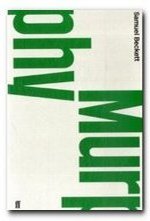 Murphy is Samuel Beckett's first novel, published in 1938. It was written in English, unlike many of his later works which were written in French then translated into English. It is the story of a work-shy man, wandering adrift in London, who believes that human desire can never be satisfied. He seeks to withdraw from life into a state of what he sees as catatonic bliss. Murphy's fiancée Celia tries to humanise him by finding him a job working as a nurse in a mental institution, but he sees the insanity of the patients an attractive alternative to his conscious existence from which he cannot escape.

Buy the book at Amazon UK


Buy the book at Amazon US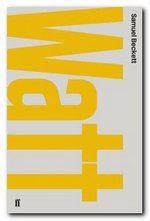 Watt Beckett's second novel was written during World War Two (1942-1944), while he was hiding from the Gestapo in Provence in southern France. It was first published in English in 1953 and tells a semi-incoherent story of Watt's journey to become the manservant of a Mr Knott, and his struggle to understand the house they live in. It's written with some of Beckett's characteristically deadpan humour and quasi-philosophic jokes. He also uses deliberately unidiomatic language and pokes fun at contemporary figures and institutions. Watt has previously appeared in editions that are littered with major and minor errors. The new Faber edition offers for the first time a corrected text based on a scholarly appraisal of the manuscripts and their textual history.

Buy the book at Amazon UK


Buy the book at Amazon US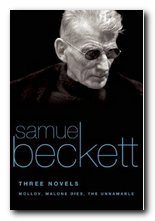 The Trilogy This is the famous trilogy that is generally regarded as the pinnacle of Beckett's work as an experimental novelist. He was pushing the developments of modernism, existentialism, and absurdism as far as they would go. The three novels follow the bleak logic of Beckett's move away from movement and life, towards stasis and death. Molloy (1951) is set in an indeterminate place and comprises the inner monologues of Molloy and a private detective called Moran. Both live in a state of semi-absurdity and seem almost to merge into the same person as they lose bodily mobility and end up using crutches. Malone Dies (1951) is the story of an old man who is confined to bed in a hospital or an asylum (he is not sure which). All notions of conventional plot or logical sequences of events are abandoned. The narrative is merely Malone's obsession with the trivia of his existence, stripped of all physical effects except an exercise book and a pencil that is getting shorter and shorter. The Unnameable (1953) takes these experiments in prose fiction one stage further. It concerns a person with no name who lives under an old tarpaulin sheet. He is not even sure if he is dead or alive – and neither are we.

Buy the book at Amazon UK


Buy the book at Amazon US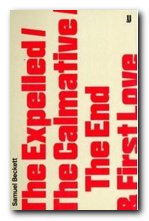 The Expelled This collection of four stories or nouvelles represents work which dates from 1945, though they were all published much later, in French and then in English. Full contents: The Expelled, The Calmative, The End, and First Love. All the stories make use of a first-person narrator, and exploit its potential for expressing the frailties of human memory, the inability to distinguish the past from the present, and even a profound doubt concerning the purpose of life itself. The stories document the human condition of an unstoppable progress towards death.

Buy the book at Amazon UK


Buy the book at Amazon US
---
Beckett in performance
Billie Whitelaw in Not I (1972)
---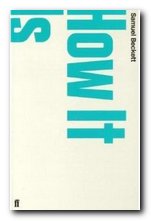 How It Is Published in French in 1961, and in English in 1964, this presents a novel in three parts, written in short paragraphs, which tell of a narrator lying in the dark, in the mud, repeating his life as he hears it uttered – or remembered – by another voice. Told from within, from the dark, the story is tirelessly and intimately explicit about the feelings that pervade his world, but fragmentary and vague about all else therein or beyond. The novel counts for many readers as Beckett's greatest accomplishment in the prose narrative form. It is also his most challenging work, both stylistically and for the radical pessimism of its vision, which continues the themes of reduced circumstance, of another life before the present, and the self-appraising search for an essential self.

Buy the book at Amazon UK


Buy the book at Amazon US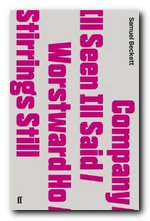 Company These four last prose fictions span the final decade of Beckett's life. In the title sytory a solitary listener lying in darkness calls up images from a past life. Ill Seen Ill Said is a meditation on an old woman living out her final days in an isolated cottage, watched over by a dozen mysterious sentinels. In Worstward Ho, a breathless speaker unravels the sense of life, acting out the repeated injunction to 'Try again. Fail again. Fail better.' Stirrings Still was published in the Guardian a few months before Beckett's death in 1989. It is his last prose work and testament. The Faber edition also includes several short prose texts (Heard in the Dark I & II, One Evening, The Way, Ceiling) which represent works in progress or fragments composed around the same time as his final writing.

Buy the book at Amazon UK


Buy the book at Amazon US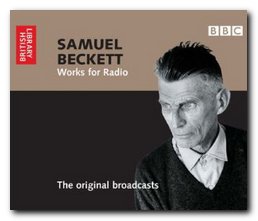 Works for Radio Beckett was one of the most original and influential dramatists of the twentieth century, and a writer with an acute ear for the subtleties of sound and rhythm in both speech and writing. Yet the works he created for radio broadcast are relatively unknown. Now these historic BBC broadcasts are commercially available for the first time. A four-CD set covers the period 1957-1976 and comprises the five works created by Beckett specifically for the broadcast medium: All That Fall, Embers, Words and Music, Cascando and Rough for Radio, plus the rarely heard curio, The Old Tune, and the monologue, From an Abandoned Work.

Buy the book at Amazon UK


Buy the book at Amazon US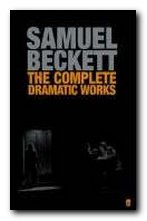 Complete Dramatic Works This one-volume compendium contains all of Beckett's dramatic texts written between 1955 and 1984. It includes both the major dramatic works and the shorter and more compressed texts he created for the stage and for radio. Full contents: Waiting for Godot, Endgame, Happy Days, All That Fall, Acts Without Words, Krapp's Last Tape, Roughs for the Theatre, Embers, Roughs for the Radio, Words and Music, Cascando, Play, Film, The Old Tune, Come and Go, Eh Joe, Breath, Not I, That Time, Footfalls, Ghost Trio,…but the clouds…, A Piece of Monologue, Rockaby, Ohio Impromptu, Quad, Catastrophe, Nacht und Traume, What Where.

Buy the book at Amazon UK


Buy the book at Amazon US
---
Samuel Beckett – web links

Samuel Beckett at Mantex
Biographical notes, complete bibliography, selected criticism, book reviews, videos, and web links.

Samuel Beckett Online Resources
This is a giant collection of papers, reviews, videos, journals. An old site, but packed with information. It looks very much like a labour of love by an enthusiast.

Samuel Beckett Exhibition at University of Texas
Biograhical notes, manuscripts, mini-essays, a timeline, and illustrations.

The Samuel Beckett Endpage
Performances, illustrated journals, interviews, and conferences

Samuel Beckett at the Internet Movie Database
Adaptations for the cinema and television – in various languages. Some very rare examples of television films of Beckett's shorter and less well known works. Full technical details of directors, actors, and production.

Samuel Beckett at Literary History.com
Collection of articles on literary criticism, plus reviews.

Echo's Bones – a newly discovered story

Samuel Beckett – at Wikipedia
Life and career, Works, Collaborators, Legacy, Honours and awards, Selected works, Further reading, Web links.

Peggy Guggenheim: Mistress of Modernism
Biography of modern art collector who was Beckett's lover in the 1930s
© Roy Johnson 2010
---
More on Samuel Beckett
Twentieth century literature
More on biography
---