biography, guidance notes, and literary criticism
This Critical Guide to Samuel Beckett comes from a new series by Routledge which offers comprehensive but single-volume introductions to major English writers. In this case it's a writer who was Irish, who wrote in English, then in French, then translated his own work back into English. It is a guide aimed at students of literature, but it's also accessible to general readers who might like to deepen their understanding.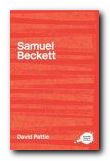 The approach taken could not be more straightforward. Part one is a potted biography of Beckett, placing his life and work in a socio-historical context. Thus we get his early influences and his move from Trinity College Dublin to life in Paris working as secretary to James Joyce. We are also nursed through an introduction to the literary Modernist movement of which he formed an important part. Part two provides a synoptic view of Beckett's stories, novels, plays, and poetry.
The works are described in outline, and then their main themes illuminated. This is followed by pointers towards the main critical writings on these texts and issues. Beckett is not an easy writer to categorise. We think of him mainly as a dramatist – but he is equally influential (if not so highly regarded) as a writer of novellas and short stories.
Part three deals with criticism of Beckett's work. This is presented in chronological order – from the work of the 1960s which sought to explain what seemed at the time an odd view of the world, to critics of the present day.
The book ends with a commendably thorough bibliography which covers biography, criticism in books and articles, plus pointers towards specialist journals.
This is an excellent starting point for students who are new to Beckett's work – and a refresher course for those who would like to keep up to date with criticism. These guides have proved to be very popular. Strongly recommended.
© Roy Johnson 2000
---
David Pattie, The Complete Critical Guide to Samuel Beckett, London: Routledge, 2000, pp.220, ISBN: 041520254X
---
More on Samuel Beckett
Twentieth century literature
More on biography
---