essays on graphic design, new media, and visual culture
Jessica Helfand is a critic of digital media and design matters. This collection of essays Screen first appeared in Eye, The New Republic, and Print Magazine. They deal with issues of visual design, digital culture, film, and media in general – including television, radio, and the Web. They are commendably short pieces, and it has to be said that they are elegantly written. Her formula is to take a single observation as a starting point, then spin it around with lots of cultural references to make gnomic statements about the state of culture in society.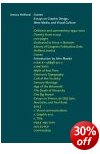 The problem is that they are basically personal opinions, and she very rarely examines concrete examples in any detail. This approach leads her into the marshy swamps of false generalisation. On our sense of space in a digital age, she claims:
The computer is our connection to the world. It is an information source, an entertainment device, a communications portal, a production tool … But we are also its prisoners: trapped in a medium in which visual expression must filter through a protocol of uncompromising programming scripts
Yes, it's true that using computers requires mastery of complex techniques – but we are not its prisoners, because our sense of space is formed by many sources beyond the computer screen.
It's obvious that she is well informed on digital technology. She discusses issues of web design, navigation buttons, splash screens, and the cultural significance of 'rollovers'. Yet she confuses navigation with content, and even thinks that email has a homogenising effect:
In the land of email we all 'sound' alike: everyone writes in system fonts … Software protocols require that we title our mail, a leftover model from the days of interoffice correspondence, which makes even the most casual letter sound like a corporate memo.
That is simply not true. Anybody who receives more than a couple of dozen emails a day knows that most people generate their own 'voice' using this medium. And the titles of some of the messages I receive would certainly never make the 'corporate memo' file.
The fact is that there's lot of techno-scepticism here. Underneath the glossy media guru carapace, she is actually digitally uncertain. Yet she's not averse to patting herself on the back; she drops lots of Post-Modernist names, and at its most acute, her writing comes dangerously close to something from Pseud's Corner. Encountering a consumer quiz on chicken nuggets, she reports
while I would like to report that my thoughts … drifted to Martin Heidegger or Giles Deleuze, to existentialism or metaphysics or even postmodernism, alas, they did not.
Fortunately, the collection is rescued by two excellent essays on the designer Paul Rand, where her analyses are much more meaningful because they are focused on concrete examples. The first is an analysis of his work as a commercial designer, and the second an interesting account of his methods as a teacher at Yale.
These two essays are first rate pieces of work. It's a shame that the rest of the collection doesn't match up. But having said that, the book comes larded with praise by other designers, and copies at my local bookshop have been flying off the shelves – so you will need to judge for yourself.
© Roy Johnson 2001

  Buy the book at Amazon UK

  Buy the book at Amazon US
---
Jessica Helfand, Screen: Essays on Graphic Design, New Media, and Visual Culture, New York: Princeton Architectural Press, 2001, pp.175, ISBN: 1568983107
---
More on design
More on media
More on web design
---