business strategy and management of web design projects
David Siegel is a Web design guru who made his name with the best-selling Creating Killer Web Sites. That was a manifesto on graphic presentation: this is his thesis on the organisation and management of web design projects. The first part of the book offers fifteen case studies; the second part is a methodology of web site design. This takes into account the business and strategic issues of making a site effective, as well as the technicalities of colour, page design, and navigation. The book will appeal to individual designers who want to create their own business – those people with ambition to move from the spare bedroom into their own office.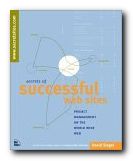 The case studies deal with companies such as Land Rover, National Geographic, Virgin, Porsche, a brewery, and a university. There's also a fascinating account of the origins of Salon web magazine and how it functions. These are lively mini-essays which reveal the secrets of good business strategies – as well as some of its dangers and pitfalls.
The later chapters describe the planning and design strategies used on a typical web project. At its centre is the project or development web site – where prototypes, help files, and work in progress are posted for comment.
He takes his analysis right through to the launch of a web site, and even the fine details of whose names should appear in the credits. It's full of interesting tips, such as getting clients to agree on structure and navigation before introducing colour – which is very subjective and almost always causes disagreements.
He's very good on writing business proposals: how to work out what to charge, and what details to take into account when drawing up estimates for a job – as well as how to spot danger signs.
There are also some useful tips on contracts of agreement and copyright of work . These are backed up with downloadable template documents at the book's own web site.
So, like his Killer Web Sites, this is full of thought-provoking ideas expressed in an energetic and 'committed' style. It's also a beautifully designed and printed book. Anyone who is interested in e-commerce and web-based business will be interested in what he has to offer.
© Roy Johnson 2002
---
David Siegel, Secrets of Successful Web Sites, Indianapolis (IN): Hayden Books, 1997, pp.304, ISBN: 1568303823
---
More on web design
More on digital media
More on technology
---